One Year After Penn State Fraternity Pledge Tim Piazza Died, Where Does The Criminal Case Stand?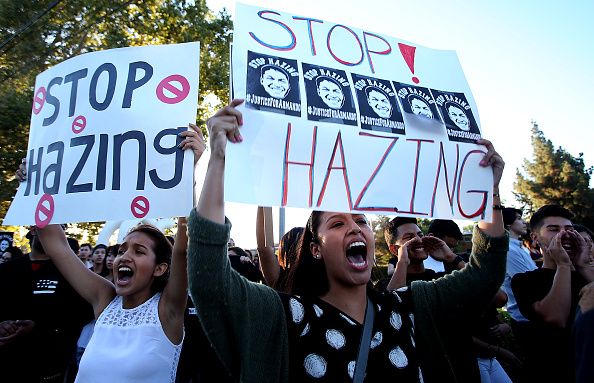 Timothy Piazza, a fraternity pledge and Penn State University sophomore, died one year ago after consuming lethal amounts of alcohol and suffering multiple falls during a hazing ritual.
At a Beta Theta Pi bid acceptance night two days prior, Piazza had reportedly consumed at least 18 drinks in 82 minutes. He'd fallen 15 feet down a flight of basement stairs, and remained largely unconscious for 12 hours before anyone dialed 911. He died from traumatic brain injuries and spleen damage on February 4, 2017, in the hospital.
In wake of his death, 26 fraternity members and the now-defunct Beta Theta Pi chapter are charged in one of the largest criminal indictments in recent history levied against a fraternity and its members. The charges range from furnishing alcohol to minors to involuntary manslaughter and aggravated assault — with the latter charge punishable by 10 to 20 years of jail time.
The case remains in the preliminary hearing phase nearly nine months after former Centre County District Attorney Stacy Parks Miller filed more than 1,000 initial charges, with trials not expected until at least the spring.
The case also switched hands to the Pennsylvania Attorney General's office in early January, according to a news release. The office confirmed to Newsweek on Friday that an independent review of the case is ongoing.
For those who may not have followed the case, here are some of the main developments in the past year:
FEBRUARY 2017: Piazza submits to hazing rituals the night of February 2 and dies in hospital on February 4.
An investigation ensues, with State College police beginning to collect evidencefrom Beta Theta Pi's Alpha Upsilon chapter house on February 6 — including video footage from the house's multi-camera surveillance system.
Within weeks, Penn State shuts down the chapter.
MAY 2017: After the months-long grand jury investigation, Miller brings more than 1,000 charges against 18 fraternity members on May 5.
Eight former Beta Theta Pi members are charged with involuntary manslaughter — which carries a maximum of 2-1/2 to five years of jail time — and aggravated assault. Ten more ex-members are charged with misdemeanor offenses such as hazing, recklessly endangering another person and furnishing alcohol to minors. The former members deny all charges.
"You have a death that was completely preventable, and you have a family who will never again see their son," Miller tells PEOPLE. "It is senseless tragedy all the way around." Miller did not respond to Newsweek's request for comment.
Beta Theta Pi fraternity releases a statement saying the chapter members' actions were "in direct contradiction of the International Fraternity's ... reputation and commitment to character development."
JUNE 2017: The preliminary hearings for the charged fraternity members begin on June 12. They are held on seven different days over a three-month span.
SEPTEMBER 2017: After the months-long preliminary hearing, a judge rules on September 1 that 14 of the 18 charged would stand trial — but not all with their original charges.
Eight of the ex-members have their serious charges, including involuntary manslaughter and aggravated assault, dismissed. The remaining four, who'd been charged with single counts, are dismissed entirely.
District Judge Allen Sinclair says he didn't expect trials to begin until at least the spring, NBC reported. Miller quickly announces plans to refile those charges.
OCTOBER 2017: Miller on Oct. 27 refiles charges against 11 of the former Beta Theta Pi members — including the involuntary manslaughter and aggravated assault charges against eight members. She also requests a new judge to hear the case.
"The previous preliminary hearing and the truncated manner in which it was held did not serve justice for the victims or the case itself," the motion contends.
A statement from Piazza's family added, "Had it not been for the crimes committed that night, Tim would be with us today." The family's lawyer, Tom Kline, did not respond to Newsweek's request for comment on Friday.
Centre County Judge Pamela Ruest doesn't indicate when a decision is expected regarding Miller's refiling.
NOVEMBER 2017: Prosecutorsfile charges against 12 new Beta Theta Pi chapter members after the FBI successfully recovers deleted basement footage. The fraternity initially purported the cameras were "inoperable" at the time of the incident.
One of the main revelations from the footage: Fraternity brothers gave Piazza at least 18 drinks in one hour and 22 minutes. His blood-alcohol content that night was estimated at between 0.28 percent and 0.36 percent — more than four times the legal limit for drivers.
The new charges range from involuntary manslaughter and aggravated assault to furnishing alcohol to minors.
DECEMBER 2017: A court order signed by Ruest pushes back a slated December 13 preliminary hearing. The document states Ruest is continuing the case until a "date to be determined."
Miller, who leaves her district attorney position later that month, says on December 7 that Ruest had "failed miserably" at being fair to both sides in the case, among other criticisms. Defense attorney Michael Engle denounces the comments as violating "the rules of professional conduct."
A 236-page grand jury report on the Piazza investigation, released December 15, turns the microscope on Penn State, claiming the university "displayed a shocking apathy to the potential danger associated with doing nothing."
Penn State President Eric Barron says in a statement the school "strongly disagrees with many characterizations of the University and our record of action ... we remain deeply committed to turning the pain and anguish of this tragedy into reforms."
JANUARY 2018: Pennsylvania Attorney General Josh Shapiro agrees to take the case after new Centre County District Attorney Bernard Cantorna cites a "conflict," the release states. It notes the office is now conducting "an independent review."