Tim Ryan Leading J.D. Vance in Ohio Senate Poll, Anti-Vance Group Says
Democratic Representative Tim Ryan holds a wide lead over Republican candidate J.D. Vance in the Ohio race for U.S. Senate, according to a new outlier poll conducted late last week.
The online survey, conducted by Center Street PAC, found Ryan ahead of Vance with 43 percent support to the Republican's 34 percent support as of July 3, while 23 percent were undecided in what may be a crucial contest for control of the Senate. Other recent polls have shown a much closer race and one put Vance ahead.
The Ohio Senate race is listed by Center Street as one of the group's "target races" and their website describes Vance as having "embraced radical positions."
Center Street is a PAC that is reportedly attempting to replicate the activities of the conservative Lincoln Project. It was established by veteran political consultants Jacob Perry and Matthew O'Brien. Perry has managed six U.S. House campaigns, according to a biography at conservative site The Bulwark.
Former Republican Representative Joe Walsh, a strong critic of former President Donald Trump, is listed as chairman of the group.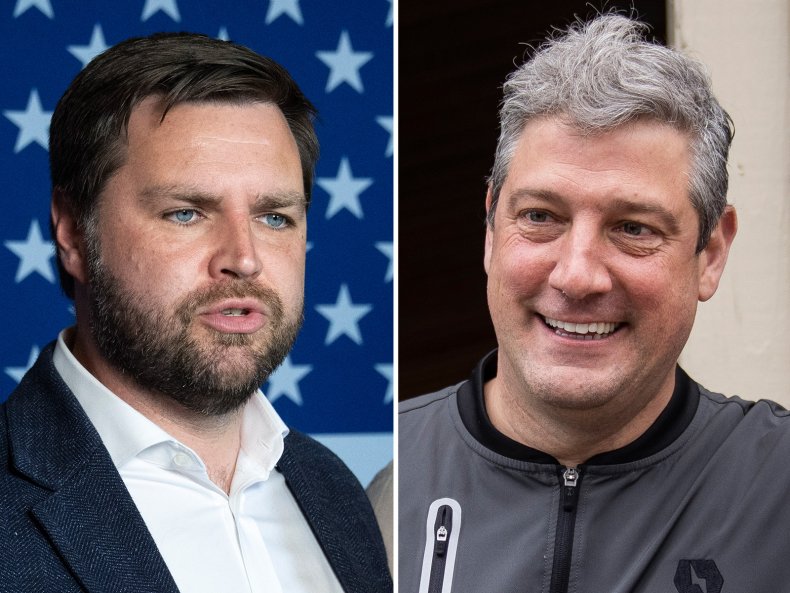 Vance, the author of Hillbilly Elegy, is endorsed by Donald Trump and saw a significant jump in polling after receiving the former president's stamp of approval. After winning his party's hotly contested primary in May, Vance will now face off in November against Ryan, a two-term congressman, for the seat left vacant by the retiring Senator Rob Portman.
Ryan also leads among registered voters with 46 percent to Vance's 34 percent support, with 20 percent of respondents undecided—a 12-point advantage for the Democrat, who currently represents Ohio's 13th congressional district.
It was a similar picture among likely voters, 49 percent of whom backed Ryan. A further 40 percent of likely voters supported Vance and just 11 percent were undecided.
The percentage of undecided voters was significant, however. While 69 percent of Republicans backed Vance and 13 percent opted for Ryan, 19 percent were undecided.
Among unaffiliated voters, 36 percent were undecided, while 37 percent backed Ryan and 26 percent went for Vance. And 12 percent of Democrats were also undecided, despite 82 percent supporting Ryan and a further 6 percent opting for Vance.
The poll was conducted on July 3 among 1,175 adults, including 991 registered voters. Center Street describes itself as "focused on defeating radical partisan extremists by helping elect rational candidates who promote stable & effective governing policies."
Kurt Jetta, Center Street Chief Analytics Officer and a former Florida Republican candidate for the House, said in a release on Thursday: "The data on Ohio voter sentiments suggests, at worst, this race is a tossup for Ryan, and I would say he's even a bit ahead and improving in almost every voter group."
Center Street Co-Founder Matt O'Brien said the group was "using a unique analytics model that allows us to identify races where our involvement can make a difference and result in wins, and we believe Tim Ryan can win in Ohio."
A previous Center Street poll showed that Ryan's position has improved considerably. Their survey, conducted on May 13, showed Ryan with 40 percent support among registered voters and Vance recording 39 percent support, with 21 percent undecided.
Nonetheless, the group's July poll appears to be an outlier.
Center Street appeared to defend the poll on Twitter on Thursday, writing: "Yes Center Street's Ohio Senate poll looks different - b/c we take a totally different approach to polling. Tim Ryan's Favorability outpaces Vance's in every survey done. Simply put: Ohio voters like @TimRyan more than JD Vance."
"Our Chief Analytics Officer @kurtjetta uses a consumer analytics model focusing on drivers of voting behavior: awareness, polarization, favorability & enthusiasm. We believe it gives a better snapshot of voter sentiment, but more importantly voter behavior," Center Street said.
Newsweek reached out to Kurt Jetta and Center Street for comment.
Other recent polling paints a mixed picture, however. A GrowProgress poll conducted from May 30 to June 3 found Ryan leading with 44 percent to Vance's 41 percent but a Suffolk University poll from May 22 to 24 showed Vance in the lead.
In that poll, the Republican enjoyed 42 percent support to Ryan's 39 percent. Poll tracker FiveThirtyEight rates the Ohio Senate race likely Republican with Vance favored to win.
While Vance continues to enjoy Trump's endorsement, Ryan appears to be distancing himself from President Joe Biden. The congressman did not attend an event in Cleveland, Ohio on Wednesday where President Biden appeared. Democratic gubernatorial candidate Nan Whaley also skipped the event.
A Ryan spokesperson told The Washington Times that Ryan missed the event because of "a full day of previously scheduled campaign events along the Ohio River."
The president's approval rating remains in negative territory with just over four months to go before crucial midterm elections that will have a major impact on Biden's agenda over the next two years.
With razor-thin margins in the Senate, the Ohio race may prove a critical contest in determining control of the chamber and whether Republicans will be able to stymie Biden in the run-up to the next presidential election.
Newsweek reached out to the Ryan and Vance campaigns for comment.
Update 07/07/22, 12 p.m. ET: This article and headline was updated to include more information about Center Street PAC and the Ohio Senate poll.