Who Is John Moniz? Tim Scott Praises Chick-fil-A Manager Who Mentored Him
Sen. Tim Scott (R-SC) led the GOP charge against President Joe Biden's first address to a joint session of Congress on Wednesday—and found the space to nod to his mentor John Moniz.
As the South Carolina senator delivered the Republican rebuttal, he said he had been "blessed" by Moniz, who operated a Chick-fil-A restaurant in North Charleston when he was growing up.
In a message on his campaign website, Scott credits Moniz with teaching him "biblical principles and Conservative values" when he was at high school, saying his mentor helped him to get back on track.
"Over the course of three or four years, John transformed my way of thinking, which changed my life," Scott said in 2012, according to Buzzfeed News. "The lessons that John was teaching me were maybe simple lessons, but they were profound lessons."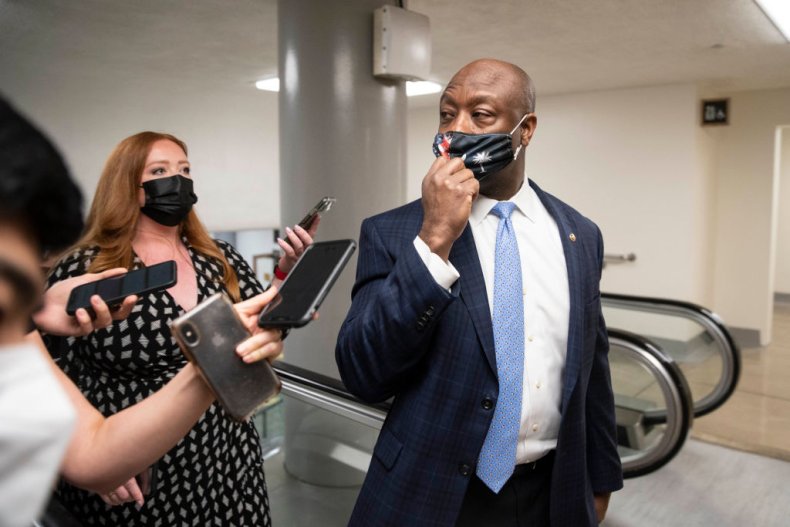 The State newspaper in South Carolina reported that Moniz used to give Scott free chicken sandwiches when he couldn't afford more food than fries and water. It added that Scott wrote a poem for Moniz, a veteran, when he died suddenly in 1985.
Speaking to the Island Packet in 2012, Scott said Moniz would occasionally meet with him at the movie theater where the teenager was working part time, and they would talk about values. They also went to basketball games together, the Packet reported.
Newsweek has contacted Sen. Scott's office for further comment.
Delivering his rebuttal to President Biden's address last night, the senator said the White House had inherited the achievements of Donald Trump.
Scott, the only Black Republican in the upper chamber, also criticized Democrats for trying to use the "painful past" of Black Americans to "shut down debates in the present," arguing that America was not a racist country.
"From colleges, to corporations, to our culture, people are making money and gaining power by pretending we haven't made any progress at all. By doubling down on the divisions we've worked so hard to heal," Scott said. "You know this stuff is wrong. Hear me clearly: America is not a racist country."
He also accused Biden and Democratic lawmakers of "pulling us further and further apart" after promising unity during his inauguration ceremony in January.
Sen. Scott's speech won plaudits from his fellow Republicans. The 2024 hopeful Nikki Haley, who first appointed Scott to the Senate when she was governor of South Carolina, called his speech "uplifting and honest."
On social media, Senator James Lankford (R-OK) wrote: "Senator Tim Scott did a phenomenal job tonight—he provided a hopeful & inspiring message for America."