Making Fun of Faith: Tim Tebow's Christianity Mocked by Minor League Team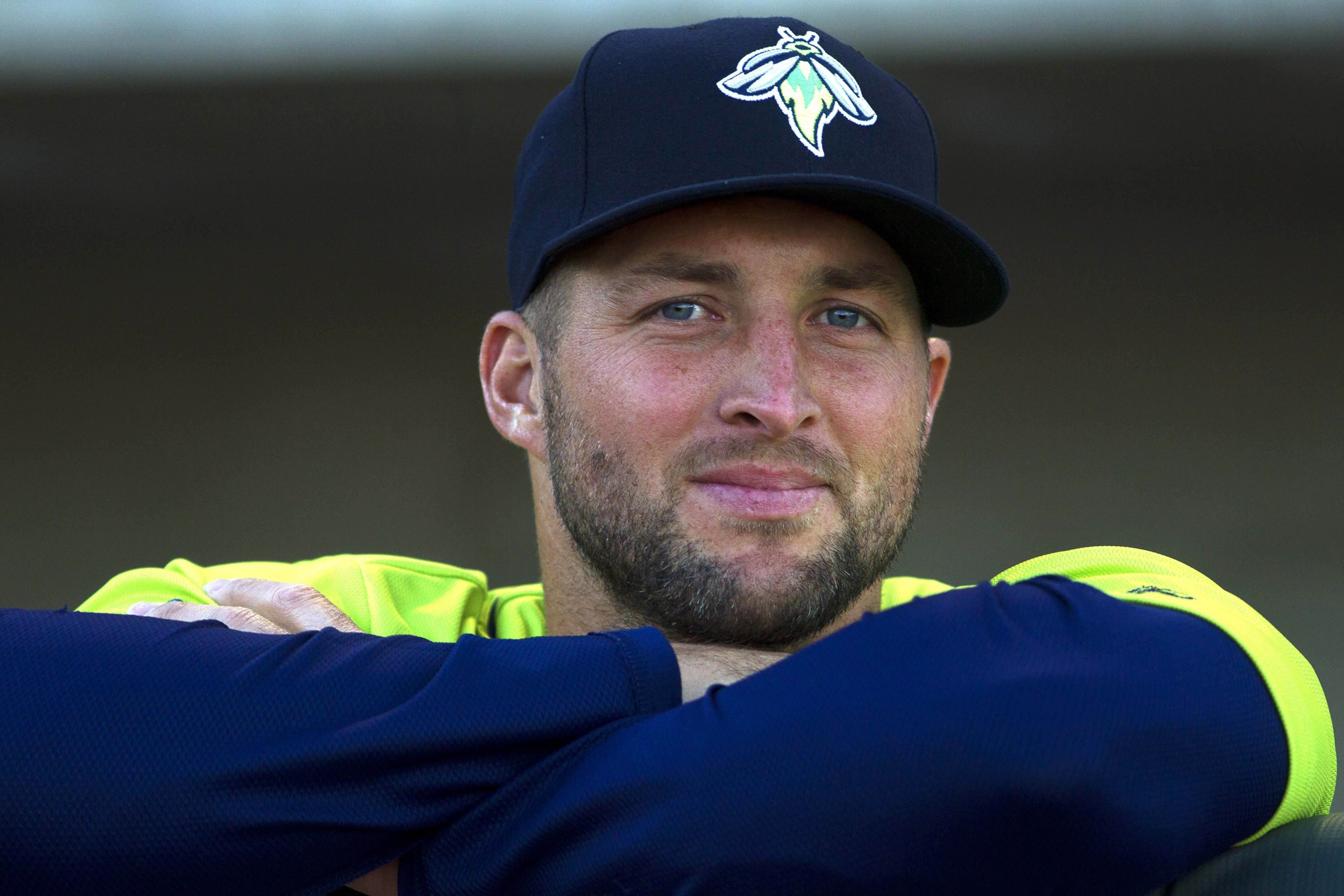 Some would say there's a lot to make fun of when it comes to Tim Tebow, the former NFL quarterback and current minor league baseball player in the New York Mets organization. He has his own pose, he tries really hard at whatever he does and for some reason he's written several books. Basically, Tim Tebow could be considered really annoying. He's also a loud-and-proud follower of Christ, whom he credits for all of his success, and plenty of people have poked fun at the zeal with which Tebow professes his love of the Lord. Though doing so may be OK among friends, it certainly isn't at an organizational level. The Charleston RiverDogs, a minor league affiliate of the New York Yankees, found this out the hard way.
Related: Who is more delusional, Tim Tebow or Curt Schilling?
When Tebow's team, the Columbia Fireflys, visited Charleston last Friday, the RiverDogs decided to have a little fun with Tebow's reputation as a Bible beater. The RiverDogs mascot wore eye black with "John 3:16" written on it, just as Tebow did when he was a quarterback at the University of Florida, where he won the Heisman Trophy and two national championships.
Also, the team's mascot was spotted "Tebowing," and the RiverDogs' PA played the "Hallelujah Chorus" as the famous visitor was walking up to bat,
Afterward, the team faced backlash for going after Tebow's faith, and on Monday night, General Manager Dave Echols apologized.
"While we believe that our promotions were poking fun at Mr. Tebow's celebrity status rather than his religion or baseball career, our intent was not to offend anyone, and for the fact that we did offend, we are sorry," he wrote in a statement to Charleston's Post and Courier.
"Of the many promotional pieces that we executed, there were a handful on Friday's game that some construed as in poor taste, and we made it a focus to remove those elements and celebrate Mr. Tebow the remainder of his time in Charleston," the statement continued.
Minor league baseball teams are known for orchestrating outlandish promotional nights to compensate for the relatively mediocre talent on the field. On Father's Day, for instance, the Jacksonville Jumbo Shrimp held a "You Might Be The Father" promotion, for which pregnancy tests were handed out. Not unrelated, the RiverDogs tried to hold a Father's Day Vasectomy Night in 2006, but were forced to cancel after the idea was criticized.
Many will argue that the Mets' decision to sign Tebow was an outlandish promotion in itself. After a headline-grabbing career in the NFL, Tebow last August announced his desire to make a go at baseball, a sport he excelled at in high school. He held an open tryout and was signed by the Mets, and his tenure with the team has been monitored closely by the media. Though in April he hit a home run in his first ever at bat, through 60 games the outfielder is hitting a lowly .224. He went 2-for-12 over the course of the weekend series against the RiverDogs.
Though the RiverDogs' jabs at Tebow's faith may have been in poor taste, the team also introduced its own players on the scoreboard as "Not Tim Tebow," which was actually pretty funny.