5 Facts About Demi-Leigh Nel-Peters, Miss Universe Married to Tim Tebow
Tim Tebow and Demi-Leigh Nel-Peters are officially husband and wife. The pair shared photos from their wedding on social media on Tuesday and announced they finally tied the knot over the weekend.
"Forever @demileighnp #tyingthetebow," Tebow wrote alongside an Instagram photo of him and his bride on their big day.
Nel-Peters shared an image of she and Tebow walking down the aisle. "Forever and Always @timtebow," she captioned the photo.
The couple exchanged vows at La Paris Estate in Cape Town, South Africa, People magazine reported. The lavish event was attended by 260 guests.
Tebow, a former NFL star turned professional baseball player, first confirmed his relationship with Nel-Peters, a Miss Universe pageant winner, back in July 2018. "She is a really special girl and I am very lucky and blessed for her coming into my life," Tebow said in an interview with ESPN at the time.
He added: "I am usually very private with these things but I am very thankful."
Read on to learn more about Tebow's new wife, Nel-Peters, below.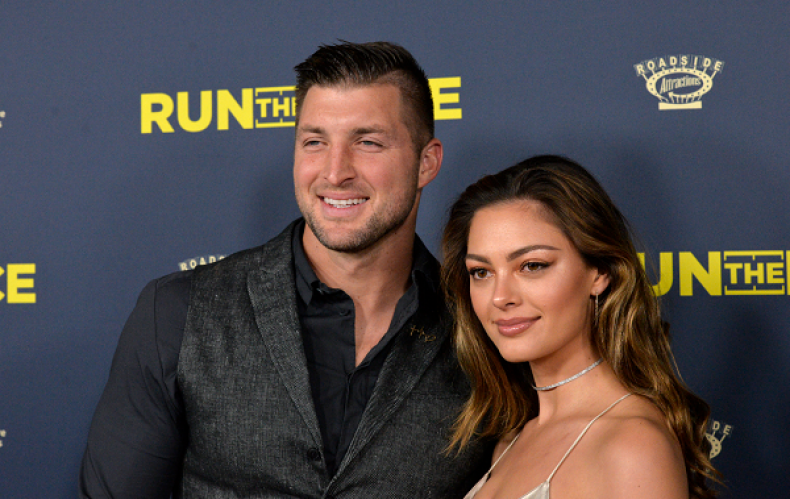 She won Miss Universe in 2017
South Africa native Nel-Peters represented her country at the 2017 Miss Universe pageant, beating out contestants Miss Colombia Laura González and Miss Jamaica Davina Bennett. Nel-Peters was 22 years old when she won the crown, not long after obtaining a bachelor's degree in business management from North-West University in South Africa.
She was almost kidnapped in 2017
Months before winning the Miss Universe title, Nel-Peters was carjacked by armed men while driving in her native country. Although she lost most of her belongings in the attack, she not only managed to escape unharmed but fought back by using self-defense movements she learned three months earlier. In an interview with Business Insider in November 2018, Nel-Peters revealed she was able to get away after striking an attacker in the throat.
Her frightening experience led her to teach women self-defense
Nel-Peters' encounter with hijackers inspired her to help more women learn how to protect themselves. In 2017 she launched Unbreakable—a global initiative aimed at empowering women with the mental and physical training they need to fight off potential attackers through a series of workshops.
"I'd love to turn Unbreakable into a foundation and work with safe havens to bring our empowerment workshops to the women they serve," Nel-Peters told Business Insider.
She is an advocate for equal pay
Nel-Peters' statements about the importance of equal pay won the Miss Universe judges over during the Q&A portion of the competition.
"In some places, women get paid 57 percent of what men earn for doing the same job, working the same hours—and I do not believe that this is right," she said. "I think we should have equal work for equal pay for women all over the world."
She met Tebow at a charity event
Nel-Peters attended the annual Night to Shine event, in which churches and charities from around the globe host prom nights for individuals with special needs. Tebow's non-profit organization, the Tim Tebow Foundation, works with Night to Shine.
In an appearance on Today in 2018, Tebow said his charity invited Nel-Peters and her family to the event, which led to their romance. "Her sister has special needs, so we invited them to Night to Shine in South Africa. We kind of met and started talking through that and haven't stopped," he said.