MLB: If You Want to Watch Tim Tebow, Here's How After His Promotion to High-A Ball in Florida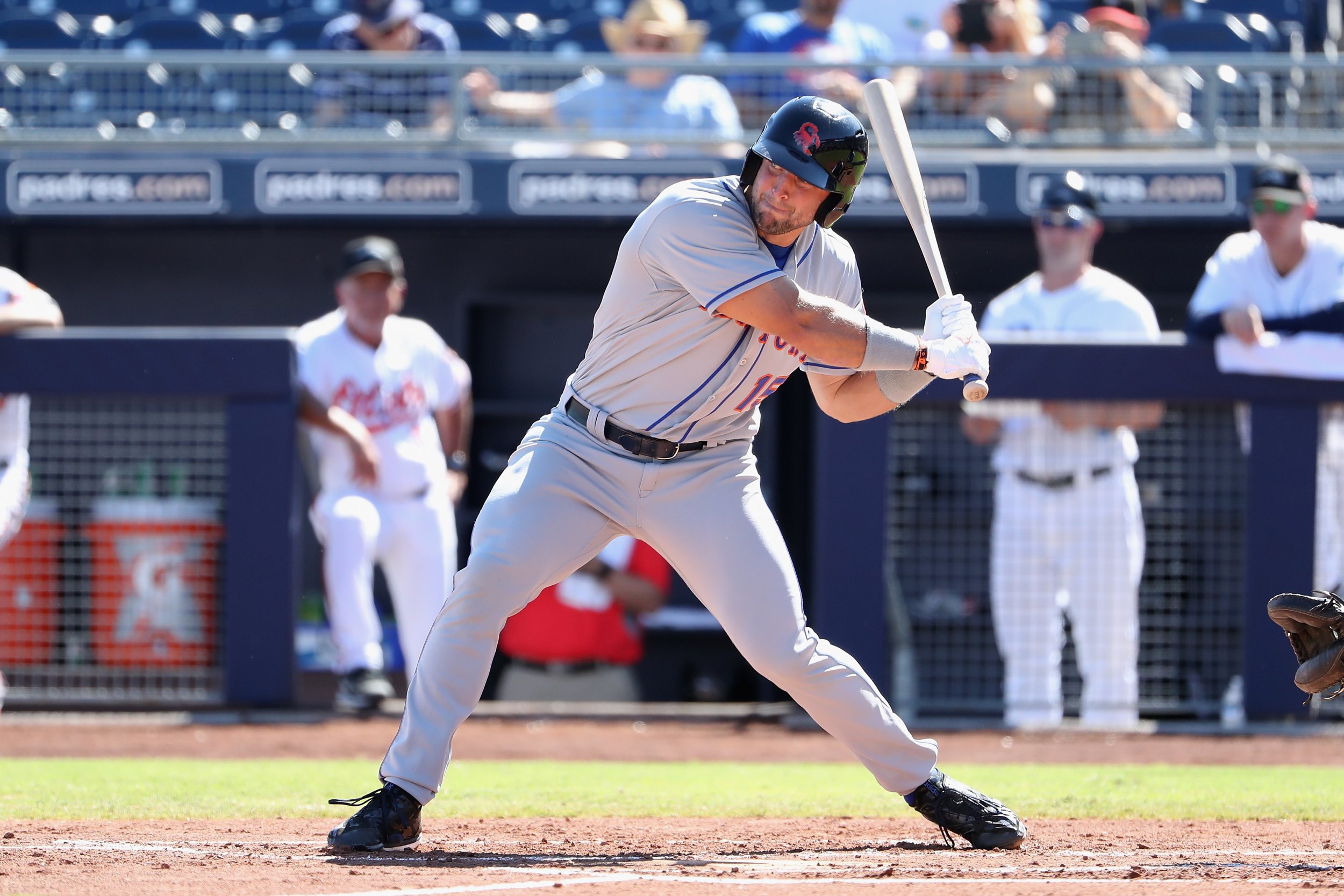 Batting .222 in single-A baseball is not enough to stop Tim Tebow.
The converted former NFL quarterback got a promotion on Sunday by the beleaguered New York Mets organization. Tebow is going from lower-A baseball, with the Columbia Fireflies, to the St. Lucie Mets in the High-A Florida State League.
It's a move up minor-league baseball's interminable rungs, bringing Tebow a tiny step closer to making it as a Major League Baseball player.
For the careering Mets Major League franchise, perhaps soon to have a fire sale, it's a rare spot of good news. The front office can put up with the natural cynicism of those who might question whether a player with three home runs and 23 RBIs in 64 games deserves a promotion. As for the High-A affiliate, well that has just been thrust into national prominence.
St. Lucie's press release, posted on its website on Sunday, notes Tebow's next debut is going to come pretty quickly. He's scheduled to be in the lineup for the team's next game, against the Palm Beach Cardinals at First Data Field at 6.30 p.m. E.S.T. Tuesday.
First Data Field also is the New York Mets' spring training facility. Perhaps Tebow will find himself back there sooner rather than later, for a chance at the big leagues. Stranger things have happened in the history of New York sports franchises, and maybe even in the peripatetic career of Tebow himself.
"Mets General Manager Sandy Alderson stated that the last few weeks have gone well for Tebow and the Mets feel this is the right time for the promotion," is how the St. Lucie website announced the promotion. "I think we're pleased with [Tebow's] first half of the season," is what Alderson actually said. "It's not like he's tearing up the league, but at the same time all indications are positive in terms of various things that we look at, in terms of chase rates, exit velocity."
Still, it's okay to be excited. Tebow is a big deal, and his story is a good one. He's also going to have a lot of chances to prove the cynics wrong. St. Lucie follows up that game against the Cardinals with two more home games against the same opposition before Tebow heads out on the road for the first time with his new team, to play the Fort Myers Miracle in a four-game trip.
Into July, and St. Lucie returns home again to face the Tampa Bay Rays' High-A affiliate, the Charlotte Stone Crabs (great name). Next up it's the Miami Marlins' affiliate, the Jupiter Hammerheads, for four road games.
Each of those games, and teams, will expect to get a bounce in ticket sales and interest. Like it or not—and it may explain the cynicism on both sides of the divide, fan and commercial—that's the Tebow effect.