On Tim Wolfe, Leonard Fournette and Football's Negotiating Power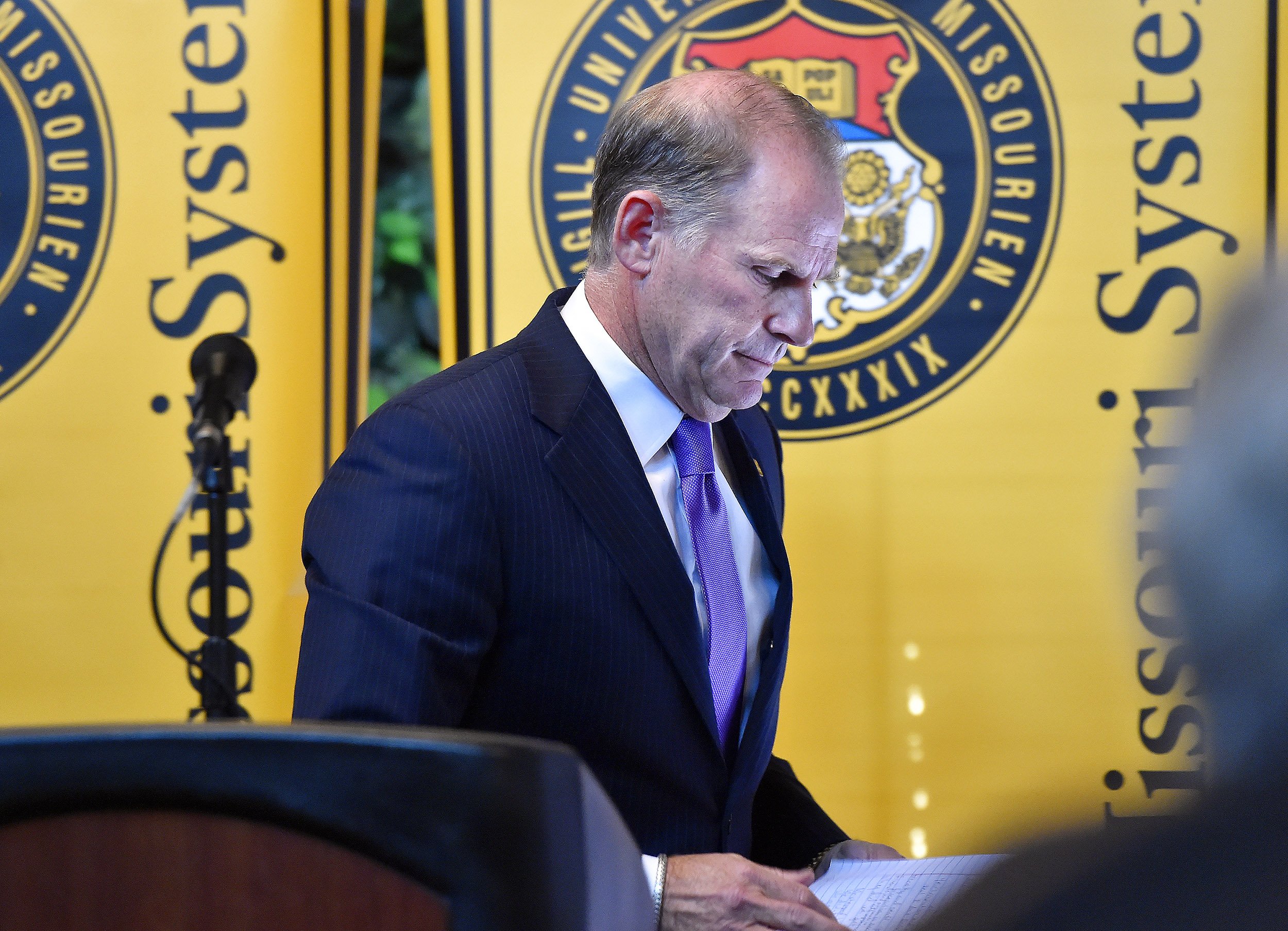 The week began with two seemingly unrelated events taking place on a pair of campuses in the Southeastern Conference (SEC). At the University of Missouri the school president resigned, while at Louisiana State University (LSU), an African-American football player earned six figures —for charity—by auctioning off his football jersey. In truth, both events took place at the intersection of athletics and revenue, an increasingly congested crossroads on your campus map.
On Monday morning in Columbia, Missouri, Tim Wolfe, the president or the University of Missouri system, stepped down amidst rising racial tensions on campus. Wolfe's resignation came one day after the school's football team and its head coach, Gary Pinkel, announced that they were suspending all football activities until Wolfe left office. Never mind that Pinkel was openly defying his boss's boss by siding with his players; Missouri was facing a $1 million penalty—or approximately twice Wolfe's annual salary—if if it were to forfeit Saturday night's game against Brigham Young University in Kansas City.
"My motivation in making this decision comes from love," said Wolfe, who only one day earlier had issued a statement that did not portend such a dramatic gesture. "I thought, prayed about this decision. It's the right thing to do."
Meanwhile in Baton Rouge, a jersey that had been worn by LSU's Leonard Fournette, the nation's leading rusher, in a game that had taken place one month earlier fetched $101,000 in a charity auction. As fans watched the bidding for a football jersey (and, yes, two autographed helmets) eclipse the six-figure mark, they had to wonder what price Fournette himself would command on the open market if college football players were able to be paid salaries on top of scholarships.
The story of Wolfe's demise and Fournette's philanthropy may be traced back to the same date: Saturday, October 10. On that in Columbia, Missouri staged its annual homecoming parade. As Wolfe, seated atop the back seat of a red convertible, made his way along the parade route, a small group of African-American students locked arms and blocked the vehicle's progress.
The students, part of an on-campus activist group known as Concerned Student 1950, were protesting "a slew of racist, homophobic, sexist, etc., incidents" according to one participant, a graduate student named Jonathan Butler. In September, a black student had been walking near fraternity row when a pickup truck drove past, its inhabitants calling him a "nigger." Earlier this year that student, Payton Head, had been elected the school's student body president with 54 percent of the vote.
During the homecoming parade, Wolfe did not step out of his vehicle to engage the protesters. Instead, his driver revved the engine. Butler, who said that the car's front bumper hit him, embarked on a hunger strike to protest Wolfe's presidency a little more than three weeks later, on November 2.
In Baton Rouge on October 10, South Carolina played at LSU's Tiger Stadium even though the game had been scheduled as a home contest for the Gamecocks. Due to the devastating effects of Hurricane Joaquin, which had struck the Magnolia State the previous weekend, officials at both schools agreed to move the game to LSU's campus.
Fournette, who grew up in New Orleans and recalled living through Hurricane Katrina as a boy, was inspired to make an open-field run toward philanthropy. "I would like to auction off my game jersey, as is, to the highest bidder," Fournette announced during an on-field, postgame interview after rushing for 158 yards against South Carolina,"to help out the relief efforts [for the people of South Carolina]."
The NCAA, the governing body of intercollegiate athletics, prohibits athletes profiting directly or indirectly from sales of a jersey. This time, however, the NCAA, which has a history of adhering strictly to its by-laws in the face of overwhelming evidence of common sense, reversed field on its tendencies. It granted Fournette and LSU a waiver to auction off the garment.
Football has a way of fomenting social change on college campuses, particularly in the SEC. In 1970, the University of Alabama football team was not yet integrated, but in the season opener the Crimson Tide were embarrassed at home by Southern California and its racially integrated squad, 42-21.
At the conclusion of that season, the fourth straight in which legendary coach Paul "Bear" Bryant failed to lead the Tide to the SEC championship, Alabama began to offer scholarships to African-American high school players. Remember, only seven years earlier the state's governor, George Wallace, had acted as a human roadblock ("Segregation tomorrow! Segregation forever!") in a failed attempt to deny African-American students the opportunity to enroll.
From Wallace's admissions office goal-line stand in 1963 to Monday's upheaval in Columbia, the only thing that has changed as dramatically as the racial diversity on SEC football rosters is the amount of money involved in the sport. Earlier this year the SEC announced a record $455 million in revenue solely from television deals, or $31.2 million for each of its 14 schools. Is it any wonder then why coach Pinkel would defy his university president and align himself with his players?
One week ago, Butler embarked on his hunger strike, but his self-induced starvation was not widely reported. ESPN televised last Thursday night's game from Columbia between Mississippi State and Missouri without ever mentioning it.
Two nights later, 30 African-American members of the Missouri football team appeared in a photo together and announced that they stood in support of Butler. "We will no longer participate in any football related activities until President Tim Wolfe resigns," the players tweeted via an account belonging to a group called the Legion of Black Collegians, "or is removed due to his negligence toward marginalized students' experiences."
On Sunday, Pinkel tweeted out a photo of his entire team, the players' arms interlocking, with the following message: "The Mizzou family stands as one. We are united. We are behind our players."
Payton Head, the student body president who was the victim of racial slurs in September, is both African-American and openly gay. His successful candidacy in an election that had the largest voter turnout in school history suggests that while racism exists at the University of Missouri—as it does in at least trace elements at many universities—it is a minority perspective.
None of that mattered in Columbia on Monday, however. The football team took a stand, and whether Wolfe's resignation was, as he said, "the right thing to do," was no longer pertinent. There can be little doubt that college football players from coast to coast saw what transpired on Monday in Columbia and Baton Rouge and gained a greater understanding of the leverage their talent affords them.