Time Capsule From 1973 Discovered Inside Pub Walls
A remarkable find inside the walls of a Somerset, England pub reveals just how much has changed over the last fifty years.
Renovations were underway at The Duke of Cumberland pub—now known as Holcombe Farmshop & Kitchen—when workers reportedly found a cigar box filled with relics left by a previous owner back in the 1970s, Somerset Live reported.
"It was so amazing, the previous owner just wanted to leave something for us, a gift from 1973," said current owner Toby Brett.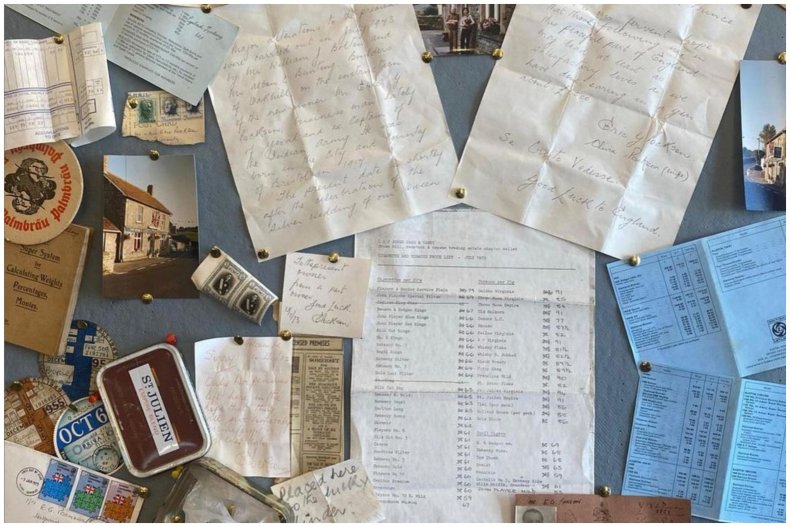 A picture of the time capsule's contents, posted to Holcombe Farmshop & Kitchen's Instagram account, shows the array of treasures, which Somerset Live says include "old price lists for cigarettes" and a pay stub that indicated a £1 per hour wage. Also in the box was a note from the previous owner, Eric Pockson, to whoever found the box: "To the present owner from a past owner," reads the note. "Good luck." It marks the date as July 13, 1973.
Brett was featured on Breakfast on BBC Radio Somerset on Friday, where he further discussed the "various artifacts" uncovered at the pub. "The landlord at the time was called Eric Pockson," Brett explained. "He was a retired captain from the Indian Army before he came back to England."
"There's various little notes," he added, along with several now-discontinued halfpennies and a price list for different models of cars. At the time, said Brett, a top-tier sports car would cost about £1,500—but that was also equivalent to the pub owner's yearly salary.
According to Brett, the current iteration of the pub and restaurant will have the relics on display. "We've decided to make a display on the floor, so we've encased it in resin so people can walk over and see it."
"Because there was so much stuff, we've actually made a display for it that we've put in the windows, and it's got a lot of interest...There's always people huddled around this window, looking at the great finds."
Brett told Somerset Live that he's glad to be able to share the contents of the time capsule with his community. "We were so pleased we placed all the items in a glass case in the pub so our customers and all the local people in the village would be able to share in this great discovery, such a nice thought," he said.
Newsweek attempted to contact Holcombe Farmshop & Kitchen for further comment but did not received a response in time for publication.