'Time Capsule' Crystals With Geological Memory Offer Secret to Predicting Volcano Eruptions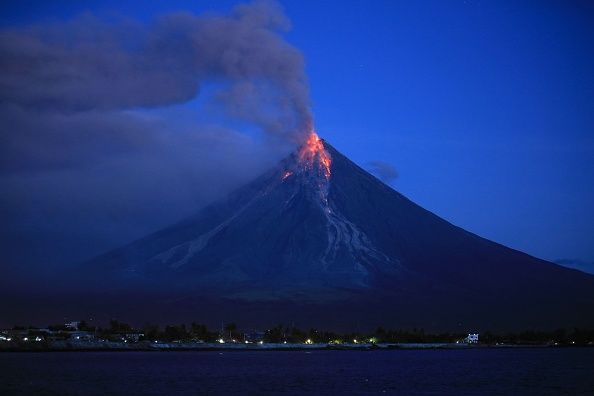 Tiny crystals found in lava might be the key to finally building an early warning system for volcanic eruptions, which we currently have no way to predict.
When magma begins to surge upward in an active volcano—from depths nearly 20 miles below the surface of the Earth—the crystals are carried along with it, growing and shifting in composition before bursting forth during the actual eruption.
Scientists from the University of Queensland and Trinity College Dublin conducting research on Sicily's Mount Etna, the most active volcano in Europe, discovered that the crystals have a "memory," not unlike the rings that form in trees.
Using laser technology to study the crystals' inner structure, the researchers found that growth layers record the changes a volcano goes through that signal it's getting ready to blow. At Mount Etna, the arrival of fresh magma approximately six miles below the surface proved a reliable indicator that an eruption would come within just two weeks. A paper describing the research was published in the scientific journal Nature Communications.
"In this case, therefore, earth tremors at the depth of magma recharge must be taken as serious signs of potential imminent eruptions," co-author Teresa Ubide, a volcanologist affiliated with both universities, said in a press statement.
The team's next step is to apply their technique to volcanoes beyond Mount Etna, not just in Europe but across the globe. It's possible that it might prove applicable to even dormant volcanoes; geologists can still collect ancient lava samples from long-ago eruptions and see what information their crystals might have preserved.

"This novel study shows promise for allowing us to better understand the nuances of some of the causes of volcanic eruptions, using crystals that form from magma as microscopic recorders of the processes leading to those eruptions," Erik Gulbranson, a geologist from the University of Wisconsin-Milwaukee who is not affiliated with the research, told Newsweek via email. "One exciting take-away from this report is that researchers can use this method to study historical eruptions as well as contemporary volcanic activity to provide a history of volcanic eruptions in order to better understand the controls on those eruptions."
Volcanic eruptions, like earthquakes, are notoriously difficult to predict. One of the best (and only) methods we have at the moment is monitoring seismic activity, according to Popular Science. Rising magma causes the surrounding rock to shake and shift. The press statement cited the fact that tens of thousands of residents of the Indonesian island of Bali who live near the volcano Agung have been forced to evacuate repeatedly. Earthquakes plagued Bali residents for two months before Agung resumed erupting in November 2017.