Time to Hold Trump Accountable for His Criminal Use of the Pardon Power | Opinion
With Donald Trump's impeachment trial imminent, it is time to take stock of his past abuses of presidential power, including his misuse of the pardon power. As president, Donald Trump pardoned a record number of political cronies and longtime allies. Trump's most troublesome pardons, which aimed to undermine the efficacy of the Mueller investigation, have precipitated calls to curtail the seemingly limitless breadth of the pardon power.
Most proposals to limit the pardon power are impractical and could undermine its purpose. They would require a constitutional amendment and in turn risk weakening the salutary purpose of that power to rectify real injustices or reward exemplary rehabilitation following a criminal conviction. There is, however, one way to send a clear message that the presidential pardon power is not unlimited and do justice at the same time—a criminal prosecution of Trump for obstruction of justice.
As the Mueller report found, Trump used his pardon power as a criminal instrument to buy the silence of his former aides and confidants during the Mueller and congressional investigations. There is more than sufficient evidence to charge Trump with criminal conspiracy to obstruct justice by buying the silence of key witnesses in return for pardons as the final overt act in the crime. As the evidence now stands, Trump's obvious co-conspirators and recipients of his pardons would include 2016 campaign manager Paul Manafort and longtime political adviser Roger Stone.
A pardon is not prospective for future crimes and only covers crimes committed before Trump's issuance of them. The Supreme Court's 1915 decision in Burdick v. United States holds that a pardon is not effective until the intended recipient of the pardon accepts the pardon, the "acceptance" of which "carries" with it "a confession" of guilt. Manafort's and Stone's acceptance of their pardons is in effect a part of their conspiracy with Trump to obstruct the Russia investigation. It is the "quo" for their "quid" of not cooperating with Mueller.
That their acceptance follows Trump's act of pardoning means that this last overt act in the conspiracy is not covered by the pardons themselves. Thus, both Manafort and Stone could be charged as Trump's co-defendants.
Manafort and Stone each interfaced with a representative of the Russian government during the 2016 presidential campaign. Manafort, according to his former deputy Rick Gates, met on occasions with Konstantin Kilimnik, a Russian intelligence agent, to provide him with the campaign's granular polling data. Judge Amy Berman Jackson, in holding that Mueller was justified in cancelling Manafort's cooperation agreement, found that Manafort had lied to the Mueller team about his dealings with Kilimnik.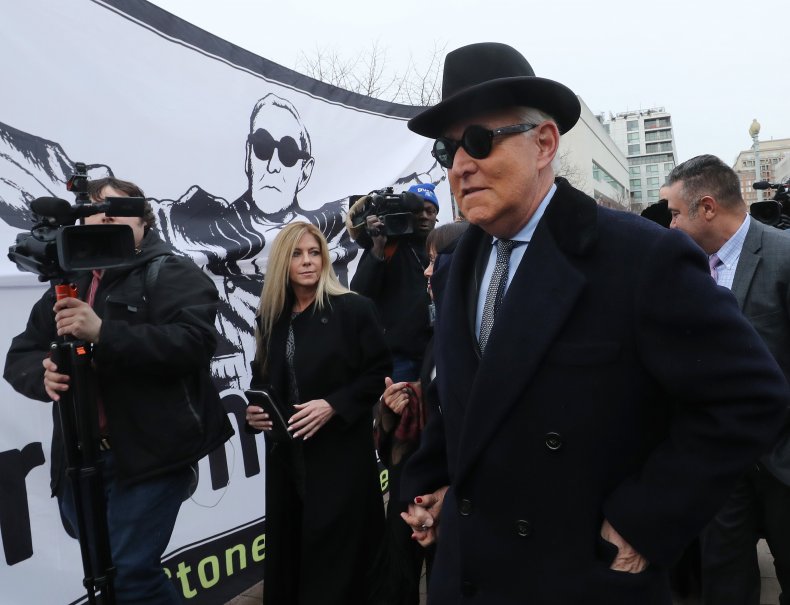 Stone interfaced with another Russian agent, known by the moniker Guccifer 2.0, who initially released the documents the Russians had hacked from the Democratic National Committee. Stone then, according to his own admission, which he later denied, communicated with Wikileaks through Julian Assange. The Mueller team convicted Stone for witness tampering and lying to Congress for what Judge Jackson described as "covering up for the president."
The key element to charging obstruction of justice is whether the putative defendant acted with corrupt intent, defined by the courts as acting with an improper motive. The Mueller report cites former Justice Antonin Scalia's pronouncement that "The requisite showing is made when a person acted with an intent to obtain an 'improper advantage for [him]self or someone else, inconsistent with official duty and the rights of others.'"
Mueller details substantial evidence of Trump's corrupt intent to improperly use the pardon power to buy the silence of Manafort and Stone. After recounting multiple public statements by Trump and his lawyer, Rudy Giuliani, the report concludes, "The President and his personal counsel made repeated statements suggesting that a pardon was a possibility for Manafort, while also making it clear that the President did not want Manafort to 'flip' and cooperate with the government." As a result, despite ostensibly entering into a cooperation agreement with the Mueller team, Manafort never cooperated on critical material facts, stonewalling what he knew about his dealings with Kilimnik.
Trump's corrupt intent is also evinced by his refusal to pardon those who truthfully cooperated with Mueller such as Michael Cohen—Trump's prior lawyer and fixer—and Gates. The Mueller report recounts that "Cohen also discussed pardons with the President's personal counsel and believed that if he stayed on message he would be taken care of. But after Cohen began cooperating with the government in the summer of 2018, the President publicly criticized him, called him a 'rat.'"
Gates related to Mueller that "In January 2018, Manafort told Gates that he had talked to the President's personal counsel and they were 'going to take care of us.' Manafort told Gates it was stupid to plead, saying that he had been in touch with the President's personal counsel and repeating that they should 'sit tight.'"
As the evidence demonstrates, there is no reason to amend the Constitution to modify the pardon power that most presidents have properly used. One way to restrict that power is to establish the precedent that use of that power as a method and means to obstruct justice is a crime. What is needed is a strong, clear message that when a pardon crosses the line into becoming a criminal instrument, the pardon power does not enable a president like Trump to pardon whomever he pleases for whatever corrupt purpose he chooses.
Nick Akerman is a lawyer in Manhattan, a former Assistant Special Watergate Prosecutor and a former Assistant United States Attorney in the Southern District of New York.
The views expressed in this article are the writer's own.