The Time is Now. Democrats Must Get Citizenship Done in 2021 | Opinion
If it wasn't clear before, a recent ruling against the Deferred Action for Childhood Arrivals (DACA) program by an anti-immigrant Texas judge must be the final catalyst for Democrats to do everything in their power to provide a path to citizenship for Dreamers, Temporary Protected Status (TPS) holders, farm workers and essential workers.
Democrat's new budget reconciliation package would finally give protection to undocumented immigrants who have had to live in uncertainty for too long. And it's now or never to make it a priority.
Not only is this package good economic policy, it's good politics for Democrats heading into the 2022 midterms.
The full proposal would raise $39 billion in revenue and add $150 billion annually to our GDP. It would also boost wages for all American workers by $600 and create 400,000 new jobs.
If this weren't reason enough for moderate Senate Democrats to support these reforms, they should also remember that Latino voters are watching.
The Democratic congressional majorities that Latinos helped elect face a difficult reality: the legislative window for this Congress is rapidly closing, and the reconciliation package unveiled recently could be the last opportunity to pass meaningful reforms. After campaigning on providing solutions, now is their chance to deliver. These reforms have broad bipartisan support from 70 percent of American voters in battleground areas, along with support from unions and the Chamber of Commerce.
A recent Immigration Hub and UnidosUS Action Fund poll found that 80 percent of Latino voters support such proposals in battleground areas. The study, run by Barreto Segura Partners and Equis Research, recently surveyed 1,800 Latino voters across several battleground states and districts to determine what this growing and diverse power bloc is looking for from Washington.
Our polling shows Latino voters in critical districts have high expectations for leaders to deliver improvements to our immigration system, especially a path to citizenship for Dreamers, farmworkers, TPS holders who have fled violence or disasters in certain countries and other essential workers.
Across age, gender and country of origin, Latino voters want common sense, fair and humane immigration solutions; and they are ready to reward Democrats or hold them accountable, depending on whether immigration policies are acted upon.
Meanwhile, Republicans have abandoned any sense of reason or governance on immigration. They continue down the path of Donald Trump: attempting to weaponize the issue through misinformation, scare tactics and vilifying entire communities of people and cultures.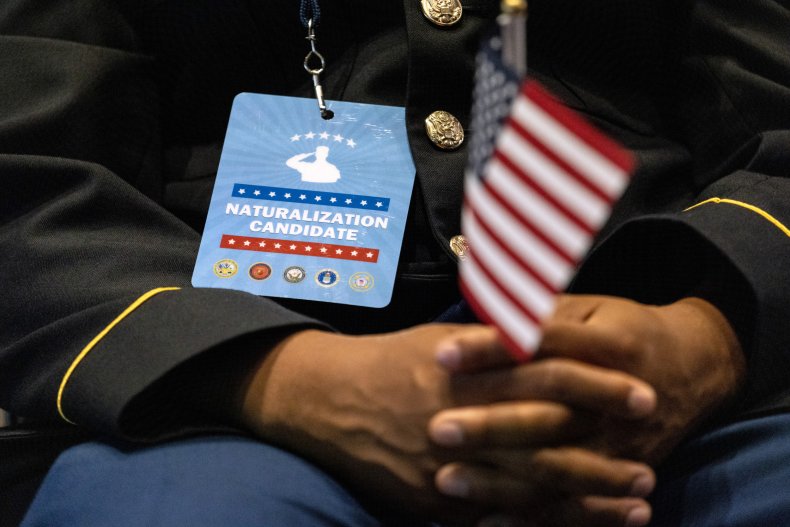 Just last week, Governor Greg Abbott signed an executive order targeting migrants through a policy that essentially greenlighted racial profiling in Texas.
Senator Lindsey Graham (R-S.C.), who once was a champion for immigration reform including citizenship, now said he wouldn't even vote for his own immigration proposals if they came to the floor.
One of Donald Trump's first public appearances since losing the 2020 election was with House Republicans at the southern border. In each instance, Republicans have shown just how brazenly unserious about negotiating bipartisan immigration reform they are. In their pursuit for power, Republicans have been willing to sacrifice core American values including family, protecting children, women and those seeking refuge and upholding basic human dignity.
Democrats can both expose these politics and move forward with fair, humane immigration reform.
Budget reconciliation is the last opportunity for Democrats to do so during this Congress, possibly during the entire Biden-Harris administration. Whether they can get the party on board will show Latino voters if Democrats are listening and could decide their political fate in 2022 and 2024.
Democrats have taken some strong steps in the right direction. The American Dream and Promise Act and Farm Workforce Modernization Act passed the House in March.
President Joe Biden personally sent the message last week that the White House is fully supportive of using budget reconciliation as a vehicle to move citizenship proposals, and he has also signed more than 100 executive actions related to immigration as a whole. What's more, the administration has begun to reunify families separated by the Trump administration and both he and Vice President Kamala Harris have been meeting with DACA recipients and other immigrants, a clear signal that the White House is leaning-in more on citizenship efforts.
These steps are good. But more is needed.
Democrats have an opportunity to shore up and energize Latino voters, but they must be ambitious, clearly communicate their plans and Republican obstruction and most important of all, Democrats must move mountains to get citizenship proposals onto Biden's desk for signature.
We know this can be done because it's been done before. In 2005, the Republican-controlled Senate included several immigration provisions in a reconciliation bill, the Deficit Reduction Act of 2005.
The time for citizenship is now. Latino voters are paying attention and know that Democrats hold the keys to the White House, the House and the Senate. Words and attempts are not going to be enough. Our economic well-being and too many lives hang in the balance.
Stephanie Valencia is a social entrepreneur and a national leader at the nexus of politics, technology and leadership development. She is the co-founder of Equis, three organizations working to create a better understanding of, and how to reach, LatinX voters.
Sergio Gonzales is the executive director of the Immigration Hub, an organization dedicated to advancing fair and just immigration policies. Prior to joining the Hub, Sergio served as senior policy advisor to U.S. Senator Kamala Harris (D-Calif.) on immigration, homeland security, government affairs, labor and LGBTQ issues.
The views expressed in this article are the writers' own.