'Time Is Running Out': John Kerry Calls for Greater Global Response to Climate Crisis
John Kerry called for all large economies to pledge more ambitious cuts to emissions as "time is running out" to address climate change on Tuesday.
Kerry, the former secretary of state and now President Joe Biden's special envoy for climate, said a greater global response is needed to adequately combat the crisis in a speech at the Royal Botanic Gardens in London.
"The climate crisis, my friends, is the test of our times. And while some may still believe it is unfolding in slow motion, no. This test is now as acute and as existential as any previous one," Kerry said.
"Time is running out. Not a euphemism, not an exaggeration. Time is running out," he added.
The upcoming United Nations' climate conference COP26, Kerry argued, must be a "pivotal moment for the world to come together and master the climate challenge." COP26 is scheduled to take place in November in Glasgow.
Kerry's speech comes amid devastating floods in Germany and Belgium, blistering heat waves in the United States and wildfires tearing through parts of Siberia and Russia.
German Chancellor Angela Merkel has described the scene from the flooding in western Europe as "terrifying" as the death toll nears 200. Bridges, houses, and some sections of villages were swept away by floodwater from swollen rivers caused by record rainfall.
Kerry said Tuesday world leaders must "treat climate change as the crisis it has become, and mount a response that is comparable to wartime mobilization, a massive opportunity to rebuild our economies in the aftermath of an historic pandemic."
Kerry noted that even if countries fulfilled their promises from the 2015 Paris Climate Agreement, the Earth's temperature will still rise. Though he added that staying within 1.5 degrees Celsius of global heating, the agreement's goal, was still possible.
"But only if every major economy commits to meaningful absolute reductions in emissions by 2030," Kerry said. "That is the only way to put the world on a credible track to global net-zero by mid-century."
Earlier this year, Biden pledged to reduce U.S. greenhouse gas emissions by at least 50 percent by 2030. His target more than doubled the country's prior commitment under the Paris accord.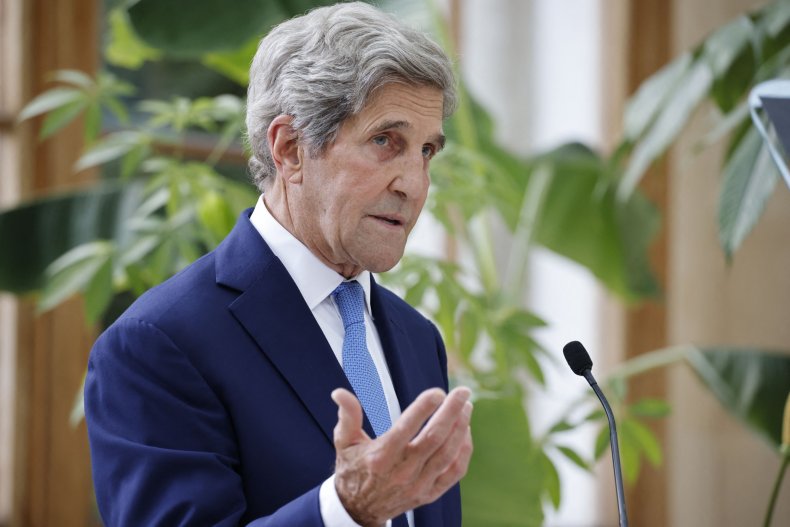 During his speech Tuesday, Kerry highlighted the failure of adults to properly address the climate crisis. He added that the global political system has failed for the past 30 years to adequately respond to the challenge.
"The irony should not be lost on us that it is young people around the world who are calling on adults to behave like adults and exercise their basic responsibilities," he said. "Young people who feel forced to put down their school books and march out of the classroom to strike for climate."
"They know the world is not responding fast enough to an existential threat they didn't create, but for which they risk bearing the ultimate burden— uninhabitable communities on an increasingly unlivable planet—in their lifetimes."