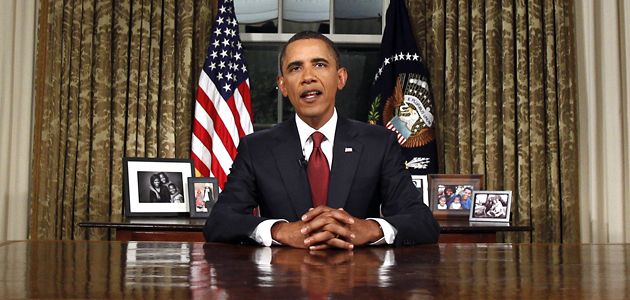 In marking the end of America's combat role in Iraq, President Obama sought to shift his priorities to the United States' own deep problems at home. "We have met our responsibilities. It is time to turn the page," Obama told the nation from the newly refurbished Oval Office, seeking to open a new chapter in his troubled presidency. "Today, our most urgent task is to restore our economy … This will be difficult. But in the days to come, it must be our central mission as a people, and my central responsibility as president."
"Two weeks ago, America's final combat brigade in Iraq—the Army's Fourth Stryker Brigade— journeyed home in the pre-dawn darkness," Obama said, putting an end—rhetorically at least—to seven and a half years of combat in a war that too many at the outset expected to be a "cakewalk." The president talked some about placing attention on Afghanistan, saying that "because of our drawdown in Iraq, we are now able to apply the resources necessary to go on offense" there. But mostly he used every chance he had in the 20-minute address to say that America now had to attend to its own house.
Here Obama harked back to an old divide in American political history, between the Jeffersonian yearning to avoid "entangling alliances" and a more aggressive view of engagement abroad. And he left no doubt that he wanted to tilt the balance back toward an inward focus. "Throughout our history, America has been willing to bear the burden of promoting liberty and human dignity overseas, understanding its link to our own liberty and security," Obama said. "But we have also understood that our nation's strength and influence abroad must be firmly anchored in our prosperity at home."
Somewhat deftly, the president also sought to identify the nation's need to unify over fixing the economy with standing behind its armed forces. "As we wind down the war in Iraq, we must tackle those challenges at home with as much energy, and grit, and sense of common purpose as our men and women in uniform who have served abroad. They have met every test that they faced. Now it is our turn."
"Ending this war is not only in Iraq's interest—it is in our own," he said. "The United States has paid a huge price to put the future of Iraq in the hands of its people … We have now been through nearly a decade of war. We have endured a long and painful recession. And sometimes in the midst of these storms, the future that we are trying to build for our nation— a future of lasting peace and long-term prosperity—may seem beyond our reach. But this milestone should serve as a reminder to all Americans that the future is ours to shape if we move forward with confidence and commitment."
It was only nominally a speech about Iraq. It was really a speech about the central problem of the Obama presidency: the economy.