Timeline: Chronicling Recent Smash-and-Grab Robberies in LA, Bay Area Amid Crime Spike
A recent crime spike in California that began ahead of the Thanksgiving holiday prompted the state's governor to encourage increased police presence at retail hubs shortly before San Francisco's district attorney announced felony charges against some of the individuals believed to be involved.
Most of the thefts reported thus far have occurred at stores in the Bay Area and in Los Angeles. Several of the reported incidents have involved large groups of people rushing into stores and stealing products.
Governor Gavin Newsom on Monday instructed the California Highway Patrol to boost its officer presence near major retail outlets throughout the holiday shopping season and also said he would be suggesting an increase for the state's budget next year "to combat retail theft." A press release from Newsom's office mentioned the "string of robberies" reported throughout the state over the weekend and said the governor was working with local officials to combat the rise in crime.
"The level of organized retail theft we are seeing is simply unacceptable," Newsom said in the release. "Businesses and customers should feel safe while doing their holiday shopping."
On Tuesday, San Francisco District Attorney Chesa Boudin announced felony charges against nine individuals suspected of being involved in robberies that took place in the area over the last week.
San Francisco Mayor London Breed also announced on Tuesday that she was working with local law enforcement to take precautions in the city, which she tweeted would include "increased police patrols and vehicle street closures aimed at preventing getaway cars."
As state and local officials continue taking steps to address the recent rise in retail thefts, below is a timeline featuring some of the reported incidents that have taken place since mid-November.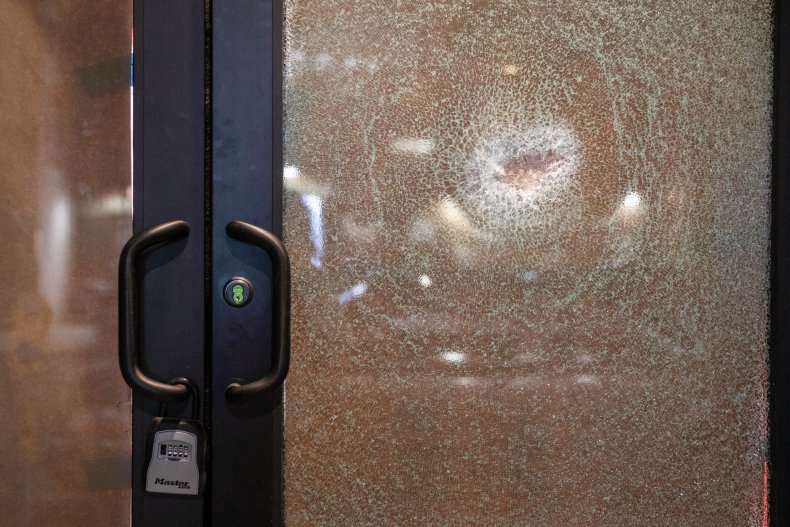 November 15
The Concord Police Department shared a video on social media that showed nine hooded and masked individuals smashing jewelry cabinets with hammers at an Iceberg Diamonds store. When store employees tried to step in, they "were kept back by the hammer wielding criminals," police said in a press release.
November 19
Dozens of people made their way through a mall in San Francisco's Union Square and stole products believed to be worth at least $1 million in total, according to The Los Angeles Times. Several stores at the mall had products stolen, including Bloomingdale's, Burberry, Louis Vuitton and Yves Saint Laurent, according to local station KPIX-TV.
San Francisco police said that evening that "multiple" people had been arrested in connection with the thefts and encouraged members of the public to contact officers with any information they may have. San Francisco Police Chief Bill Scott said the day after the crime spree took place that officials needed to "make it difficult for people to do what they did last night," KPIX reported.
November 20
Police said an estimated 80 people rushed into a Nordstrom store in Walnut Creek around 9 p.m. local time. Officers said it was "clearly a planned event," with vehicles seen driving through the store parking lot "recklessly" before thieves began entering the store and taking products. One of the store's employees was pepper-sprayed and two others were assaulted by some of the individuals involved, Walnut Creek police said in a Sunday news release.
November 21
A Lululemon store in San Jose had merchandise worth more than $40,000 stolen Sunday evening, San Jose police told the local station KNTV. Four people were believed to be involved in the incident and left the scene before law enforcement arrived, the station reported.
Another incident was reported to Hayward police on Sunday evening, according to KPIX. An estimated 40 or 50 people were believed to be involved in an incident at a mall in Hayward, during which a Sam's Jewelers store was targeted by some individuals who smashed open jewelry cases and ran away with stolen items. Video footage of the thefts at the jewelry store obtained by a KPIX reporter showed several individuals wearing hoods breaking the cases and running out of the store while carrying stolen items.
November 22
On Monday, the Prime 356 clothing store in Oakland shared security footage on a GoFundMe page that showed more than two dozen individuals flooding into the store and grabbing items off shelves as an alarm sounded in the background. The store's owners said the thieves pried apart the store's security gate and broke windows in order to get inside. The thefts have "taken a huge financial toll," the owners wrote on the fundraiser page.
Oakland Police shared a clip from the security footage on Twitter and called upon members of the public with knowledge about the thefts to contact law enforcement.
November 23
San Jose police said Tuesday two men were arrested after trying to steal items from a Macy's store in the area. The thieves stole items worth an estimated $2,000 and were trying to run away on foot when officers caught up with them. "Both suspects will be booked for felony theft and burglary," San Jose police said in a Tuesday evening tweet.
In a Wednesday news release, San Jose police said the same two men arrested in connection with the Tuesday robbery at Macy's were suspected of robbing another Macy's store at a different mall. In both cases, the men were suspected of stealing more than $2,000 worth of cologne and perfume, police said.
Newsweek reached out to the Oakland Police Department for comment on the Prime 356 break-in.