Timeline of Coronavirus Symptoms Detailed in Study, With Five-Day Incubation Period Confirmed
The COVID-19 virus has an incubation period of 14 days with people showing symptoms an average of five days after catching it, according to research which backs up the findings of past studies on the new coronavirus.
Researchers at Johns Hopkins Bloomberg School of Public Health found that it appears to take an average of 5.1 days for a person to develop symptoms such as a dry cough and fever after they have been infected with SARS-CoV-2—the name of the virus which causes the disease COVID-19 and shouldn't be confused with the SARS virus. Of those who go on to develop symptoms, nearly all will do so within 12 days of being infected, they said.
To conduct their study, published in the journal Annals of Internal Medicine, the authors collected news articles and public health reports of COVID-19 cases from between January 4 and February 24, 2020. The reports spanned 24 countries and regions outside of mainland China, and 25 provinces within mainland China outside of Hubei, where the outbreak started in its capital Wuhan last December. The team only looked at cases where the infected person had traveled to Wuhan during the outbreak or had close contact with an infected person. They didn't assess cases of community spread, or cases where it was unclear where a person caught the virus. Of the total, 161 of the individuals had traveled to or lived in Wuhan. When a patient was exposed, when they developed symptoms, when they had a fever and if they were hospitalized were noted by the authors.
According to the team's estimates, 101 of every 10,000 cases will develop symptoms after 14 days of active monitoring, where people believed to have encountered the virus report their health status to the authorities every day.
It is important to know the incubation period of the new virus because it can help with carrying out public health efforts to stem the outbreak, such as active monitoring, as well as surveillance, control, and modeling, the team explained.
They added: "Understanding the length of active monitoring needed to limit the risk for missing SARS-CoV-2 infections is necessary for health departments to effectively use limited resources."
Their findings support the 14-day quarantine period currently used by countries including the U.S., "although longer monitoring periods might be justified in extreme cases," the researchers wrote.
The team acknowledged their study has limitations, including that severe cases might be more likely to be reported on and they might have a different incubation period in comparison to mild cases.
The research chimes with the World Health Organization's (WHO) estimates that the virus has an incubation period of one to 14 days, most commonly around five. Past studies, including one published in the New England Journal of Medicine in late January, have reached similar conclusions on incubation time.
Jonathan Ball, professor of molecular virology at the University of Nottingham who did not work on the paper, said in a statement: "Whilst the study suggests that in some people the incubation period might be longer, we have to acknowledge that the models they use to estimate incubation period make key assumptions, and perhaps the assumption most likely to impact on their data is that a person became infected as soon as they came into contact with the virus. This might not be true—the real infection timepoint might be much later, yet assuming the infection occurred at an earlier date will make the incubation period appear longer.
Ball added: "I think it is really important when dealing with this outbreak that we fully understand the limitations of studies and their findings and also base any intervention or policy on norms, not extremes. As it stands there is little evidence to suggest that a quarantine or self-isolation period of 14 days is not suitable. Also, there is little if any evidence that people can routinely transmit virus during the asymptomatic period."
Since the COVID-19 outbreak started in Wuhan late last year, the virus has spread to every continent except Antarctica as shown in the map below by Statista. Over 3,800 people in 111,000 cases have died worldwide, and more than 62,300 people have recovered, according to a tracker run by Johns Hopkins University.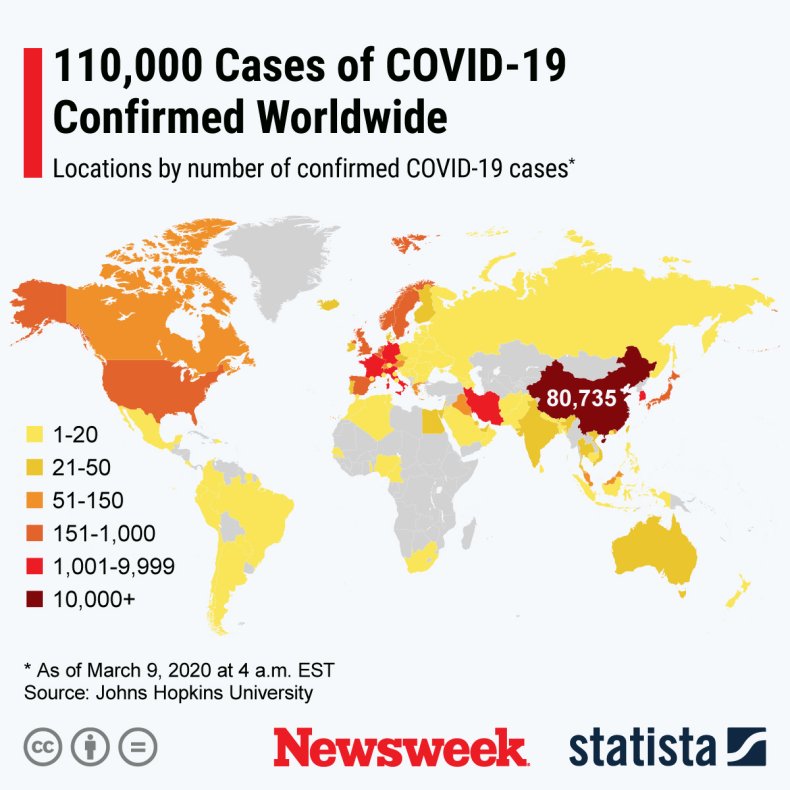 World Health Organization advice for avoiding spread of coronavirus disease (COVID-19)
Hygiene advice
Clean hands frequently with soap and water, or alcohol-based hand rub.
Wash hands after coughing or sneezing; when caring for the sick; before; during and after food preparation; before eating; after using the toilet; when hands are visibly dirty; and after handling animals or waste.
Maintain at least 1 meter (3 feet) distance from anyone who is coughing or sneezing.
Avoid touching your hands, nose and mouth. Do not spit in public.
Cover your mouth and nose with a tissue or bent elbow when coughing or sneezing. Discard the tissue immediately and clean your hands.
Medical advice
If you feel unwell (fever, cough, difficulty breathing) seek medical care early and call local health authorities in advance.
Stay up to date on COVID-19 developments issued by health authorities and follow their guidance.
Mask usage
Healthy individuals only need to wear a mask if taking care of a sick person.
Wear a mask if you are coughing or sneezing.
Masks are effective when used in combination with frequent hand cleaning.
Do not touch the mask while wearing it. Clean hands if you touch the mask.
Learn how to properly put on, remove and dispose of masks. Clean hands after disposing of mask.
Do not reuse single-use masks.