A Timeline of Donald Trump's COVID-19 Infection, From Diagnosis to Treatments and Hospital Discharge
President Donald Trump's coronavirus diagnosis sent shockwaves across the nation, but days later there's still confusion as to when he was infected and the severity of his condition.
Despite being hospitalized since Friday, the president is in good spirits and feeling as well as can be expected, given the mild symptoms he experienced, according to accounts from his medical team and the president's own messages. His doctors hope to discharge him from Walter Reed National Military Medical Center on Monday or Tuesday, and the president will continue to recover at the White House.
As Trump continues his own treatment plan, at least nine others who were with him in the week leading up to his diagnosis also face a road to recovery, as well. At this point, the next debate between the president and former Vice President Joe Biden is set to proceed as scheduled, on October 15, but that depends on the course of Trump's illness.
Conflicting statements, withheld information and a vague outline of events sparked speculation as to how Trump was faring and what the White House knew and when. Press secretary Kayleigh McEnany confirmed on Sunday that the president tested positive after he returned from Bedminster, New Jersey, on Thursday. But she refused to provide timestamps for when he was tested, fueling reports from various media outlets that the president tested positive hours before he confirmed the diagnosis.
Below is a timeline of events compiled from tweets, press pool reports, comments from officials and statements from the president's medical team.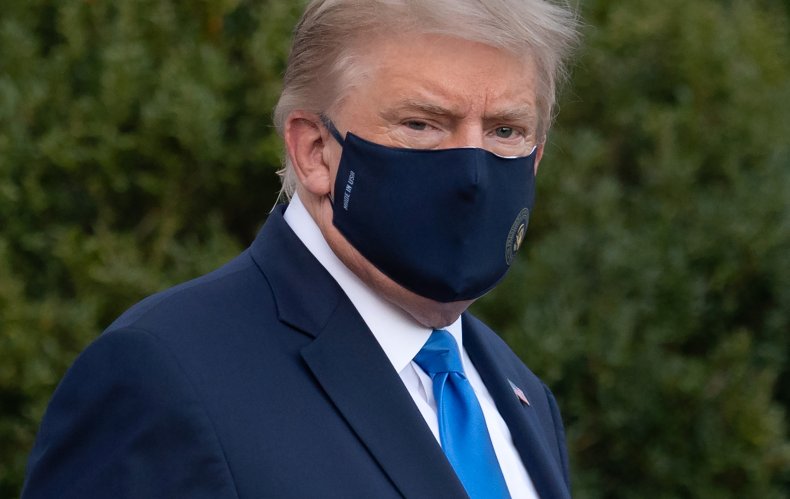 Tuesday night: Trump appears at the first presidential debate with Biden, where his family is criticized for not following the protocol for masks.
Wednesday from 5:30 p.m. and 10 p.m.: Trump participates in a fundraiser at the private home of a supporter living in Sherwood, Minnesota, and then goes to a rally in Duluth, Minnesota.
Wednesday night: Hope Hicks, one of Trump's closest aides, begins to feel ill and tries to isolate herself on Air Force One while traveling back to Washington, D.C.
Thursday afternoon: White House officials learn of Hicks' positive test result. Trump carries on with a roundtable discussion and a fundraiser in Bedminster. "Clinical indications" raise concerns about Trump's health, and he is tested again.1
Thursday night: Trump confirms in a Fox News interview with Sean Hannity that Hicks tested positive and that he and first lady Melania Trump just "went out with a test."
Late Thursday night: A test result confirms Trump is positive for the coronavirus.1
Friday 1 a.m.: Trump confirms in a tweet that both he and Melania tested positive for the virus.
Thursday night into Friday morning: Trump is experiencing "mild" symptoms, including a cough, but is doing well. His oxygen saturation is in the high 90 percent range.1
Later Friday morning: Trump has a high fever, and his oxygen saturation is transiently dipping below 94 percent. Trump is given supplemental oxygen, and his levels returned to normal after about a minute on 2 liters. He remains on oxygen for about one hour.1
"He was fairly adamant that he didn't need it," Dr. Sean Conely, the president's physician, said at a briefing on Sunday. "He was not short of breath. He was tired, had the fever, but that was about it."
Friday 11:42 a.m.: Senator Mike Lee, a member of the Senate Judiciary Committee, confirms in a tweet that he tested positive for the virus on Thursday.
Friday around 4 p.m.: Trump receives a dose of Regeneron Pharmaceuticals' experimental antibody drug.1
Friday around 5 p.m.: Trump is taken to Walter Reed to ensure he receives the best care possible.
Friday 8:24 p.m.: Senator Thom Tillis, a member of the Senate Judiciary Committee, confirms he tested positive for the virus.
Friday 10:16 p.m.: Former counselor to the president Kellyanne Conway confirms she tested positive for the virus.
Friday evening: Trump campaign manager Bill Stepien tested positive, the campaign confirms.
Saturday morning: Conely, the president's physician, says they are "72 hours into the diagnosis," putting Trump's positive diagnosis on Wednesday, not Thursday evening. He later says he misspoke and meant to say "Day 3 of the diagnosis."
Trump tells the medical team, "I feel like I could walk out of here today," a sign that Dr. Sean Dooley, a pulmonary physician, says is an encouraging sign.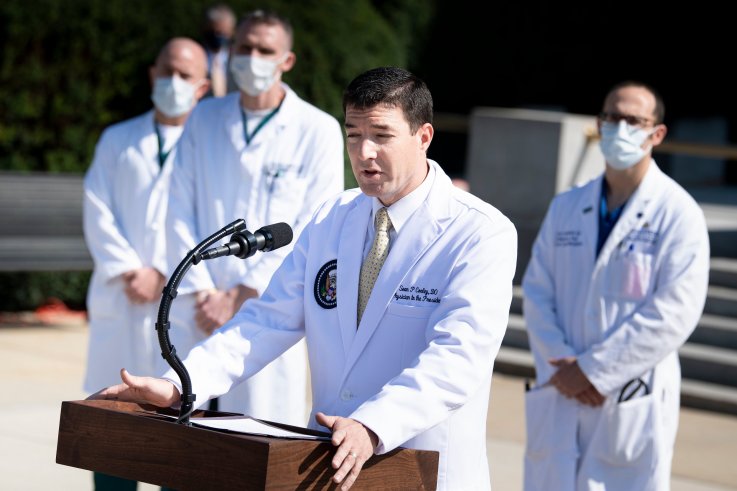 Dr. Sean Conley, Donald Trump's physician, gives an update on the president's health on Sunday.
Brendan Smialowski/AFP/Getty
Saturday: Trump receives the steroid dexamethasone because of transient low oxygen levels.3 His oxygen levels drop to about 93 percent. He remains fever free for 24 hours.
Saturday 11:37 a.m.: Former New Jersey Governor Chris Christie confirms in a tweet he tested positive and checks into Morristown Medical Center that evening.
Saturday night: Trump is given a second dose of the antiviral drug remdesivir and experiences no potential side effects.3
Sunday: The president hasn't had a fever since Friday morning, and his vital signs are stable. He's walking around "without limitation" and has normal cardiac, liver and kidney functions.2 If his condition continues as it has for the day, his medical team may discharge him from the hospital on Monday.
Sunday night: Trump receives his third dose of remdesivir.
Monday morning: White House chief of staff Mark Meadows tells Fox News' Fox & Friends that the president's health "continued to improve" overnight and that he's "optimistic" Trump will return to the White House on Monday.
Monday 11:26 a.m.: McEnany confirms she has tested positive for the virus.
Monday 2:38 p.m.: Trump tweets that he will be leaving Walter Reed at 6:30 p.m. and is "feeling great." He encourages people to not to be afraid of COVID-19 or to let it "dominate" their lives.
Trump will receive his fourth dose of remdesivir on Monday evening before returning to the White House, and doctors plan to administer the fifth and final doses after he goes home.3
"He may not entirely be out of the woods yet," Conley said. "We all remain cautiously optimistic and on guard, because we're in a bit of unchartered territory when it comes to a patient that received the therapies he has so early in the course."
This story has been updated to include Trump's tweet announcing he would leave the Walter Reed medical center, information about his remdesivir doses and Monday's comment from Dr. Sean Conley.
1. Dr. Sean Conely, the president's physician
2. Dr. Sean Dooley, a pulmonary physician treating the president
3. Dr. Brian Garibaldi, a pulmonary physician treating the president