Juul Labs is considering parting with the $400 million San Francisco tower it just bought, according to reporting by the San Francisco Chronicle, while the company continues to adapt to a widening crackdown on its products by the Food and Drug Administration (FDA).
Juul bought the 29-story office building in June to house its then-growing workforce, but management told the Chronicle it may sell anyway considering its ongoing effort "to align the company's organization and financial resources behind key priorities."
Among those priorities: launching Juul products in international markets while decreasing their widespread use among U.S. children, according to company statements.
In the past few months alone, the vaping company parted with key leadership and cut more than fifteen percent of its workforce in a two-pronged effort to win back the trust of federal regulators and save money heading into 2020.
On many counts, it's been a rough year for Juul, formerly the third-fastest growing startup in the world. To help keep up, here's a timeline of the company's financial fallout, run-ins with health departments and resulting cuts to flavors, marketing and U.S. jobs.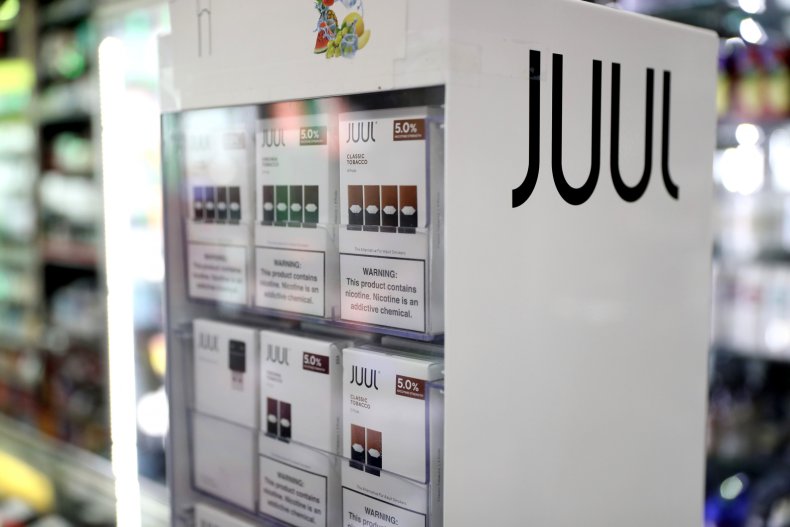 September 11, 2018: The FDA issued more than 1,300 warning letters and civil fines to retailers who illegally sold Juul and other e-cigarette products to minors, according to a press release. The agency gave Juul and similar companies two months to make a plan for getting children's use of their products under control.
Soon thereafter, Juul included nicotine warning labels on its products after previously refusing to sign a pledge not to market to teenagers.
November 15, 2018: More than 3.6 million middle and high school students used e-cigarettes in 2018, a dramatic increase from the year prior, according to an annual survey by the Centers for Disease Control and Prevention (CDC) and FDA. That number continued to climb into 2019, reaching more than 5 million youth despite prevention efforts.
Around the same time, Juul stopped distribution of some flavored pods to its brick-and-mortar partners, but continued selling them online.
December 20 2018: Altria Group, the maker of Marlboro cigarettes, announced it would buy a 35 percent stake in Juul for $12.8 billion. The $38 billion valuation made Juul the third-most valuable startup in the world.
Altria reported that Juul made more than $1 billion in revenue during 2018 in its fourth quarter earnings report the next month on January 31, 2019. In February, Bloomberg reported the e-cigarette maker expected to make even more in 2019, around $3.4 billion due to markets overseas.
August 1, 2019: The CDC launched a multistate investigation as the first vaping-related illnesses resulted in at least two deaths. Soon thereafter, it warned people not to vape in general or to use e-cigarette products purchased from street vendors.
September 19, 2019: The FDA launched a criminal probe into the growing number of vaping-related illnesses, which had claimed several lives. A couple of weeks later, the Federal Trade Commission ordered Juul and other vaping companies to hand over its marketing materials to see whether it targeted kids.
September 25, 2019: Juul ended all digital, TV and print advertising in the U.S. and replaced its Chief Executive Officer Kevin Burns with K.C. Crosthwaite, a former Altria executive, largely in response to public backlash from vaping-related illnesses and deaths.
October 7, 2019: Kroger and Walgreens announced they would stop selling all vaping products, joining Walmart.
October 17, 2019: Juul suspended its sale of most e-cigarette flavors, including mango, creme, fruit and cucumber, adding it would refrain from lobbying President Donald Trump's administration against its expected ban on flavors.
Just three weeks later, the company also halted mint-flavored pods after data suggested they were popular among students.
October 31, 2019: Altria reported a $2.6 billion loss in its third quarter, mostly because of a $4.5 billion charge from lowering its initial valuation of Juul. Among other things, management at Altria expected more regulation from the FDA when it came to Juul's e-vapor products.
November 12, 2019: Juul eliminated 650 jobs, part of an effort to cut $1 billion in costs next year, according to a company statement.
November 19, 2019: New York Attorney General Letitia James announced a lawsuit against Juul for advertising that downplayed risks to consumers. Her case joined a growing pile of suits from California, parents and multiple school districts announced in earlier weeks.
November 21, 2019: More than 2,000 vaping-related injuries have been reported to the CDC, along with forty-seven deaths, mostly from products containing THC, the main psychoactive ingredient in cannabis.