Mariah Carey and Jay-Z made headlines this week after it was widely reported that they were involved in an "explosive situation" prompting her exit from Roc Nation.
A "blazing" argument was reported to have taken place between the two music heavyweights, leading to Carey allegedly quitting the label.
An anonymous source provided the information, which was first reported in The Sun over the weekend.
However, the "Fantasy" singer has since vehemently denied the rumors and defended her working relationship with the rapper.
Taking to Instagram, Carey shared a clip from her and Jay-Z's hit single "Heartbreaker" and dismissed all claims of any sort of "explosive" confrontation.
"The only "explosive" situation I'd ever "get into" with Hov is a creative tangent, such as our #1 song 'Heartbreaker!!'" she posted in the caption. "To the people who make up these lies I say 'Poof! —Vamoose, sonofa*****!'"
The caption quotes a line from the Jay Z song "Izzo (H.O.V.A.)" while celebrating their hit collaboration "Heartbreaker" from 1999.
Jay-Z, 51 and Carey have worked together a number of times over the years—here's a timeline of their working relationship.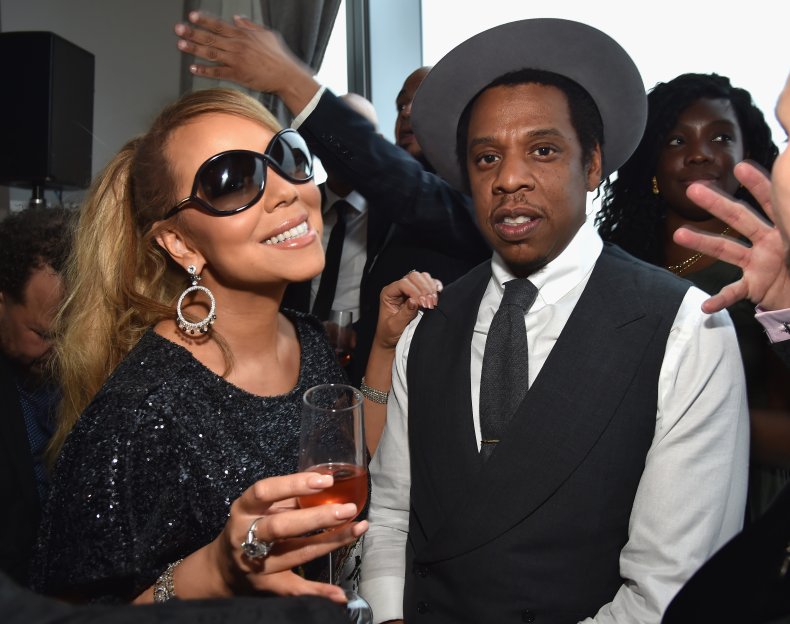 1999
"Heartbreaker"
The pair teamed up on what is perhaps their most famous collaboration. "Heartbreaker" was the lead single from Carey's seventh studio album, Rainbow.
"Things That U Do"
The same year, Carey appeared on the rapper's 1999 song "Things That U Do" from his album Vol. 3... Life and Times of S. Carter.
2002
"You Got Me"
In 2002, Jay-Z was featured on Carey's track "You Got Me" from her album Charmbracelet.
2005
"Shake It Off"
2005 saw the pair team up again for the single "Shake It Off" from her tenth studio album, The Emancipation of Mimi.
2017
Caret sent her blessings to Beyonce and Jay Z on the birth of their twins.
"Congrats Bey and Jay!!! I'm so happy for you both. Having twins is the most incredible experience ever! Love, Mariah and the twins," Carey commented on Beyonce's Instagram post.
This same year saw Carey sign with Roc Nation in 2017 after she parted ways with ex-manager Stella Bulochnikov.
2020
Carey spoke of working with Jay-Z on "Heartbreaker" and their continued collaborations.
"Well, the first time I worked with Jay[-Z] was for the album Rainbow, on the song 'Heartbreaker.' We were at Mr Chow's in New York—this is before everybody in the world knew who he was. But we lovers of hip-hop knew who he was, and were very in awe of him, his talent, where he came from, his whole story and everything," she said.
In an interview with V Magazine, she explained: "So we talked that night and ended up collaborating. I did something for him once, and then we talked about him doing this for me, so that was the first time we worked together. We just have a history as friends and as collaborators, so it's kind of a thing that's already been established."