Time's Up Chairwoman Roberta Kaplan Resigns, Accused of Trying to Discredit Cuomo Accuser
Time's Up Chairwoman Roberta Kaplan has resigned amid accusations she was involved in an effort to discredit one of the women who come forward with sexual assault allegations against New York Governor Andrew Cuomo.
Citing her work as a practicing lawyer, Kaplan said she could not openly answer questions about her involvement with Cuomo or his former top aide Melissa DeRosa.
"I therefore have reluctantly come to the conclusion that an active law practice is no longer compatible with serving on the Board at Time's Up at this time and I hereby resign," Kaplan wrote in a letter submitting her resignation from the charity created in response to the Me Too movement to support victims of sexual harassment.
The report from Attorney General Letitia James's office, which found that Cuomo sexually harassed 11 women, stated Kaplan helped review a draft of an op-ed aimed at attacking the character of Lindsey Boylan, the first woman to publicly accuse the governor of harassment.
Boylan, who was a former aide to Cuomo, published a lengthy essay in February detailing several episodes in which she accused the governor of sexually harassing her—including one instance in which he unsolicitedly kissed her at his Manhattan office.
Kaplan declined to answer the The New York Times' on whether she had ever counseled DeRosa, who she represented in the inquiry into the governor, beyond the op-ed.
Investigators said the effort to discredit Boylan's account was led by DeRosa, who announced her resignation from the Cuomo administration on Sunday, a day before Kaplan submitted hers.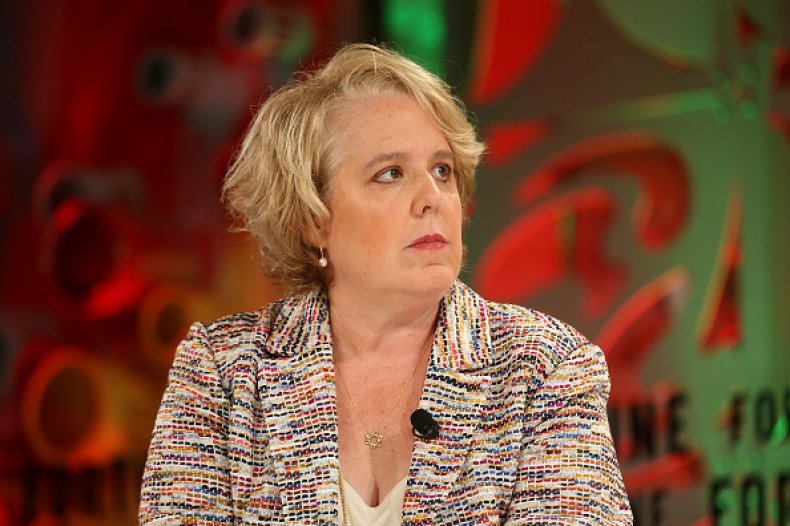 The op-ed Kaplan was involved with was never published, but it was part of a broader effort by the governor and his aides to seek counsel from former officials like Time's Up's Chief Executive Officer Tina Tchen, Human Rights Campaign President Alphonso David as well as the governor's brother, CNN anchor Chris Cuomo.
Those who were found to have provided guidance to the administration have faced widespread criticism in the days following the report's release. Kaplan and Tchen have been especially scrutinized given the mission of their organization.
In an open letter to the Time's Up board, 40 survivors and victims of sexual assault called on the organization to remove any board members or staffers who have been found to support perpetrators of harm.
"TIME'S UP has abandoned the very people it was supposed to champion," the letter read. "The board continues to fail to heed the outcry from survivors. TIME'S UP is failing all survivors."
"TIME'S UP has prioritized its proximity to power over mission," the group added. "And now that TIME'S UP's board members' and staff's actions have come to light, you cannot rewrite history by signing open letters to the New York State Senate and Assembly calling on them to remove Governor Cuomo from office when you actively worked to further his defense behind closed doors."
Newsweek reached out to Boylan for comment but did not hear back before publication.