Times Square Subway Gunman's Father Killed in Ohio Shooting
Andrew Teague—the father of an 18-year-old man arrested on Friday for carrying a semi-automatic rifle in New York City's Time Square subway station—was killed in a March shootout with Ohio police.
Police arrested Andrew Teague's son, Saadiq Teague, on Friday around 12:30 p.m. after Teague entered the subway station and placed his AK-47 firearm on the ground. Officers with the New York Police Department questioned him in the station and arrested him. They found a loaded magazine on the young adult as well.
He told police that he had a license for the weapon and was unaware that New York forbids the open carrying of firearms, WCBS reported. Police have said there's no indication that he had planned an attack. He neither made any threats nor fired any shots.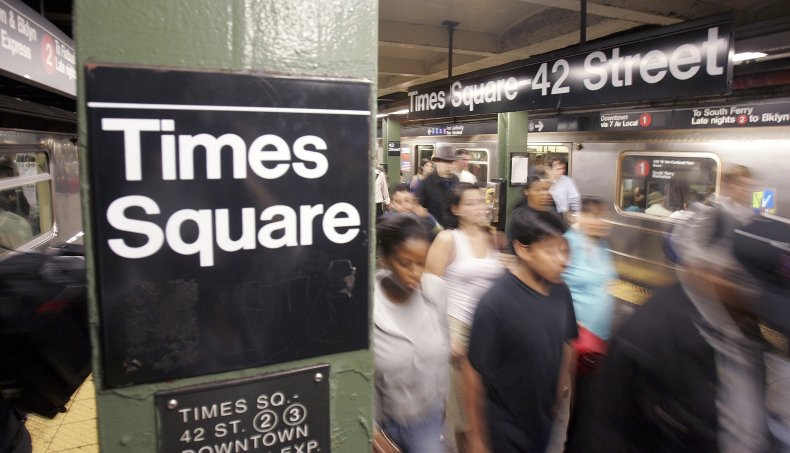 A friend confirmed that the 18-year-old had traveled to New York City from Ohio. Police discovered marijuana, a bong and gas mask in Saadiq Teague's possession. They believe he intended to hook the mask to the bong for smoking marijuana. Saadiq Teague has since been charged with four counts of criminal possession of a weapon and criminal use of drug paraphernalia.
Video on Saadiq Teague's Instagram page showed him walking around New York City with the top of his gun sticking out of his backpack, according to WNBC. The video also showed him and his friend splashing water on a man sleeping in the subway and slapping another person who snoozed while holding onto a subway car's overhead strap.
Saadiq Teague's 43-year-old father, Andrew Teague, was killed in early March during a highway shootout with police in Ohio.
Andrew Teague had a warrant issued for his arrest connected to a shooting that occurred on February 2. In early March, police pursued him using a helicopter and cars. Police eventually found his car pulled into the shoulder of Interstate I-270 North.
After Andrew Teague noticed police cars approaching, he then began driving the wrong direction on the highway. Though police stopped pursuing him, Andrew Teague's car eventually collided with two other cars that were heading in the opposite direction. The cars' passengers suffered non-life-threatening injuries.
Andrew Teague then exited his car and began shooting at police, according to WBNS. Columbus Police Officer John Kifer and Deputy Michael Severance fired their weapons at the man, killing him. Andrew Teague's gun was recovered at the scene. No officers were injured.
Newsweek contacted the NYPD for comment.