Hippos Fiona and Timothy Are Flirting But Might Not Be a Perfect Match
A pair of young, star-crossed hippos started a long-distance relationship last week. The love story began when staff at the San Antonio Zoo took to social media on behalf of their nearly 3-year-old hippo Timothy to reach out to Fiona, one of the most famous hippos in the world.
The message, which appeared on Twitter, Facebook and Instagram, was quite flattering: "I think you are the most beautiful hippopotamus I have ever seen. Perhaps we can meet someday and be boyfriend and girlfriend?" A bold question coming from Timothy, who has not yet reached mating age and, at almost 3 years old, is nearly twice Fiona's age.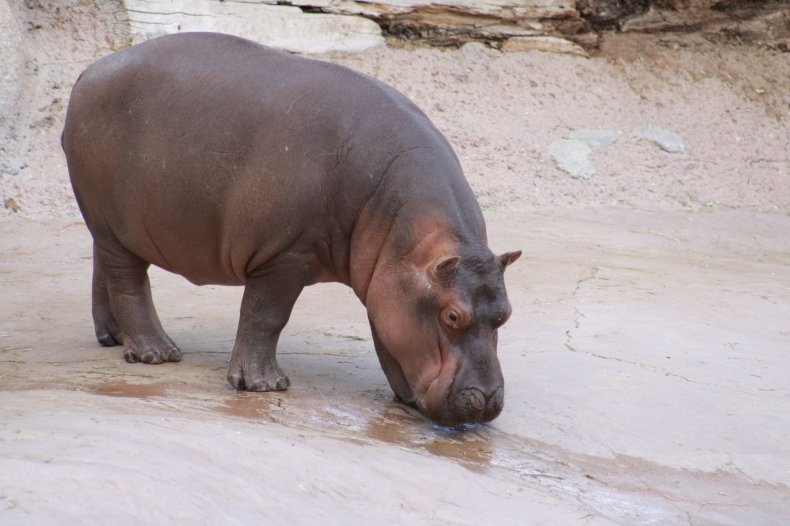 The Cincinnati Zoo responded on behalf of Fiona with good news: She thought Timothy was cute too. But there was a catch—the two could only be together under certain conditions.
First, Timothy had to be willing to take a "back seat" to Fiona, who draws a crowd and is constantly dealing with paparazzi. Timothy would also need to have the right DNA and, more importantly for Fiona, he would need to be willing to move to her zoo in Ohio.
While the two might be attracted to each other, it isn't enough for their love story to end happily. "Timothy and Fiona would never meet unless they got a recommendation to breed," Michelle Curley, communications director at the Cincinnati Zoo, told Newsweek. "DNA will determine Fiona's Mr. Right, not shared interests or good looks."
Whether or not the two could get together is up to the Species Survival Plan and Taxon Advisory Group, both part of the Association of Zoos and Aquariums. Fiona's and Timonthy's DNA would have to be compatible to ensure genetic diversity.
"They're pretty close in age where it could be something that could happen in a few years," Tim Morrow, CEO of the San Antonio Zoo, told Newsweek. Part of the reason the two flirty hippos might not end up together has to do with Fiona's DNA. "Fiona is considered genetically valuable because the other hippos that her father, Henry, sired did not make it to breeding age," Curley said.
Both hippos are still a little too young to begin mating, though. "These guys have a few years to go; Timothy is just very proactive," said Morrow. Fiona turned 1 in January, and Timothy will turn 3 in April. Typically, hippos don't start mating until they're 5 or older.
Which hippo would be relocated in the event that their DNA did match up is still undecided. Both zoos want to keep their beloved hippos. Timothy currently lives with his grandma, Uma, and Fiona lives with her mom.
Morrow said there would likely be more correspondence coming from Timothy in the future.