Timothy George Simpkins, Timberview School Shooting Suspect, Was Bullying Victim: Family
The family of a suspected school shooter in Texas on Wednesday morning has said that he was bullied in the past, but despite this, a clear motive for the attack has still not been uncovered.
Various family members of Timothy George Simpkins, 18, have spoken out in the aftermath of a shooting at Timberview High School, part of the Mansfield Independent School District (MISD) located in the Dallas-Fort Worth suburb of Arlington, according to the Dallas Morning News. The attack injured four people, including one boy who is listed in critical condition.
Simpkins' cousin, Cint Wheat, talked about his cousin in a Facebook post this afternoon, stating that Simpkins had had trouble with bullies.
"At the end of the day my lil cousin was bullied. I don't know to feel about this he not no bad kid," he wrote.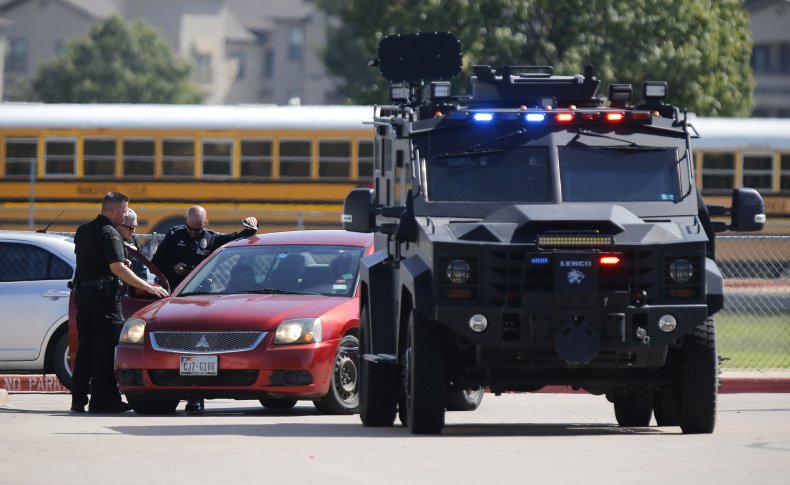 Additionally, Carol Harrison Lafayette, who identified herself as a family member, told the media that Simpkins had been robbed prior to the shooting. "He was robbed," she said in a statement. "It was recorded. It happened not just once, it happened twice. He was scared, he was afraid."
Lafayette also said that Simpkins was on track to graduate from Timberview High School, and was very sociable and outgoing. "He was looking forward to graduating and doing something with his life," she added.
Another woman also identified herself as Simpkins' mother to the Morning News, but declined to comment further.
In an email to Newsweek, Arlington Police said the incident Wednesday began in a second-floor classroom at the high school, where a fight that broke out eventually led to shots being fired. The suspect fled the school, and Simpkins turned himself in later that afternoon. He was booked into jail on three counts of aggravated assault with a deadly weapon, with bail set at $75,000. After Simpkins turned himself in, a SWAT team executed a search warrant on his grandmother's house.
A video has been circulating on social media in the hours after the shooting that appears to show Simpkins in the middle of a fight at the school. However, Arlington Police have not been able to confirm his identity from the video.
An update on the MISD website was published later in the day that gave an update on the victims' conditions.
"It has been a devastating day, and we are still in the midst of reunifying our students and parents; but we want to thank you for your cooperation, patience, understanding and kind words as we come to grips with what has happened," the statement read. "We are so grateful there were no fatalities, and reports indicate that those injured are expected to recover."
MISD also said counseling would be available for students, faculty, and family members.
There is a specified page dedicated to anti-bullying on the Mansfield school district's website. It notes that Texas Senate Bill 179, also known as David's Law, "expanded authority to school districts, allowing schools to address cyberbullying that occurs off-campus and outside school-related or school-sponsored activities based on specific criteria."
MISD also provides a flowchart on its website to help students determine whether or not something can be classified as bullying in the eyes of the law. It also explains different forms of cyberbullying and how it can be prevented or stopped.
The webpage also provided details on combating bullying through its partnership with Crime Stoppers, an anonymous tip line that helps identify criminals and stop crimes in communities across the country. Students of MISD who have been bullied can submit a form to administrators online, and can also contact Crime Stoppers of Tarrant County at 1-817-469-8477 to submit a tip.
In regards to the alleged bullying, Arlington Police told Newsweek that "investigators are still working to determine a motive for the shooting."
(10/06/2021, 9:20 p.m.): This story has been updated with additional information.