Tina Brown: Newsweek's All-Digital Future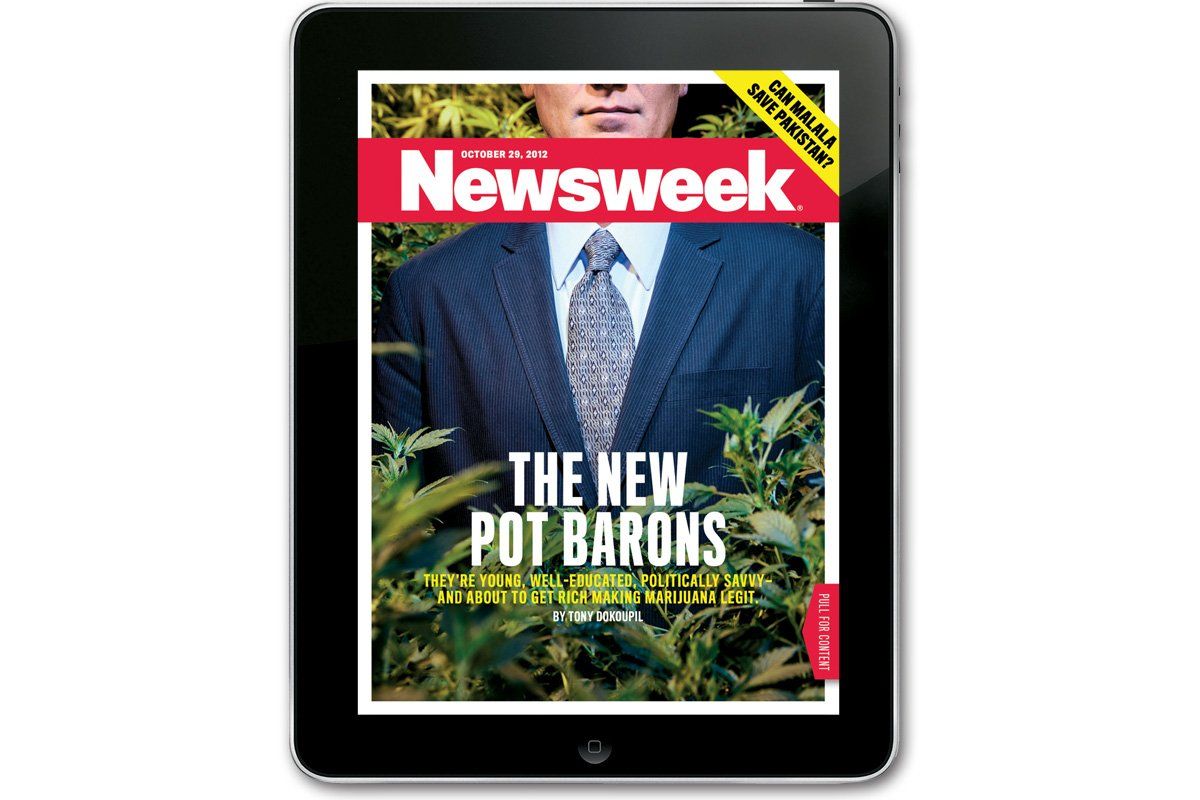 This is a bittersweet moment in Newsweek's immensely proud history. As we have announced—and as has been widely and passionately reported by the media in the U.S. and abroad—the magazine will go all digital in 2013. The Dec. 31 issue of Newsweek will be its last as a print magazine.
Bittersweet, I say. Bitter, because I'd be lying if I didn't confess to a bruised heart. I love print: always have, always will do. Sweet, because we are rising spiritedly to a challenge, not wringing our hands in impotent despair over the way modern life—and modern reading habits—have rendered our print edition unviable.
Our decision is driven by our optimism, our belief in ourselves—and our belief, above all, in our readers. You have increasingly adopted digital and, in effect, we are following you. Newsweek Global, as the new all-digital publication will be called, will be a single, worldwide edition of Newsweek, produced for a restless, news-hungry, opinion-forming audience that pays keen attention to world events. Just like the print magazine, Newsweek Global will be supported by paid subscription. It will be available for tablet, Web, and mobile devices, with selected content available on thedailybeast.com.
In 2008, we launched The Daily Beast with the support of IAC. Two years later, the ambitious, upstart Beast married the iconic Newsweek. The Washington Post Co. had sold the magazine for one dollar to Dr. -Sidney Harman, who sadly died less than three months after the 50–50 merger.
In the 20 months since Newsweek joined forces with the Beast, a moribund magazine got its mojo back. The staff and writers, led by executive editor Justine -Rosenthal, restored Newsweek's journalistic heft and its readers' engagement. Subscription renewals in print increased for the first time after a five-year decline. The covers of Newsweek again are a weekly media event, the source of discussion and, yes, controversy. Our covers are shared avidly on Facebook, and among a 1.8 million Twitter following. The Daily Beast and Newsweek have demonstrated eye-catching growth online, attracting more than 15 million unique visitors each month, a 70 percent increase in the past year alone, a healthy portion of it generated each week by Newsweek's very strong, very stylish journalism. Newsweek's online and e-reader content has built a bustling audience through the Apple, Kindle, Zinio, and Nook stores, as well as on The Daily Beast.
But when it comes to print, some realities cannot be ignored. It costs $42 million a year to manufacture, print, distribute, and manage the circulation of Newsweek. Was that any longer the wise use of scarce resources, we had to ask ourselves—all the more insistently after the supportive print ad dollars fell off a cliff across the entire industry in the spring of 2011. After all, an electronic Newsweek could be delivered swiftly and economically to millions. There are now 70 million tablet users in the U.S. alone, and a new report from comScore brings us the sobering—or exhilarating—news that two out of every five Americans now read newspapers and magazines on mobile devices. These readers, and there are more and more of them every day, simply bypass print.
Exiting print is painful, and poignant, for all of us who love the romance of print and the unique weekly camaraderie of those hectic hours before the magazine's "close" on Friday night. But if there's one thing that Newsweek has never shied away from since its first issue in 1933, it's innovation.
We are trendsetters, not followers in others' footsteps. Very shortly after its founding, Newsweek became the first magazine to use color photographs as a staple, and the first to separate factual reporting from opinion pieces. During World War II, we published pocket editions of the magazine for American GIs; after the war, we were the first American magazine to publish international editions, in France and Japan. In the 1950s, Newsweek was the first to integrate scientific polling data into its reporting. Its November 1967 cover story, "The Negro in America," revolutionized advocacy journalism. In the 1980s, Newsweek was one of the first American magazines to publish a foreign language edition—in Japan. (We now have five, with other editions forthcoming.)
At the dawn of the 21st century, the magazine was the first to publish a CD-ROM, integrating photography, video, and animation—foreshadowing the multimedia platform we are about to give our readers. As we head for the 80th anniversary of Newsweek next year, we promise to sustain the journalism that drives this great, great magazine—and to embrace with passion its all-digital future.