Why Tina Fey Is in Hot Water With the Asian Community, Too
Tina Fey appears to be taking some responsibility for racially insensitive material in her comedy, but some people online are saying that the multi-Emmy winner still has plenty to answer for.
In the midst of a racially turbulent moment of American society fueled by Black Lives Matter protests, the actor and comedian, along with NBCUniversal, has requested that streaming and syndication platforms remove several 30 Rock episodes that feature blackface. In a letter addressed to the platforms, Fey referred to four episodes of the award-winning sitcom, which aired on NBC from 2006 to 2013.
"As we strive to do the work and do better in regards to race in America, we believe that these episodes featuring actors in race-changing makeup are best taken out of circulation," Fey wrote in the letter, per Vulture. "I understand now that 'intent' is not a free pass for white people to use these images. I apologize for pain they have caused. Going forward, no comedy-loving kid needs to stumble on these tropes and be stung by their ugliness. I thank NBCUniversal for honoring this request."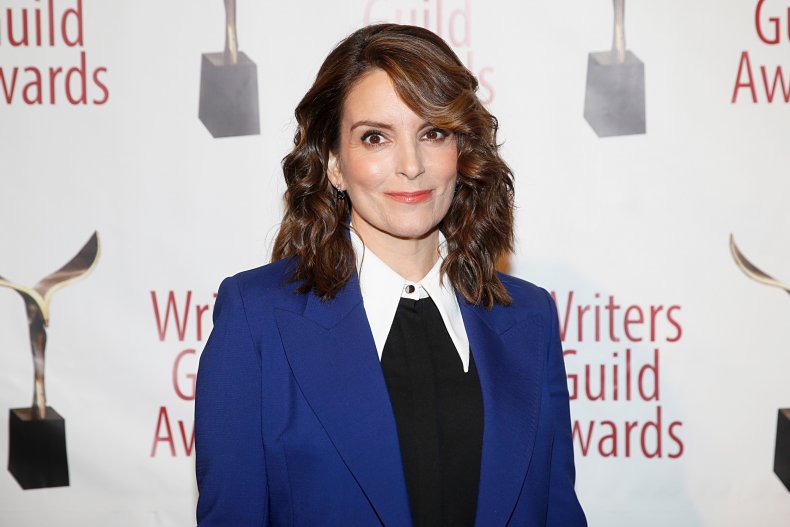 However, Fey's efforts to finally address the show's use of blackface seems to be sparking conversation about other problematic and racially charged bits in her body of work—particularly jokes targeting the Asian community.
"Tina Fey also has a s**tty track record when it comes to depicting Asian people, women in particular. Mean Girls, Sisters, 30 Rock—the underlying 'joke' is that they're hyper-sexual, and looking for green cards/can't speak English," one Twitter user wrote on Tuesday.
Another wrote: "But @nbc's racism doesn't stop there. Their darling, tina fey, is one of the worst anti-Asian racists there is. in mean girls, she clearly plays on dragon lady and prostitute stereotypes of Asian women."
One troubling example involves a 2016 episode of Unbreakable Kimmy Schmidt, the Netflix series that Fey created alongside her 30 Rock co-creator Robert Carlock. The episode titled "Kimmy Goes to a Play!" features a storyline in which Titus Burgess' character dresses up in yellow-face. His character stars in a play as a geisha that he believes to have been in a past life, and—rightfully so—is criticized by members of the Asian community who want to shut the play down. The episode spirals into the villainy of online trolling and bullying, and eventually ends with Titus finally realizing that the play is indeed offensive and demeaning of Asians.
That's far from the only racially insensitive joke on Unbreakable Kimmy Schmidt. There's also the incredibly cringe-worthy handling of Jacqueline "Jackie" Voorhees's (Jane Krakowski) Native American ancestry. At the end of the show's first season, Jackie discovers her Lakota heritage, which drew the ire of critics because, for starters, Krakowski is white. Then, throughout Season 2 as Jackie continues to dig deeper into her identity, the character engages in a number of stereotypes. She trades in her sleek bob for a braid, admits to pooping outside and, in one outlandish scene, Jackie howls at the moon after spotting an offensive Native American mascot at a high school.
But as people on Twitter pointed out, you can go much further back in Fey's career and find serious issues with the 2004 film Mean Girls, which Fey wrote. The movie's script promotes the idea that Asian women are promiscuous, specifically with the characters of Trang Pak (Ky Pham) and Sun Jin Dinh (Danielle Nguyen). Those characters' names alone are an issue—one of the names is a mashup of Vietnamese and Korean surnames, as noted by actress and writer Mara Wilson. But perhaps the most troubling aspect is the fact that the two high schoolers are both entangled in a romance with their much older gym teacher, Coach Carr (Dwayne Hill), a joke that underlines the all-too-common fetishizing of Asian women.
Newsweek has reached out to representatives for Fey, Netflix and NBC for comment on these criticisms, but has not yet heard back. This piece will be updated with any response we receive.
Considering that Fey's now reckoning with the "ugliness" of "race-changing" makeup that was used on 30 Rock, it may just be a matter of time before she's forced to acknowledge the ways that her work has hurt the Asian community, too.
Updated 6/23/2020, 12:10 p.m. ET: This piece has been updated to include additional tweets criticizing Fey's work, and to reflect that Newsweek has reached out to Fey, Netflix and NBC for comment.