Tinder Celebrates World Pride with 30-Foot Rainbow Slide in New York City
For each person who rides down the "Pride Slide," Tinder will donate $10 toward efforts to pass the Equality Act.
Tinder is celebrating Pride Week with a giant rainbow slide the dating-app company has installed in New York's Flatiron District.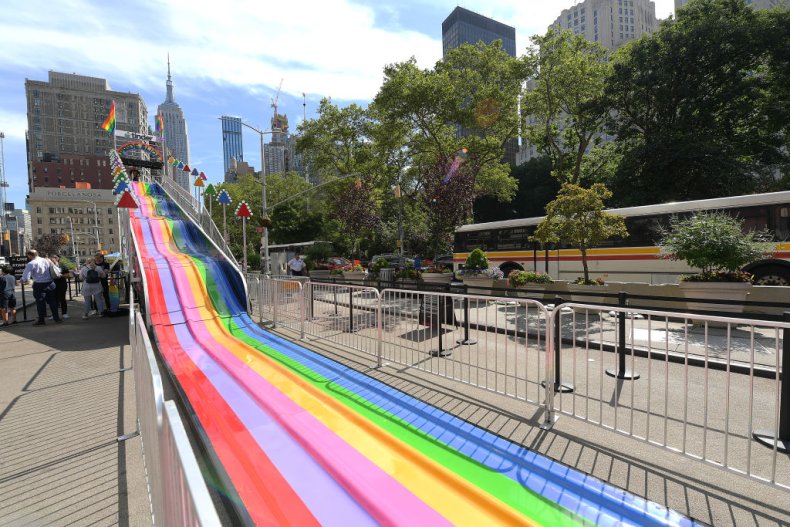 Adjacent to Madison Square Park on East 23rd Street, the "Pride Slide" was unveiled to the public on Monday. The 30-foot ride is meant to represent "the 30 U.S. states that still do not protect the LGBTQ community from discrimination," the company said in a statement.
At the bottom of the slide, riders are encouraged to "slide into their senators' DMs" and urge them to support the Equality Act, a bill now before Congress that would add sexual orientation and gender identity to the groups protected under federal anti-discrimination laws.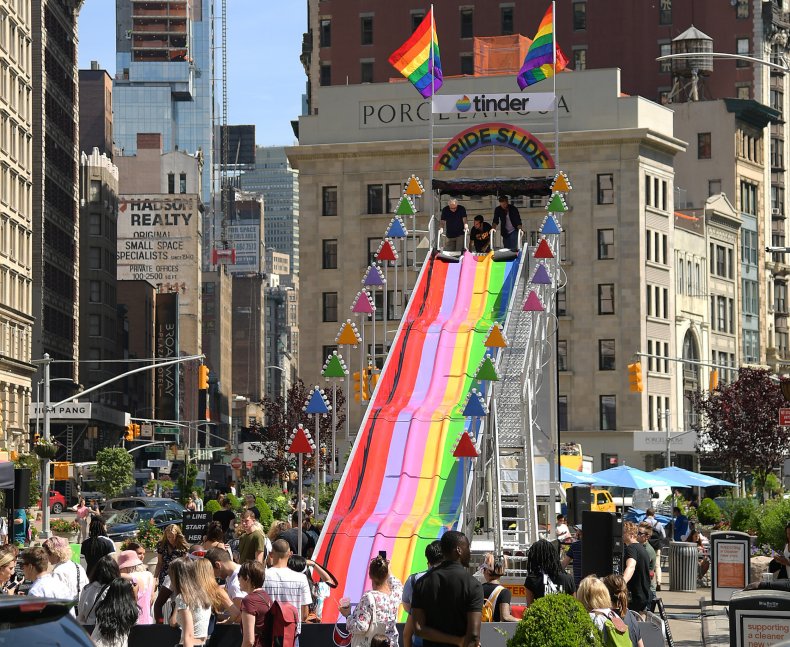 Passed in the House in May, the Equality Actt now faces a tough battle in the GOP-controlled Senate. For each person who rides down the slide, Tinder will donate $10 toward HRC's efforts to support the legislation.
"Discrimination in any form violates the fundamental values that drive Tinder," said Tinder CEO Elie Seidman. "We believe everyone should have equal rights, and by calling on our millions of users to show their support and take action, we hope to make real change for the LGBTQ+ community."
Throughout the summer, the company is providing free advertising to LGBTQ+ nonprofits. Tinder users in the U.S. will see a #RightToLove PSA— swiping right on the spot will take them to the HRC website.
There are an estimated 50 million Tinder users worldwide, with 4.1 million perople subscribing paying for premium options.
Since launching 2012, the popular dating app has worked to appeal to LGBT consumers: It added 37 additional gender options in 2016 and, earlier this year, began allowing users to identify their sexual orientation, rather than just who they were interested in. Created after consultation with GLAAD, the list of orientation options include Straight, Gay, Lesbian, Bisexual, Asexual, Demisexual, Pansexual, Queer and Questioning.
Pride fever is in full swing in the Big Apple: June 2019 marks the 50th anniversary of the Stonewall riots, the symbolic start of the LGBT rights movement. In addition, New York City is hosting World Pride, the first time a North American city has had the honor. Over the weekend, Department of Transportation crews painted a rainbow crosswalk on the intersection of Seventh Avenue and Christopher Street outside the Stonewall Inn.