Tinder Update Adds Sexual Orientation, Gender Identity Preferences: Everything You Need to Know
The celebration of Pride Month is multi-faceted and has now reached a popular dating app. On Tuesday, Tinder announced plans to roll out its Sexual Orientation update, a major addition to the platform developed in collaboration with GLAAD.
For the first time ever, Tinder users can now add more information about sexual orientation to their profiles, which will impact how potential matches are surfaced, according to a press release issued by the company. The update, in turn, aims to be more inclusive of its increasingly diverse user base.
"We want all of our users to feel empowered expressing who they are while connecting with new people -- and we're always working to make that easier for our users on Tinder," said CEO Elie Seidman in a statement. "Dating apps are invaluable platforms for connecting the LGBTQ+ community, and we're beyond proud to continue our efforts, in partnership with GLAAD, to improve the community's experience on Tinder."
"Tinder continues to show a dedication to inclusivity with updates that reach millions of people and create safer spaces for LGBTQ users," said Rich Ferraro, Chief Communications Officer at GLAAD. "Their latest work to expand additional sexual orientation options is an impactful change that helps LGBTQ people authentically express their full selves and gives LGBTQ users more control over potential matches."
Representatives for Tinder further elaborated the reasons behind the new initiatives in the press release, stating: "The update is in response to user feedback, as well as a study conducted by the app, which found that the majority of LGBTQ+ respondents in the U.S. were interested in more options or easier ways to express their sexual orientation on dating platforms. The study also found that LGBTQ+ users feel that online dating/dating apps have benefitted their community over the past five years since Tinder's inception."
How it works
If you are an existing Tinder user, all you have to do to add more information about your sexual orientation is edit your profile. After clicking the "Orientation" tab, you'll be able to select up to three terms that you feel best describe your sexual orientation. From there, it's totally up to you whether these are displayed on your profile or not.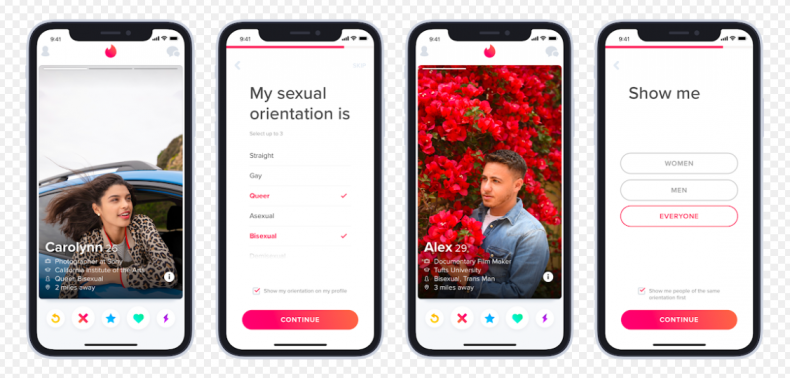 On the other hand, if you are a new Tinder user, the orientation options will greet you from the start.
When/where will it be available?
Orientation on Tinder will be rolling out in the U.S., U.K., Canada, Ireland, India, Australia and New Zealand throughout June and will remain available year round.
What's next?
Orientation on Tinder will not be the end of the dating app's attempts to expand its reach in the LGBTQ+ community.
"We worked closely with GLAAD to introduce Orientation on Tinder. And we know that it will continue to evolve and change, just like sexuality," the company stated in a press release.