Tinder Users Change Their Location to the Olympic Village to Date Athletes
This year's Olympics may look different in some ways, but there's one thing that's exactly the same—the Olympians are on Tinder, and us mere mortals are attempting to match with them.
In 2018, a Tinder spokesperson confirmed that there had been a 1,850 percent increase in Tinder users Passporting themselves into the Olympic Village. Seemingly, this year's Games are the exact same, after a man's viral video inspired others to try it out and potentially bag themselves an Olympian.
Tinder Passport is a feature available to Tinder Gold users, which costs a monthly $9.99. The feature allows users to set their location on the app to anywhere in the world, including Tokyo.
"I paid for Tinder Plus so I can swipe in the Olympic Village and date an Olympian," wrote Reed Kavner in his TikTok video, which has been viewed over 800,000 times.
With a screen recording of his dating app, Kavner showed himself placing his location directly into the Village and finding Olympic athletes. Accounts purporting to be Estonian biathlete Grete Gaim and Canadian swimmer Katerine Savard were among those in the mix.
"I've only matched with one Olympian on Tinder. We haven't chatted, but I'll still count that as a success," Kavner told Newsweek.
"I had a fun exchange with Katerine Savard, the Canadian swimmer in my video, on TikTok. She's been a very good sport about all of this," he added. Savard commented on the video with a somewhat seal of approval—raised arm emojis.
"I'm a comedian and a software developer and I love finding fun and unexpected ways to use technology," said Kavner. "With Tinder's Passport feature and its ability to set a pretty tight search radius, I was curious to see what would happen if I dropped the pin in a very specific location like the Olympic Village."
Just like with 2018, Kavner has seemingly inspired an influx of Tinder users to try their luck at finding an Olympian—though not to his own approval. "You [now] have to do a lot of swiping to find an Olympian. I've also seen people whose profiles say things like, 'I'm here because of TikTok.' I've been taking screenshots of those for when I go to Tinder to collect my commission," he joked.
"It got 2M views overnight, which is fun, but now Olympic Village Tinder is flooded with non-Olympians," he similarly tweeted.
The video's comments verify his worries too, with users promising to try it themselves. "Thanks for the idea, already got a match," claimed one TikTok user.
"Just did this on Hinge but apparently so did everyone else on there," wrote another.
Hopeful Tinder users are in for a treat, as American gold-medalist snowboarder Jamie Anderson once described Tinder in the Olympic Village as, "Next level. It's all athletes! In the mountain village it's all athletes. It's hilarious. There are some cuties on there," she told US Weekly in 2014, though added that she ended up deleting the app to focus on the Games.
Although the Tinder use might be just as present as previous years, the Village this year has taken a step back from its previous "sexed-up" reputation, with organizers actively discouraging athletes from sleeping with one another due to coronavirus regulations.
Like with other years, athletes were distributed condoms by organizers, 160,000 to be exact. But they have also been advised to refrain from any physical intimate contact. Instead, the organizers reportedly said the offered condoms were to be taken home with the athletes, and used to raise awareness of HIV and AIDs.
Condoms were first handed out in counted amounts at the Olympic Village in 1988, as an attempt to stop the spread of the ongoing HIV epidemic at the time, Time reported.
Similarly, online rumors circulated this year lending more belief to the Olympic Games' anti-sex stance—that the beds had been made of cardboard to stop more than one person sleeping on it.
As debunked by Newsweek, the beds have actually been made of a sturdy cardboard design in a bid to make the Village more sustainable, and they can still withhold up to 440 pounds.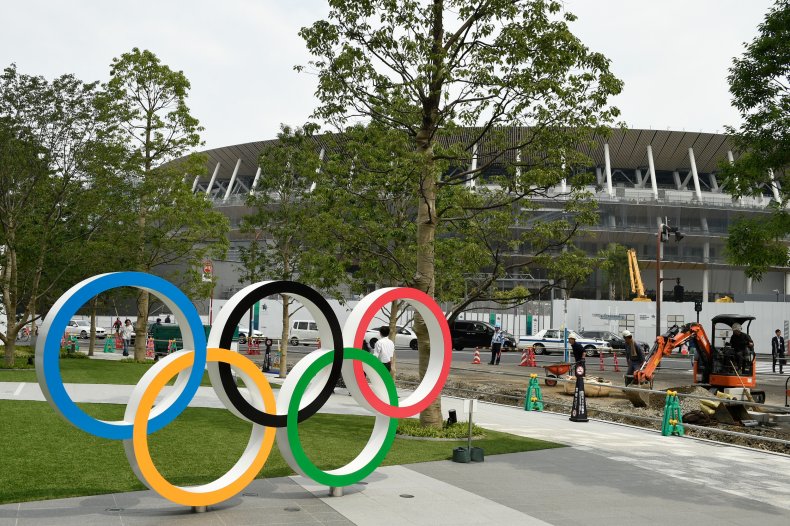 Update 07/26/21 11:29 a.m. ET: This article was updated to include comments from Reed Kavner.