A mom has issued a chilling warning over waterslides after her 10-year-old daughter sustained what one hospital called "the greatest dental trauma" it'd ever seen.
The parent, from Australia, recounted the horrifying story of how their vacation turned into a nightmare when her daughter decided to walk back up the play equipment.
The mom explained her son, who was coming down the slide, "took her out," causing the little girl to fall forwards and smash her face on the slide.
The cautionary tale, and expert tips, were shared online by Tiny Hearts Education on its Instagram page, @tinyheartseducation, last Wednesday.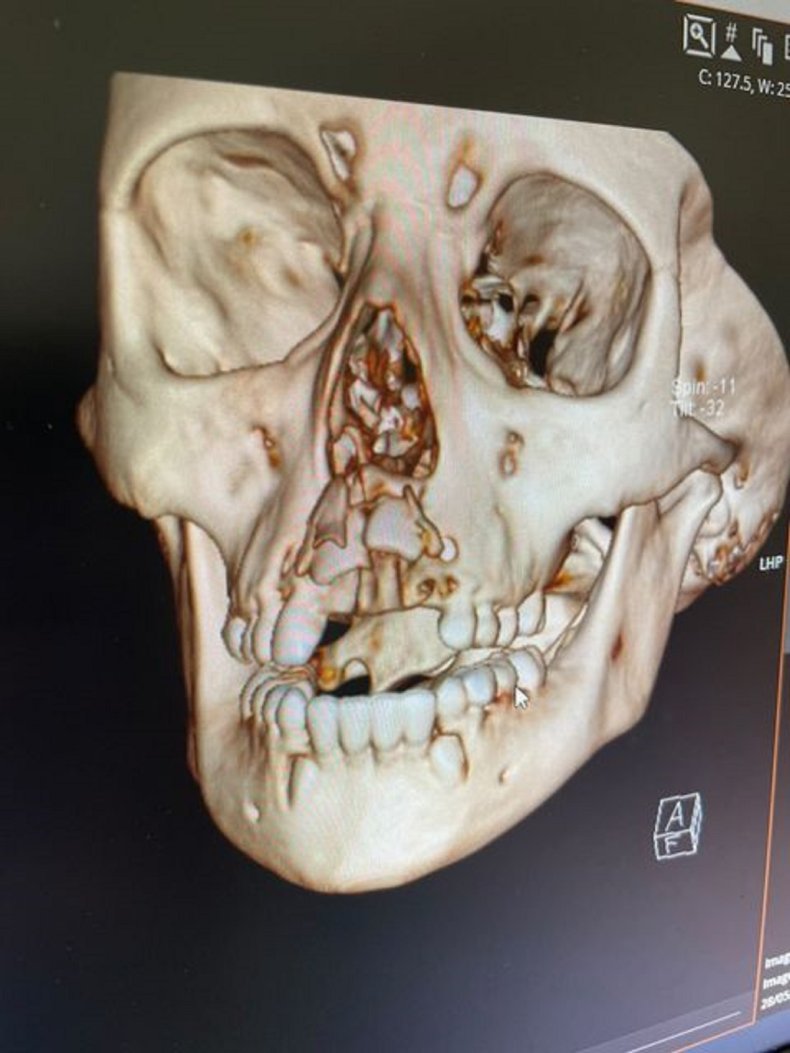 Quoting the mom, the post said: "I am currently sitting in pediatrics after my 10-year-old daughter had a horrible accident on a water slide in a caravan park on Saturday.
"Never did I think our weekend away would end the way it did. She went down the slide with her brother having a blast.
"They then decided to walk back up the slide, the wrong way, when her brother lost his footing, taking her out.
"She fell face-forward into the slide, knocking her two front teeth into her nasal region, losing a whole tooth, which she spat into my hand, and causing multiple fractures to the alveolar bone in her jaw.
"She had to undergo maxillofacial surgery to bring the teeth down and re-implant the tooth that came out, stint the teeth and stitch her mouth back together.
"She was left with only 50 percent to 70 percent of the bone and will likely require a bone graft in the weeks/months to come."
The post was accompanied by a trio of photos, one showing a scan of the little girl's skull, clearly showing her front teeth out of place, a hand holding the tooth thought to be the one spat out, and the waterslide in question.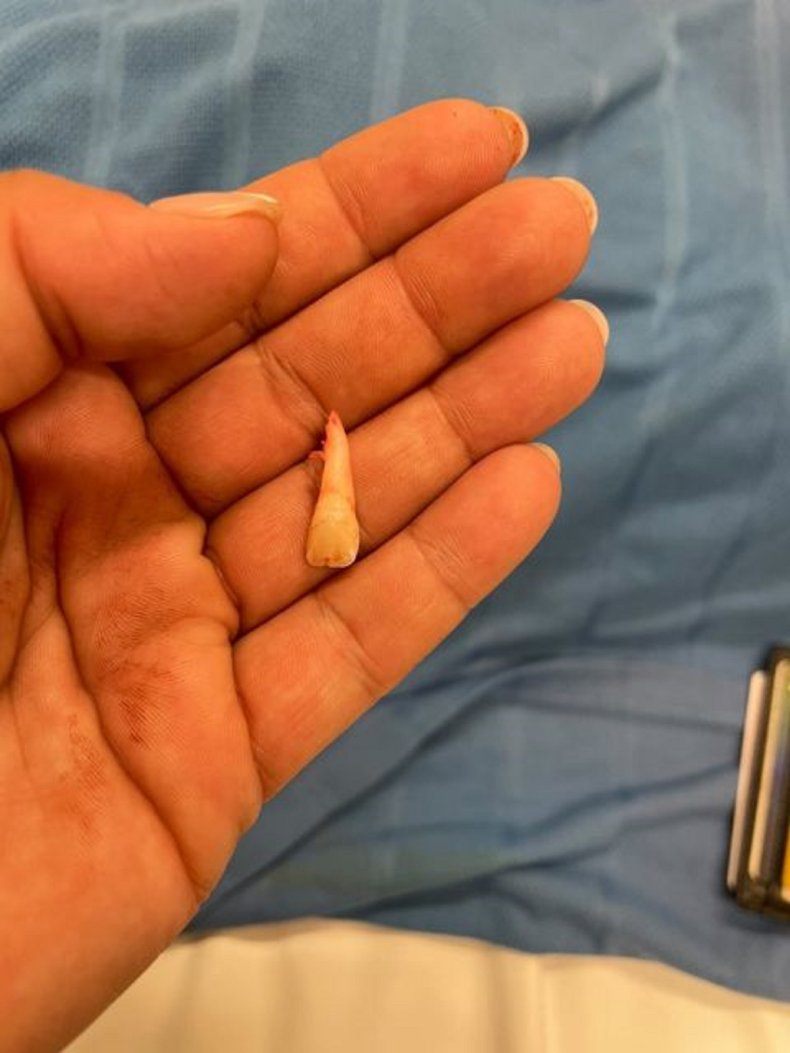 The mom continued: "I for sure never thought such injuries could come from walking up a water slide, but the signs are there for a reason.
"This is the greatest dental trauma the emergency hospital we attended has ever seen."
Following the incident, which took place in June, a spokesperson for Tiny Hearts Education told Newsweek the mom was grateful for all the medical support she received, confirming the girl has since undergone surgery.
Mom and paramedic Nikki Jurcutz, CEO of Tiny Hearts Education, shared some tips for any parents who find themselves in a similar situation.
If a child loses a tooth through trauma, she said: "Handle tooth by the crown (smooth white part, not pointy part.)
"If dirty, rinse with milk or saline for a few seconds (Don't use water!)
"Don't let the tooth dry out keep the tooth in saliva, milk or saline.
"If the tooth that has come out is a baby tooth do not attempt to put it back into the gum."
On Instagram, people praised the mom for sharing her tale as a warning to others, as Hollie.skrinis wrote: "How awful for the poor little girl and her family. Thank you for sharing."
Nys_madz_n_mirri commented: "Poor little darling and the parents too. Wishing them a shift recovery."
Jillyvonne said: "Omg this is horrible. I hope she's fully recovered by now. Hugs!"
La.la.8 reckoned: "Never letting them climb the slide again."
Di.di.di.ki replied: "So heartbreaking. Thanks for the info as always."
Shaaarday added: "Wow poor darling. Wishing her a speedy recovery. Great tip guys. I definitely would have had it in tissue or in water."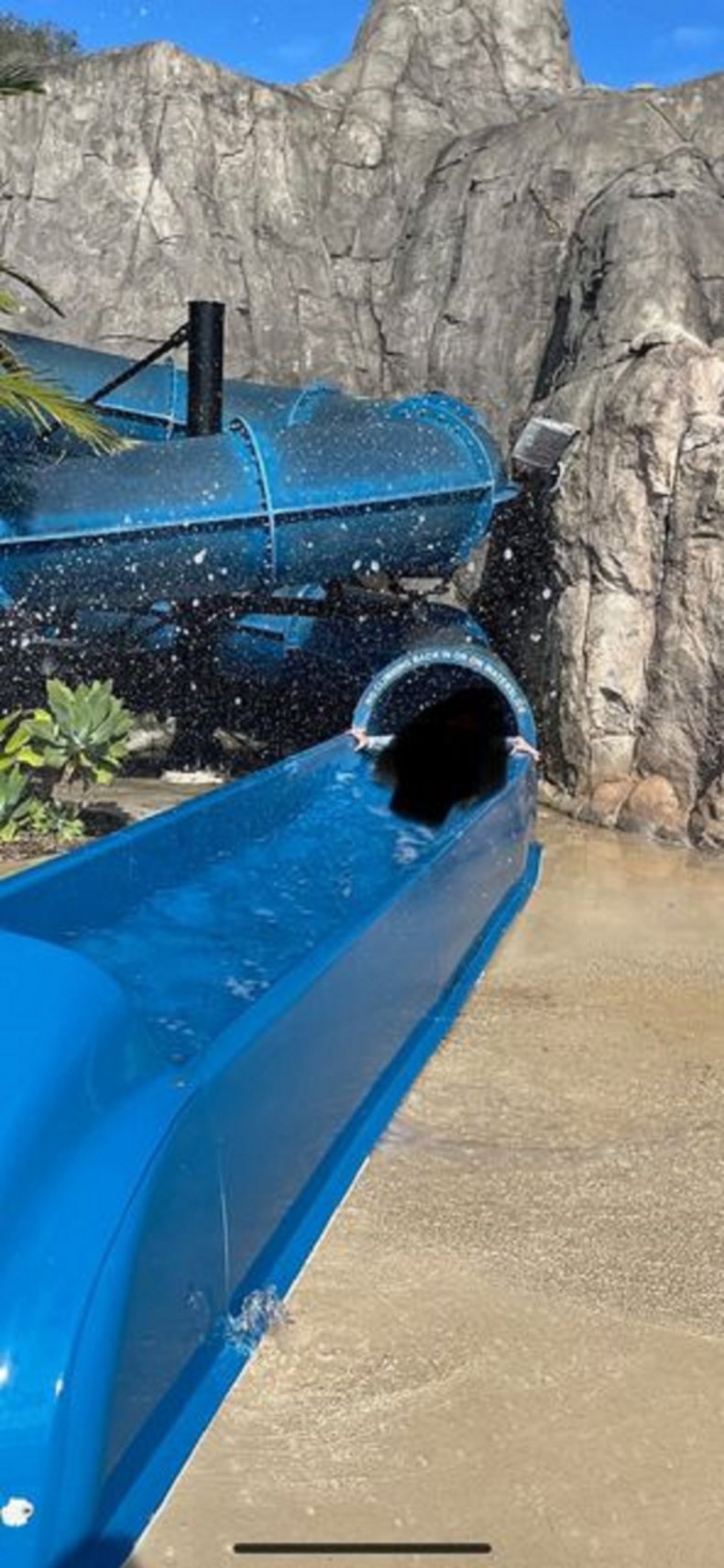 A study published in The National Library of Medicine examining water park injuries found children most often suffered head and maxillofacial trauma, just like the little girl.
While published in 2009, it specifically looked at injuries sustained at water parks, particularly on waterslides.
The observational study at a university hospital emergency clinic found 23 patients were injured on waterslides, out of the group of 73 people.
A further 16 were hurt in pools, and 34 were injured by slipping and falling on the wet surfaces.
Out of the group, they observed: "15 patients were diagnosed to have spinal trauma, 16 head trauma, 15 maxillofacial trauma, and 30 other injuries.
"In water park injuries, while children have especially head and maxillofacial trauma, extremity and spinal injuries are more frequent in the adult group."
They warned: "Unless sufficient and required safety precautions are maintained during water park activities, fatal injuries may occur."