I've always lived an outdoor life. I moved to Australia for about 12 years and when I came back to the U.K. in 2019, I knew I wanted to bring a bit of the Australian outdoorsy lifestyle back with me.
I've been in the building industry since I left school at 16, my dad was a joiner and carpenter and he trained me up so I've always loved architecture, buildings and interior design. But I didn't want to continue working on traditional buildings.
I was living with my friend Jade, and she had a big van that she wanted to convert into a tiny home. We ended up converting it in the back shed and driveway of where we were living. It was a parcel delivery van originally, so we stripped the inside, cleaned it and got rid of any rust. I have a friend who does automotive electronics and he helped me do all the wiring and run the cables for the lighting, power points and USB ports.
Jade and I had a design for a layout that we thought would work well for her. It's just like a tiny home. You open a sliding door at the front and there are three seats in the front cab that swivel around to face a table and another row of bench seats opposite. That creates a separate dining area.
To the right of that is an L-shaped kitchen, and opposite that is a log fire. There is shoe and wine storage underneath that and at the end of the kitchen is the door to a bathroom with a shower. Next to that is a seat with storage underneath and then steps above lead to the main bedroom at the back—including a large double bed. Jade's van is 2 meters wide and the living space is about 5 meters long.
It took about four months to complete and the biggest challenge for me was working out how to get everything to fit. But as we started building I would realize we had another few inches where we could fit in, say, a shelf. It evolved and we were able to add or remove elements. I'd rather work like that. That first conversion was a low budget. It cost $16,500 (£12,000) for materials, but that doesn't include my labor.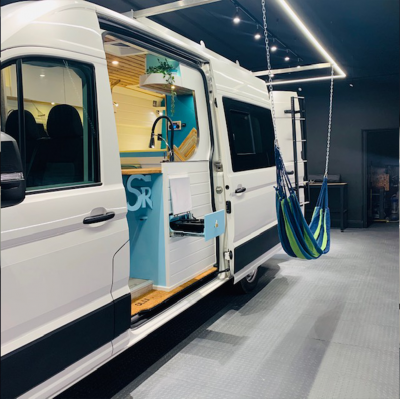 After we converted Jade's van we got so much interest on social media; we were inundated with messages. Everyone was asking if I could build a tiny home van for them. We then converted a van for a woman in London, she wanted a bespoke van with lots of wood and natural materials. Her van was only 4 meters long, but we created a really cool design that included a mountain scene splashback in the kitchen. We also incorporated a custom roof design with hammocks seats you could pull out. After that, we had so many messages about the hammocks.
Since Jade and I started Van Life Builds in 2019, we've converted six vans, and everyone's needs are different. Some people are really outdoorsy and some people just want a tiny home feel. We have just finished a van where the client wanted a deck seating area on the roof with fold out sides.
We get lots of interesting requests. Some people want a massive fridge, a log burner and a big double bed, so it's a challenge to fit that into a small space, you have to be clever.
We charge $48,000 (£35,000) for our basic build, and that provides everything you need, a basic tiny home layout that includes a bathroom, a fully functional kitchen, bedroom and living space. But some people like to add roof racks or hammocks or want mood lighting or more complex electrical systems. It just depends on people's budget.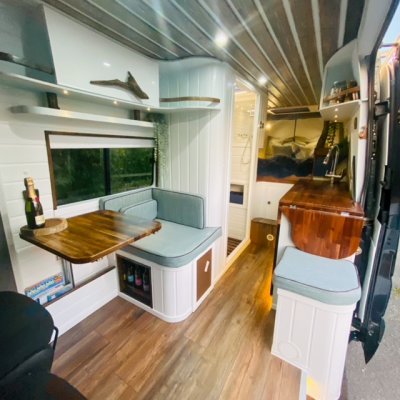 The most expensive tiny home van we have built so far was about $68,000 (£50,000). The electrics can vary so much in a van. We have built one van for a couple in Australia and their electrics came to around $13,700 (£10,000). The batteries we use in our basic builds cost around $1,100 (£800), but the ones we needed to use for this build cost $5,500 (£4,000).
We converted a van for a couple in Germany who are both singer-songwriters and they wanted a recording studio in the tiny home van so they could go on the road travelling and work on music on the road. I really enjoyed that build. I had a lot of creative freedom with that tiny home van.
People are blown away when they see the finished tiny home van. A lot of people are surprised by the creative flair that gets added to their van conversion. They come to us with a vision of what they want, the colors and materials, and then we bring it all together. I think people are impressed because it's exactly what they wanted. That reaction is why we do it.
The majority of people who want a tiny home van are people who want to go away for more than a weekend, maybe for a month. That's why our vans can go off-grid and overseas. The woman who owns the first van we converted is currently travelling around Europe and living in her tiny home van full time. Those are the types of stories we like to hear. We like to know what our clients are doing and how their adventures are going.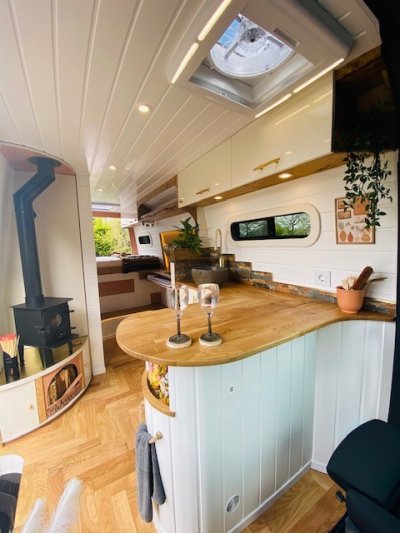 Each tiny home van takes me about 3.5 months to complete. I've sped up a little bit but you can't rush it. Jade and I collaborate on the designs, I do the majority of the building work and Jade runs the business side. And, as we get more into each build the level of detail is increasing. The more detail, the longer it takes.
We currently have about 200 people signed up to our waiting list, but it's closed now. That makes me want to run back to Australia and sit on a beach! No, I think it's amazing that so many people are willing to wait just for me to build their tiny home van. I'm really wowed by that.
I would love to build a tiny home van for myself, but I haven't had the time. I'm quite a homely person, so mine would just be comfortable with a warm feel, and touches like a log fire and sitting area on the roof. I'll probably buy a van and once I have the empty shell, the ideas will come to me.
I was just a young lad learning carpentry with my dad and now I have a business where people are coming to us and being blown away by the work we're doing. That spurs us on even more. It's great, it really is.
Wayne Young is the founder of Van Life Builds, based in Bristol, England. You can find out more at vanlifebuilds.com or follow them on Instagram @vanlifebuilds.
All views expressed in this article are the author's own.
As told to Jenny Haward.