Tiny Puppy Crying Over Bath Time Melts Hearts—'The Drama'
A viral TikTok video of a puppy having her first ever bath has tugged at heartstrings across the internet.
In the social media post, which can be seen here, Sasha the puppy gets gently washed by her owner and makes it clear that she's not enjoying the experience.
The tiny pup can be heard whining and crying while her owner runs the bath water across her small paws.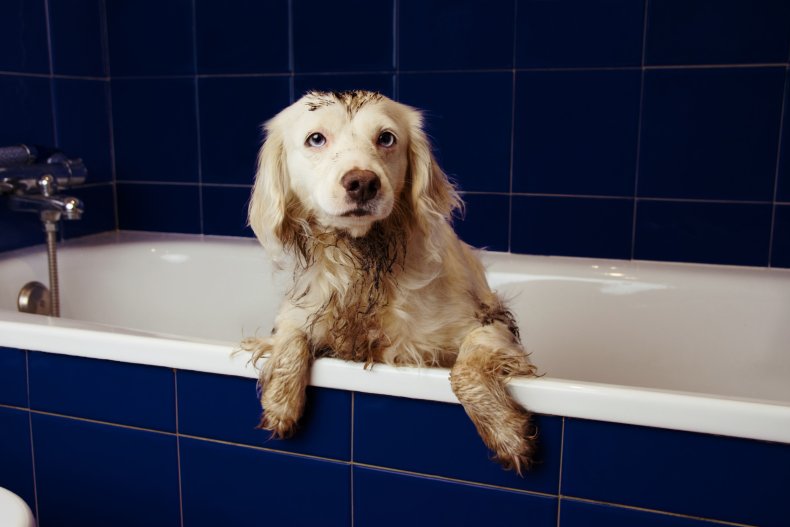 "Before any soap has even been applied," Sasha's owner writes on the video, highlighting how scared the pup is of just being near the running water.
Sasha eventually calms down, and is shown happily enjoying cuddles in a towel at the end of the video clip.
Sasha and her owner appear to be based in Houston, Texas, and the account is brimming with content of the dogs she owns and looks after.
The TikTok video, captioned "Sasha's bath time," was uploaded to the social media platform by @PawRudd on February 19 and has since then been viewed over 2.5 million times. The post has also gained over 527,000 likes and thousands of comments to date, with most TikTok users gushing over the small puppy.
How Often Should You Wash Your Dog?
It's hard to know how often you should be washing your pup, as that ultimately depends on their breed and coat type, but in general their hygiene and maintenance should be prioritized.
"How often they should be washed depends on several factors, including their hair length, activity level, breed, and skin conditions. At a minimum, most dogs should be bathed once every three months," dog expert Sadie Cornelius told Newsweek.
"With most dogs, you can wash them as frequently as every other week with a gentle shampoo. When in doubt, use your judgment—if your dog doesn't have a limiting skin condition and starts to smell, or their coat is dirty, it's probably time for a bath," she added.
What Do The Comments Say?
Since it's been shared to the platform, the post has been flooded with comments that make light of the situation and find the humor in Sasha's bath-time phobia.
"It's the running water, puppies don't understand so they get scared," one user wrote.
"MOTHER WHY HAVE YOU BETRAYED ME!?!?!?!" a TikToker added. "The drama," commented another.
A different user jokingly commented: "I thought you were my friend, I thought you loved me."
Do you have funny and adorable videos or pictures of your pet you want to share? Send them to life@newsweek.com with some details about your best friend and they could appear in our Pet of the Week lineup.