It may be small but the Italian town of Perdasdefogu on the island of Sardinia has made huge headlines worldwide when it comes to age and human longevity.
Perdasdefogu, located about 37 miles north of Cagliari in a region described as a mountain locale only accessible by a narrow roadway, will soon boast over 10 individuals over the age of 100 years old.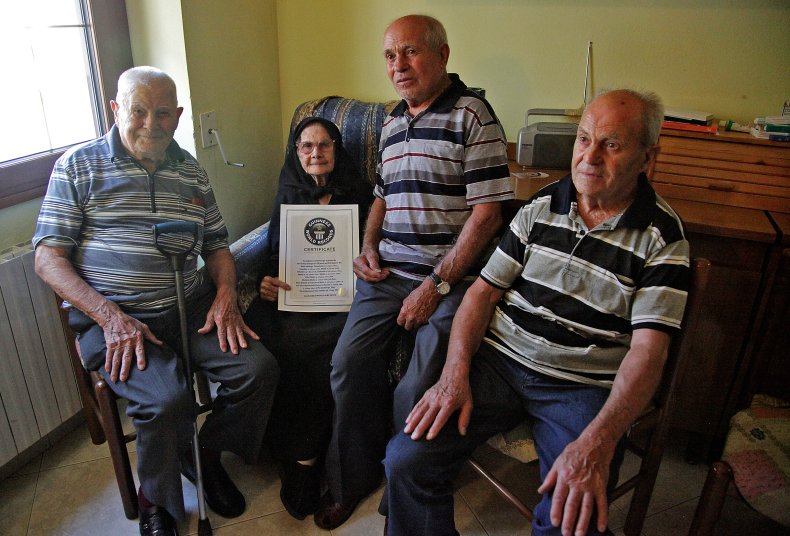 Luisa Salaris, a demographer at the University of Cagliari, said in the newspaper La Nuova Sardegna that Perdasdefogu's number of centenarians is 16 times the average in Sardinia and 19 times the average of Italy overall. Perdasdefogu has 1,765 residents.
Vittorio "Pistol" Lai, is the most recent centenarian as of last Saturday, February 12, and brought the number in Perdasdefogu to nine.
While taking a stroll around town, he told La Nuova Sardegna about the first wild boar he killed with his father's rifle when he was 13 years old. Hunting freed the country from hunger, he explained.
He spoke of how he held "one hundred trades" including goat and swineherd, laborer, farmer, cook and warehouse worker.
His health was positively impacted by being in the countryside, Lai said, sleeping under a pear tree and drinking spring water; listening to "the croaking of the magpie" and the "song of the partridges."
His diet also paid dividends.
"I never got up from the table with a full stomach," he said, adding that he consumed little meat and many legumes. He enjoys eating soups and salads made from ingredients in his garden, as well as fruit. Coffee drinking is at a minimum.
He will soon be joined in the centenarian ranks by Piuccia Lai, of no relation, who on February 21, will become the 10th resident of Perdasdefogu to hit the century mark. According to La Nuova Sardegna, she plans to celebrate in Milan with her children while meeting the mayor, Giuseppe Sala, during a special birthday ceremony.
"I've lived through hunger and war, during fascism and democracy," she told La Nuova Sardegna, including the fact she first was able to vote as a woman on June 2, 1946.
She also knew 10 popes, from Popes Pius X to Bergoglio, saying she was very fond of Pope John (XXIII).
The town of Perdasdefogu made international news in 2012 due to the Melis family, which include nine brothers and sisters who became Guinness World Record holders as the world's oldest siblings. Their combined age a decade ago was 818 years.
La Nuova Sardegna reported that Consolata Melis, who died in 2015 at age 108, was Perdasdefogu's oldest citizen. The town's current oldest resident is Antonio Brundu, who turns 104 in March.
In January it was reported that the oldest person in the United States, Thelma Sutcliffe, died at age 115.
The science behind reaching the age of 100 remains unclear, though many have attributed it to good genetics and healthy habits like staying active and eating right.
Uncommon Knowledge
Newsweek is committed to challenging conventional wisdom and finding connections in the search for common ground.
Newsweek is committed to challenging conventional wisdom and finding connections in the search for common ground.
About the writer
Nick Mordowanec is a Newsweek reporter based in Michigan. His focus is reporting on Ukraine and Russia, along with social issues and politics. Nick joined Newsweek in 2021 from The Oakland Press and his reporting has been featured in The Detroit News and other publications. His reporting on the opioid epidemic garnered a statewide Michigan Press Association award. He is a graduate of Michigan State University. You can get in touch with Nick by emailing n.mordowanec@newsweek.com. Languages: English.