'Tip Your Driver': Viral TikTok Shows Why DoorDash Orders Aren't Delivered
Commenters weighed in on a viral TikTok after the video sparked a heated debate about tipping food delivery drivers.
Showing a packaged McDonald's order waiting to be picked up, TikTok user @lennacorral revealed that the order had been sitting for more than ten minutes.
"This [DoorDash] order has been sitting here for more than ten minutes," @lennacorral wrote in the video's text overlay.
"No drivers have picked it up 'cause NO TIP NO TRIP," the TikToker added, including a shrugging emoji.
Posted on Feb. 20, the TikTok has generated more than 1.5 million views, and has been liked nearly 24,000 times. The video's caption also includes the hashtags "#TipYourDriver" and "#BeKind."
Good tips are imperative to a delivery driver's success.
At DoorDash, drivers receive a base pay between $2 and $10 for each delivery they make, depending on the estimated time and distance of the delivery.
And while drivers receive just a portion of the total cost of an order, 100 percent of tips left by customers go directly to them, according to the DoorDash website. (DoorDash's base pay does not change based on tip amounts.)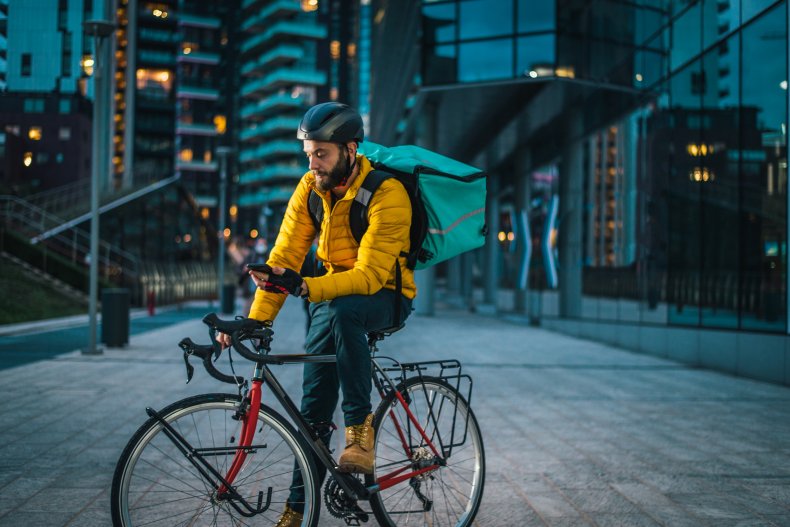 Across all service industries, tipping is encouraged. In the food industry, including food delivery, it is customary.
Since the onset of COVID-19, food delivery apps, like DoorDash, Uber Eats and GrubHub have benefited tremendously from a massive influx of delivery orders — many of which have come as the result of a lack of indoor dining options and other virus-related capacity restrictions.
Each app offers customers the options to tip delivery drivers, either by percentage or custom dollar amount. However, tips are not required, and on some delivery apps, customers are able to promise large tips up front, and change the amount just before their order is delivered.
This practice, commonly referred to as "tip baiting," has come under fire recently and, in many cases, food delivery drivers have vowed not to accept any orders that come without a gratuity attached.
Last December, a DoorDash driver explained to The Daily Dot that, although it is the customer's choice to leave a tip, it is also the driver's choice not to engage with tip-less orders.
"Most dashers will not take an order if there is no tip because DoorDash only pays us $2.50 per delivery," the DoorDash driver said. "People think we're being vindictive and are punishing them for not tipping, when that isn't the case either."
"Since we're paid so little," they continued. "We have to pick the best orders, not out of spite, but simply because we're trying to make the most of our dashes."
In the comment section of the viral TikTok showing the dormant McDonald's order, users shared their opinions on tipping etiquette, and explained why (and when) they elect to leave a generous tip for a delivery driver.
"I don't mind tipping but it should be done when the service is completed not beforehand," one TikTok user commented.
"I tip after I get my stuff," another user chimed in. "That's like paying for something you don't have."
Echoing the sentiments of many DoorDash drivers, one commenter acknowledged the tension between drivers and customers when it comes to tipping.
"Tipping isn't mandatory," they commented. "But an independent contractor can also choose what orders to deliver."
Citing rising gas costs, another TikTok user encouraged DoorDash users to leave tips up front, and warned that not tipping can lead to never receiving an order.
"Gas costs money...tip in advance people...or not and don't get your food!," they commented.
In a separate response, one commenter said that the text included with the viral TikTok was exactly correct.
"No tip, no trip," they wrote. "That's right."