'My Tips for Surviving a COVID-19 Christmas With Kids'
As a child I experienced a wide range of Christmas celebrations. From being in quintessentially English homes, nestled in the countryside with extended family and cozy fireplaces, to a single parent family meal with just my mom and the dog.
So, I never really felt I had many traditions or clear criteria for how Christmas should be. That all changed when my daughter turned two and was able to embrace the magic. The creation of Christmas traditions in our home began as a negotiation between an American mom who loved the holidays and an English dad who was once again trying to apply the right balance of parent and child psychologist. We now have a second child, and I think it is safe to say that the negotiations are ongoing.
Christmas as a parent seems like a battle between creating magic and managing expectations. I will never forget my daughter pushing her way downstairs to be the first to get to the presents under the tree. I remember getting extremely cross, only to realize that her uncontrollable excitement was all about finally being able to give her mommy and daddy the gifts she had bought us at the Christmas fair. I felt like an awful parent, and a psychologist who had forgotten all his training. I was so worried about what "should" happen I completely missed my own child showing me the true meaning of Christmas.
The point is parenting is hard every day of the year, but it's rare that any other holiday can intensify this as much as Christmas. As a clinical psychologist specializing in children and family work, I have seen how Christmas can range from a magical experience to an extremely traumatic one. This is clearly evidenced in 2020 where families are faced with restrictions that may severely impact Christmas and what the family celebration will look like this year.
Many people have talked to me about COVID-19 feeling like a get out of jail free card; allowing families to avoid the stress of visiting relatives and the annual tension and arguments that always arise. While others feel trapped in families that are struggling to function, due to COVID-19 related financial difficulties or the limited opportunities to "escape" for respite.
Throughout my career I have never been under any illusion that I am able to "fix" a potentially traumatic or stressful holiday season, but there are a few tips that I suggest to families every year. In "the year of COVID-19" perhaps families may find them more useful than ever...
1. Don't lose sight of what is important: Over the years I have asked several people about their favourite childhood Christmas memories. Some shared their family traditions, or how it was the only time their extended family were all together, and others simply described the taste of their grandmother's roast potatoes. Interestingly, not one person made any reference to gifts or presents. This is something I always try to remind parents at this time of year.
I am always stressing the importance of finding the time to enjoy your children, and for your children to enjoy you. So much of the year is about work deadlines and school timetables, and in the year of COVID-19 much of this has all taken place in the same house. My advice to parents has been to simply take Christmas, whether you are in lockdown or not, as an opportunity to try and take the day to reconnect with your home and the people in it.
2. Parent self-care is key: As a father and a child psychologist I am aware that most parents are on a daily mission to provide the best possible life for their children. But I see so many parents who do this to such an extent that their mental and physical health are significantly impacted, and, as result, so is their interaction with their family. Add to this the stress many of us have faced this year with the pandemic, and striving to create the most magical Christmas for our kids has the potential to push us to the brink.
I will always remember a 14-year-old girl in therapy telling me how she dreaded the holidays. She described how the beautifully decorated house, multiple presents under the tree, and great selection of food, came at a cost. Her mother would be completely consumed with the anxiety and stress of "getting everything perfect". The impact of this was that the rest of the family would become anxious in their attempts to "keep Mom happy."
Experience has taught me that kids are always sensitive to their parents' attitudes and mood. Learning how to recognize, manage, and reduce your stress could be good for both you and your children this Christmas. The first step might just be to acknowledge that you're finding the time, or the whole year, difficult and discuss this with a family member or friend.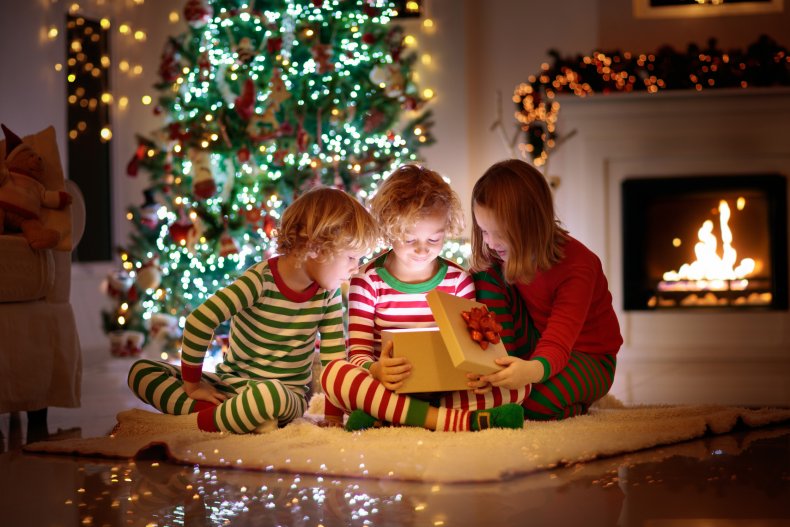 3. Maintain a reasonable amount of normal routine: Although in 2020 many families will be giving the kids the run of a COVID-secure house rather than travelling to visit extended family, change and excitement is often overwhelming for children at Christmas. I have worked with families that have taken the whole of January to reinstate their regular bedtime routine, following a relaxing of the rules during the holidays, and I have had children in therapy talking about being stressed from a lack of down time due to non-stop Christmas activity.
In terms of child development, I regularly talk to parents about the importance of routine and how it provides children with clear boundaries, expectations, and consistency. I describe how it isn't just about learning rules, it provides a predictability and familiarity that helps them feel safe, which can be particularly important in what has been an already chaotic year for many with the pandemic.
This doesn't mean that your Christmas holiday must maintain the rigidity of a school week, but I always advise maintaining "anchor points", such as keeping to bedtime routine, and doing some of the normal things you do throughout the year.
4. Communicate and plan together: As a parent my children constantly remind me that if I do not provide clear details, they will make up their own minds about what is going to happen, and they will have a significant tantrum if things don't go their way. I will never forget the impact of not informing my children that once they had opened their presents there would be little time to play with them before needing to be out the door for the next stage of Christmas day. Tears, sulking and general frustration all round.
I now advise many of the families I work with to make Christmas planning a shared activity. It allows parents to manage expectations and provides children with the emotional safety that comes with structure and understanding.
In a year where uncertainty and stress have reigned, uniting to plan the day—even if it looks a bit different to a "normal" Christmas—may help you connect and find some peace at the end of a tumultuous 12 months.
COVID-19 has forced us all to reassess how we manage Christmas. My advice is not to become overwhelmed. Sit down as a family, share your thoughts with one another and aim to agree on a plan for what you need to do together to survive the holidays this year.
Dr Oliver Sindall is a HCPC registered Clinical Psychologist, and Professional Lead for a London based Child and Adolescent Mental Health Service (CAMHS). He has been Chair of the London Youth Justice CAMHS Forum and a committee member of the British Psychological Society's Faculty for Children, Young People and Families. For more information visit www.sindallpsychology.com.
All views expressed in this article are the author's own.