Titletown? Tampa Bay Lightning Crush Canadiens in Stanley Cup Finals Opener
It's been almost five months since the last American pro sports team was crowned, and it was the Tampa Bay Buccaneers winning the Super Bowl at their home stadium in Tampa, Florida. The Stanley Cup Finals began Monday night in Southwest Florida, and the defending champion Tampa Bay Lightning throttled the Montreal Canadiens, 5-1.
The Lightning took a 2-1 lead into the third period before erupting for three goals, giving them a 1-0 lead in the best-of-7 series.
The Lightning's Erik Cernak got the scoring started in the first period to put the champs ahead. Yanni Gourde put Tampa Bay ahead, 2-0, nearly six minutes into the second period before Montreal's Ben Chiarot scored his first goal of the playoffs.
Tampa Bay's Nikita Kucherov scored a pair of goals in the third period, followed by Steven Stamkos' Power Play goal to give the hometown team a lead they wouldn't relinquish.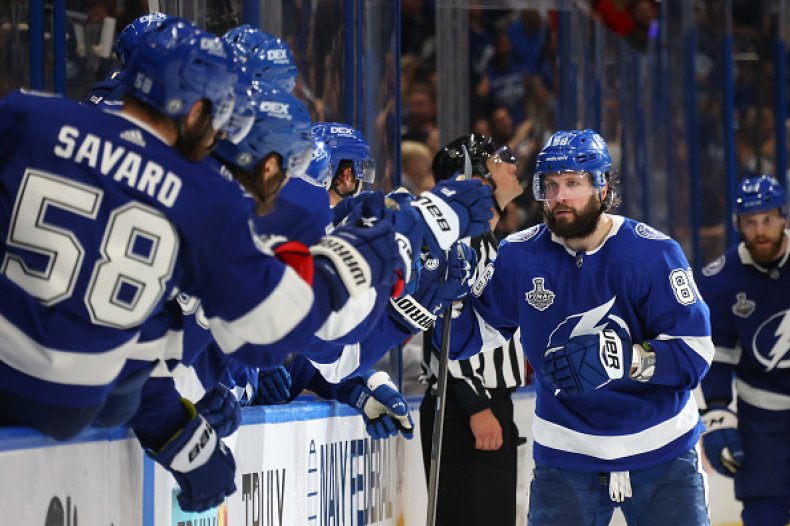 Game 2 will be Wednesday night at Amalie Arena in Tampa at 8 p.m. ET, which can be seen on NBCSN. The remainder of the games will be broadcast on NBC, starting with Game 3 on Friday in Montreal at 8 p.m. ET.
Tampa Bay won the 2019-20 championship over the Dallas Stars, 4-2. All of those games were played in Canada because of COVID-19 protocols. On Monday, the Amalie Arena in Tampa had a full crowd.
In February, the Tampa Bay Buccaneers defeated the Kansas City Chiefs in Super Bowl LV at Raymond James Stadium. The Buccaneers became the first NFL team to ever win the Super Bowl in its home stadium, all despite coming through the playoffs as a wild card.
That, combined with the Tampa Bay Rays making the World Series before falling to the Los Angeles Dodgers, led many to dub Tampa as America's newest "Titletown." Although, some like to call Los Angeles the "Titletown" because the Dodgers and NBA's Laker won championships in the same span. Though the Lakers did not make it past the first round of this year's playoffs, the Los Angeles Clippers are playing in the Western Conference Finals for a chance to be in the NBA Finals.
The Rays are leading the American League East, the Buccaneers are favored to get back to the Super Bowl with Tom Brady at quarterback and all starters returning from the team, and the Lightning are leading the Stanley Cup Finals. The "Titletown"moniker might not be a far stretch for the folks in southwest Florida.