Why Has TJ Dillashaw Relinquished His UFC Bantamweight Title?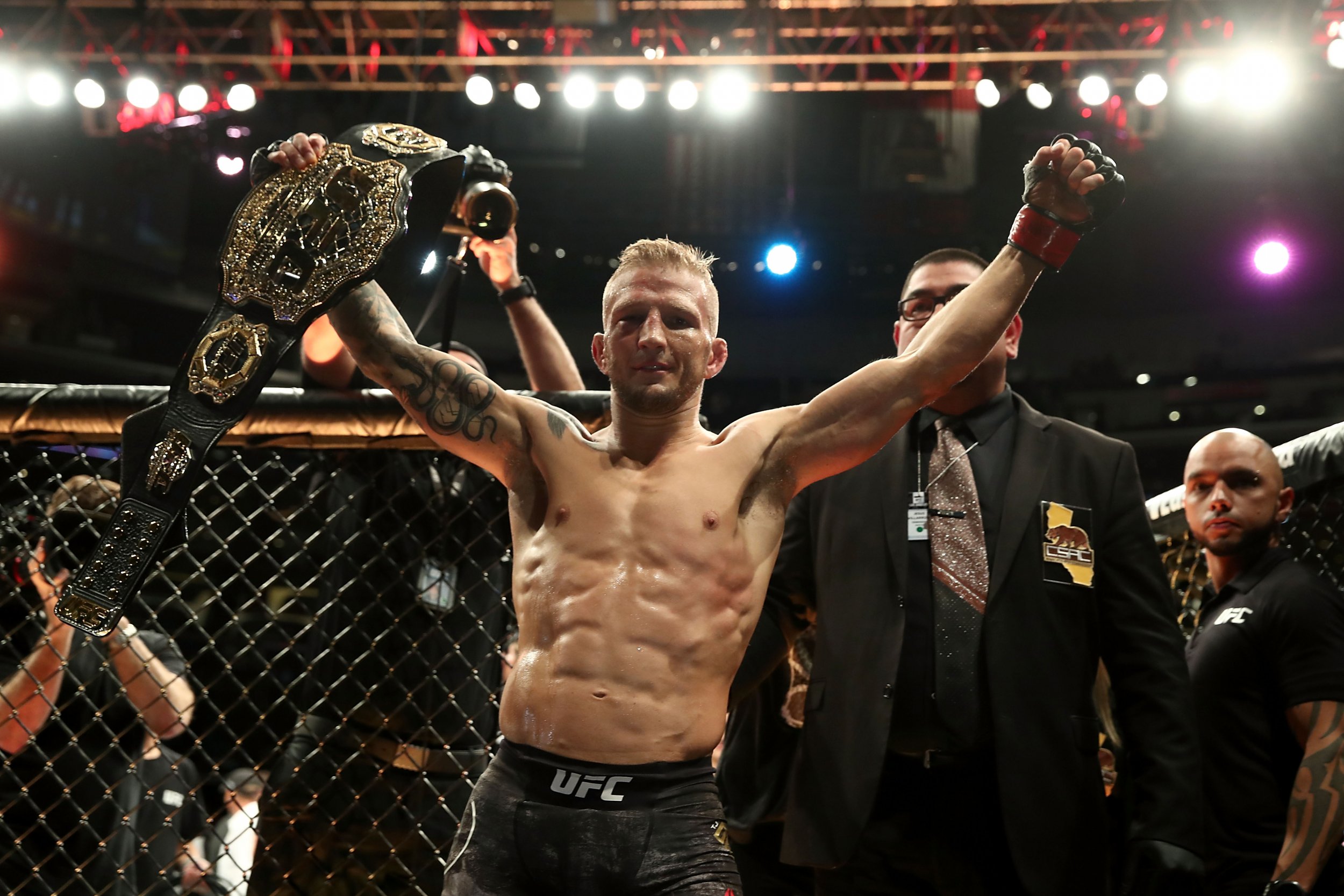 TJ Dillashaw has given up his UFC Bantamweight belt after being informed by the New York State Athletic Commission and the United States Anti-Doping Agency that he had failed a drug test.
The 33-year-old announced the news on his Instagram profile Wednesday morning, explaining he was "voluntarily relinquishing" the promotion's 135-pound title.
Dillashaw added both USADA and NYSAC confirmed an "adverse finding" had emerged in a test he underwent following his last bout on January 19, which was against Henry Cejudo.
"While words can't even begin to express how disappointed I am at this time, please know that I'm working with my team to understand what has occurred and how to resolve this situation as quickly as possible," he wrote.
"Out of fairness and respect to the rest of my division, I've informed the UFC that I'll be voluntarily relinquishing my title while I deal with this matter. I want to thank you all in advance for the support."
Shortly after Dillashaw announced he was relinquishing the title, NYSAC confirmed it had banned the fighter for a year "for violations relating to use of a prohibited substance."
The suspension is retroactive to January 19 and Dillashaw was also fined $10,000.
The Colorado native dropped down to flyweight to fight Cejudo in January, only to get TKO'd in 32 seconds.
Cejudo had hoped to move up to bantamweight to strip Dillashaw of the belt he held until Wednesday morning, but the 32-year-old's camp will now have to make alternative arrangements.
"I hope it was a mistake or contamination for his sake because that's a hell of drop from glory, from chasing the pound-for-pound status with two belts to losing it all," Eric Albarracin, Cejudo's head coach, was quoted as saying by ESPN.
"He has a family to support, and I wish that on no one. Can only wait to see what USADA final determination is.
"This throws a wrench in our plans. It's early and haven't spoken with Henry yet."
USADA is yet to make a formal decision on Dillashaw and it remains to be seen whether its suspension will be longer than the one handed out by NYSAC.
A policy change implemented last year means USADA no longer announces positive tests before the cases have been resolved.
Dillashaw first won the UFC Bantamweight title in 2014, when he defeated Renan Barao by TKO at UFC 173. He then successfully defended the title twice, stopping Joe Soto at UFC 177 and then again beating Barao by TKO in 2015.
In January 2016, he lost the title on a split decision against Dominick Cruz, but recaptured the belt by stopping Cody Garbrandt at UFC 217 in November 2017. He then defended the title against the same opponent in UFC 227, winning by TKO.
The loss against Cejudo in January was only Dillashaw's fourth reverse in 20 MMA contests.