Who is the Woman Accusing T.J. Miller of Sexual Assault? Alleged Victim Claims 'Silicon Valley' Actor Abused Her
A woman who attended George Washington University with Silicon Valley star T.J. Miller accused the comedian of sexual assault, according to a Tuesday report by The Daily Beast.
The woman, who was only referred to as Sarah in the report, said that, on two separate occasions in 2001, Miller was violent with her during sexual intercourse. At the time he was a student at the university; Sarah was not enrolled full-time, but was taking classes. She said she met the actor through the university's comedy troupe, receSs, and they became romantically involved.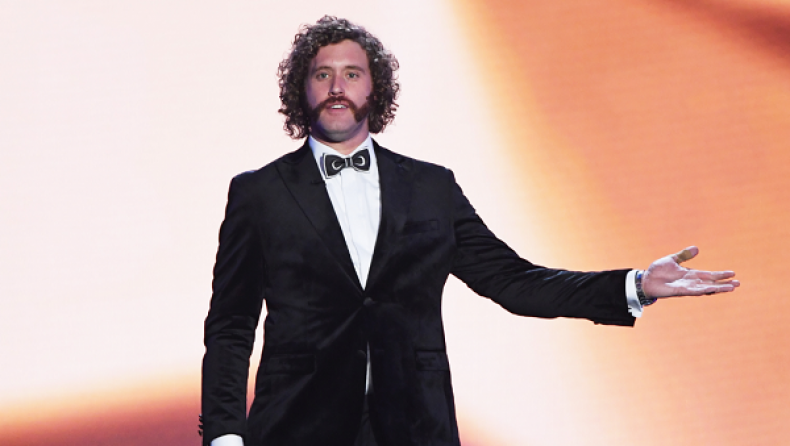 Sarah admitted to being intoxicated during their first sexual encounter, telling The Daily Beast she remembered having "a lot to drink" and that there were "parts of [the first incident] I don't remember." However, she had distinct memories of them "fooling around" at her apartment in Washington D.C. when Miller began "shaking me violently."
She also remembered the now 36-year-old actor punching her in the mouth during sex, explaining that she woke up the next morning with a fractured tooth and bloodied lip. Sarah asked Miller about her bruises the next morning; he told her they were the result of her falling down while she was drunk.
Not long after the first incident, Sarah was dropped from the receSs program. Despite the altercation, Sarah said she continued to see Miller and confided in him when she was removed from the comedy troupe. "I couldn't bring myself [at the time] to believe this had happened," she said. "It was me not wanting it to be true."
Not long after Sarah left the receSs program, she met Miller at a college party. The two went back to her apartment where they engaged in sexual intercourse again, but this time around, Sarah said she vividly remembered the "five-hour" ordeal "crystal-clear."
"We started to fool around, and very early in that, he put his hands around my throat and closed them, and I couldn't breathe," she recalled. "I was genuinely terrified and completely surprised. I understand now that this is for some people a kink, and I continue to believe it is [something] that should be entered into by consenting parties. But, as someone who had only begun having sexual encounters, like, about three months earlier, I had no awareness this was a kink, and I had certainly not entered into any agreement that I would be choked."
Along with choking her, Sarah accused Miller of penetrating her anally without her consent. After she protested, she said Miller stopped, but then went on to penetrate her with a beer bottle.
Two of Sarah's roommates, former George Washington University student Katie Duffy and another woman who asked to remain anonymous, corroborated Sarah's account to The Daily Beast. Both women recalled hearing a "loud smacking noise" and being concerned to the point where they knocked on Sarah's door. Although Sarah initially told them that she was "O.K.," they said after Miller left the next morning Sarah appeared visibly shaken and bruised.
"She looked like she had been through a rough night," Duffy said. "One roommate asked if she wanted to go to go to the police. Others offered to take her to the hospital, given how she looked."
Nearly a year after the incidents, Sarah reported the sexual assault to the university's campus police, and the issue was eventually handled by the "student court."
Miller and his wife Kate Miller denied the allegations in a statement to The Daily Beast.
"[Sarah] began again to circulate rumors online once [our] relationship became public. Sadly she is now using the current climate to bandwagon and launch these false accusations again," the Millers wrote. "It is unfortunate that she is choosing this route as it undermines the important movement to make women feel safe coming forward about legitimate claims against real known predators."
The Deadpool 2 actor is just the latest Hollywood figure to be accused of sexual assault.