Artist Arrested for Allegedly Selling Work On Sidewalk Surface Sues City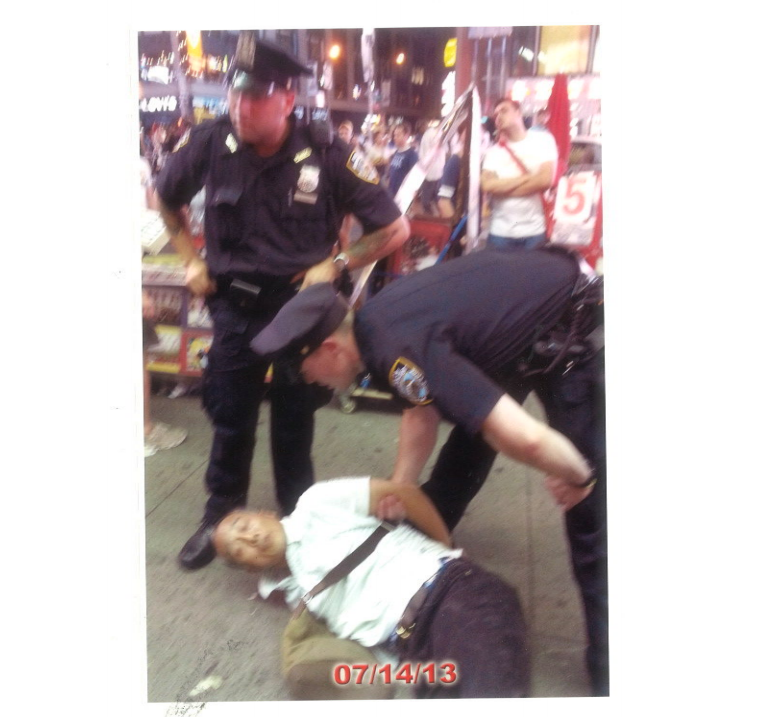 A street artist arrested on charges of selling his work on the sidewalk near Times Square last summer, and later vindicated, is suing the city, claiming in a recent court filing cops roughed him up so much that lifting his vending gear still causes him pain.
On July 14, 2013, Police Officer Michael Algerio and a still unidentified officer approached Yuhua Liu at approximately midnight, demanding to see identification and claiming he violated a New York City Administrative Code that prohibits vendors' wares from touching the sidewalk surface, according to a federal lawsuit filed Aug. 26.
Liu, 57, maintains he showed the police that his drawings were displayed several inches above the sidewalk. Liu further alleges that when he reached for his I.D., which was on his stool, the officers used "excessive force, grabbed Plaintiff's arms and twisted them behind his back. The Defendant police officers then pushed Plaintiff to the ground, and proceeded to step on Plaintiff's legs causing him pain and suffering." The officers handcuffed him, and fastened the cuffs too tightly; Liu told them he was in pain, "but was ignored," the suit claims. The officers drove him to the Midtown South Precinct and when Liu asked to speak with his wife, "his pleas were ignored."
Then, at approximately 2:15 a.m., one of the officers gave Liu two summonses, one for "disorderly conduct" and another for the administrative code, and "told to go home," the suit states. The disorderly summons was dismissed before hearing and on Dec. 6 2013, a judge found Liu not guilty of violating the vending code.
Though he was cleared of wrongdoing, Liu claims he has experienced extenive distress from the incident. He couldn't work for 12 days because of arrest-related injuries, he says in the suit, and "still has pain when lifting heavy items, including his vending equipment."
Liu's civil rights lawsuit -- he claims he was arrested without probable cause, and arrested with excessive force, violating his Constitutional protections -- comes amid increased scrutiny of the New York Police Department's policies with regard to how officers handle quality-of-life complaints, and how much a role race plays in enforcement.
According to a recent New York Daily News analysis, some 81 percent of the 7.3 million people who received violations between 2001 and 2013 were black or Hispanic. This disparity became a flashpoint following the death of Eric Garner on Staten Island. The father of six, who was black, died on July 17 when a white police officer placed him in a chokehold, a technique that is prohibited by the NYPD. Garner's alleged crime? Selling loose cigarettes.
While Liu is Chinese, the interaction he claims to have had with police is very common among New York City's some 20,000 street vendors, the vast majority of whom are immigrants and people of color, as well as some veterans, according to The Street Vendor Project at the Urban Justice Center. According to Project data, this pool of mostly immigrant, mostly minority vendors receives more than 40,000 tickets, and is subject to approximately 10,000 arrests, every year.
"It's indicative of what's happening in the city on a larger scale," Matthew Shapiro, staff attorney at the Urban Justice Center who is representing Liu, tells Newsweek. "The people who usually have negative interactions with the police -- those are people of color."
"Immigrants and people of color are the easiest targets for this type of policing," he continues. "Vendors, by and large, are also immigrants [and] are sometimes even easier targets because they're out on the street, full-time."
The Urban Justice Center represents five other New York City vendors in four pending federal cases, Shapiro says. Four of those five plaintiffs are persons of color. Asked for comment on the suit, the New York City Law Department replied in an e-mail that: "The only comment we have about this pending legal matter is that the lawsuit is being reviewed."
Artist Arrested for Allegedly Selling Work On Sidewalk Surface Sues City | U.S.