Six Anti-Muslim Comments That Could Haunt Trump in Travel Ban Supreme Court Case
Supreme Court justices considering the constitutionality of the Trump administration's third travel ban will have to decide how heavily to weigh the president's anti-Muslim comments and tweets against his broad authority to act in the country's best interests.
Attorneys who filed amicus briefs against the latest iteration of the travel ban say President Donald Trump's remarks prove intent to discriminate against an entire religious population and have foregrounded them in their challenges.
"The benefit of having a president who speaks his mind is that you don't have to guess at his intentions," Joshua Lipshutz, a partner at Gibson, Dunn & Crutcher LLP, the law firm that filed a brief to the court on behalf of the U.S. Conference of Catholic Bishops, told Newsweek. "Here we know that the intention was discriminatory."
Here are some of comments lawyers cite as definitive proof of Trump's animus toward Muslims:
1. "Donald J. Trump is calling for a total and complete shutdown of Muslims entering the United States."
Trump's campaign issued this statement in December 2015, noting it should be "obvious to anyone" that "the hatred is beyond comprehension."
"Until we are able to determine and understand this problem and the dangerous threat it poses, our country cannot be the victims of horrendous attacks by people that believe only in jihad and have no sense of reason or respect for human life," Trump continued.
In a brief on behalf of Hawaii, Neal Katyal, a former U.S. acting solicitor general and currently a Washington, D.C.-based lawyer, highlights the comment as an essentially discriminatory one that served as the basis for Trump's entire presidency.
"For over a year, the President campaigned on the pledge, never retracted, that he would ban Muslims from entering the United States," the brief's introduction reads. "And upon taking office, the President issued and reissued and reissued again a sweeping and unilateral order that purports to bar over 150 million aliens—the majority of them Muslim—from entering the United States."
2. President Franklin D. Roosevelt "did the same thing" during World War II
Following Trump's "total and complete shutdown" comment, ABC News's George Stephanopoulos asked the then-candidate about growing comparisons between himself and Adolf Hitler. "Does that give you any pause at all?" Stephanopoulos asked at the time.
"No, because what I am doing is no different than what FDR, FDR's solution for Germans, Italians, Japanese, you know, many years ago.... He did the same thing—if you look at what he was doing, it was far worse," Trump replied.
These comments are included in the Hawaii brief as "factual background," meant to provide insights into Trump's justification for what would later become his travel ban.
3. "I think Islam hates us. We can't allow people coming into this country who have this hatred of the United States."
"I think Islam hates us," Trump told CNN in a March 2016 interview with Anderson Cooper. "There's a tremendous hatred. We have to get to the bottom of it. There's an unbelievable hatred of us."
Trump went on to tell Cooper that although he meant to target "radical Islam," it was difficult to "define" and "separate," because "you don't know who's who."
Cooper asked Trump if he had a hatred of Islam itself, to which Trump responded: "We have to vigilant. We have to be very careful. And we can't allow people coming into this country who have this hatred of the United States."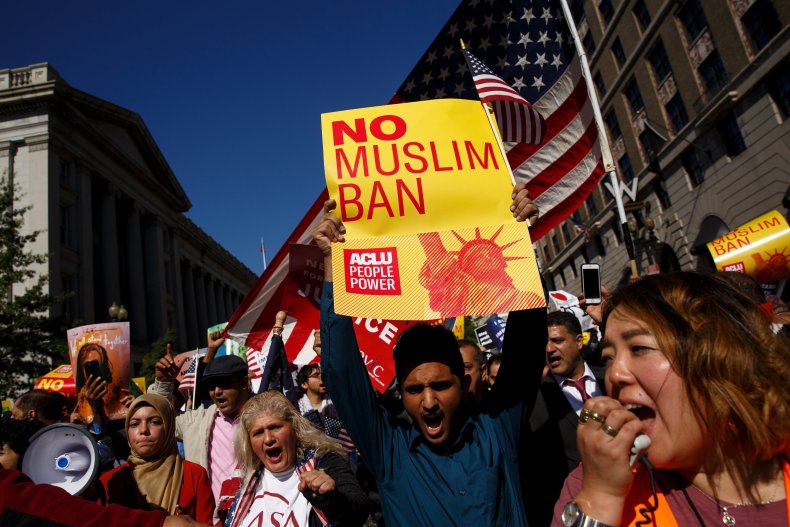 4. "We're having problems with the Muslims, and we're having problems with the Muslims coming into the country."
Trump made these remarks to Fox Business the same month, following attacks in a Brussels airport and metro station. The Islamic State militant group (ISIS) claimed responsibility for the bombings, which killed dozens and injured over 270 people.
During the interview, Trump also called for government surveillance of United States mosques.
"You have to deal with the mosques, whether we like it or not. I mean, you know, these attacks aren't coming out of—they're not done by Swedish people," Trump said.
5. "You know my plans. All along, I've been proven to be right."
When another attack struck Berlin in December 2016, just over a month after Trump won the presidential election, reporters asked if Trump would reconsider his proposed Muslim ban.
"You know my plans," Trump said. "All along, I've been proven to be right. One hundred percent correct. What's happening is disgraceful."
6. "We all know what that means."
Trump spoke these words when he signed the first iteration of his travel ban, just a week into his presidency. After the president signed the executive order banning entry into the United States by nationals from seven Muslim-majority countries, he said, "We all know what that means."
The Hawaii brief argues that Trump's statement, along with all of his other anti-Muslim remarks, prove that the travel ban is the logical extension of the president's promise for a "total and complete shutdown" on Muslims entering the country.
The solicitor general, however, argues otherwise.
"In context, the President's passing remark at the signing of EO-1 referred to terrorist groups like ISIS and al Qaeda," Solicitor General Noel Francisco argues in his own brief, "not all Muslims."
Lipshutz, the lawyer whose firm filed a brief on behalf of the bishops, said he doesn't think the solicitor general's take on Trump's comments will hold up in court.
"It's one thing in the face of uncertainty or silence as to intentions for the courts to assume that the government is acting in the best interest of all citizens, but you can't continue to hold that presumption in the case of plain statements to the contrary," he said. "Frankly, I think it's sad to see the solicitor general defending the discriminatory remarks of the president."