Israel has granted Michigan representative Rashida Tlaib permission to come to the country on a humanitarian mission after initially blocking her request to visit.
On Thursday, Israel had said it would bar the Democratic lawmaker, who was born in Detroit to Palestinian immigrants, and her fellow U.S. lawmaker, Ilhan Omar, who is Muslim, from visiting the country.
The two representatives were due to visit the occupied West Bank and East Jerusalem. Their support for the boycott movement against Israel prompted President Donald Trump to urge that the lawmakers be blocked from visiting.
His tweet on Wednesday said: "It would show great weakness if Israel allowed Rep. Omar and Rep. Tlaib to visit. They hate Israel & all Jewish people, & there is nothing that can be said or done to change their minds."
It was believed that the position of Trump, who touts his close relationship with Israeli prime minister Benjamin Netanyahu, had influenced Israel's initial decision.
Israeli law also blocks entrance visas to any foreigner who calls for any type of boycott that targets the country, which wants to suppress the "boycott, divest, sanction" movement, the BBC reported.
However, on Friday Israel's interior minister Aryeh Deri said in a statement that Tlaib would be allowed to visit the country, the Associated Press reported. There is no confirmation yet on whether Omar can visit.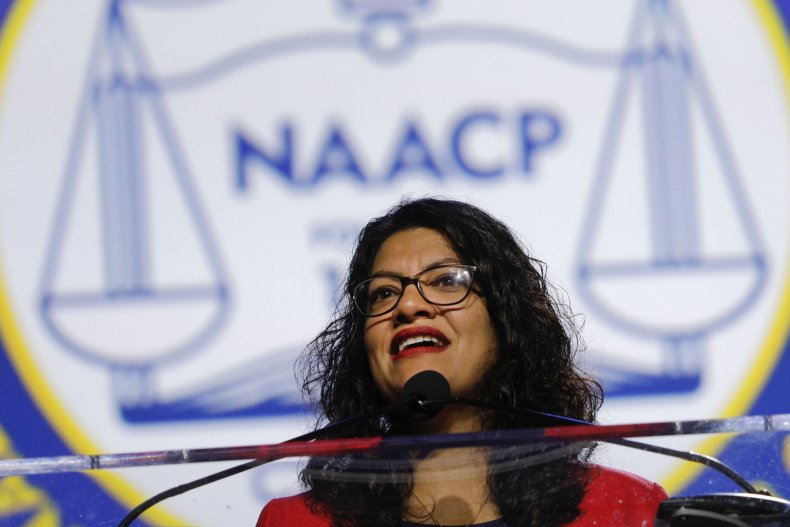 The trip was planned by Miftah, an organization headed by Palestinian peace negotiator Hanan Ashrawi, and was supposed to start on Sunday.
It was to include a visit to the sensitive Jerusalem site known to Jews as the Temple Mount and to Muslims as Haram al-Sharif. A visit to meet Israeli and Palestinian peace activists and travel to Jerusalem and the West Bank cities of Bethlehem, Ramallah and Hebron were also planned.
Bloomberg noted that Tlaib will be able to visit her 90-year-old grandmother and the lawmaker had made a written promise not to promote a boycott of Israel during the visit. This was a condition laid out by Prime Minister Benjamin Netanyahu.
Omar and Tlaib have both been criticized for their stance on Israel but deny they are anti-Semitic.
The initial refusal by Israel to block the visit sparked widespread criticism, including from Israeli and Jewish organizations who said the country should not bar the entry of members of Congress, the AP reported.