Tlaib Says DNC Is 'Silencing Districts' of Color As Tensions Grow Within The Party
Michigan Representative Rashida Tlaib and other progressive Democrats have continued to lash out against their moderate colleagues as tensions heighten over which direction the Democratic Party will head after centrist Joe Biden was projected to win the election over the weekend.
Tlaib, who is well-known for being a member of the so-called Squad, said she's done letting establishment views silence the districts that came out to support Biden in record numbers this election.
"We're not going to be successful if we're silencing districts like mine," Tlaib told POLITICO. "Me not being able to speak on behalf of many of my neighbors right now, many of which are Black neighbors, means me being silenced. I can't be silent."
"If [voters] can walk past blighted homes and school closures and pollution to vote for Biden-Harris, when they feel like they don't have anything else, they deserve to be heard," Tlaib added. "I can't believe that people are asking them to be quiet."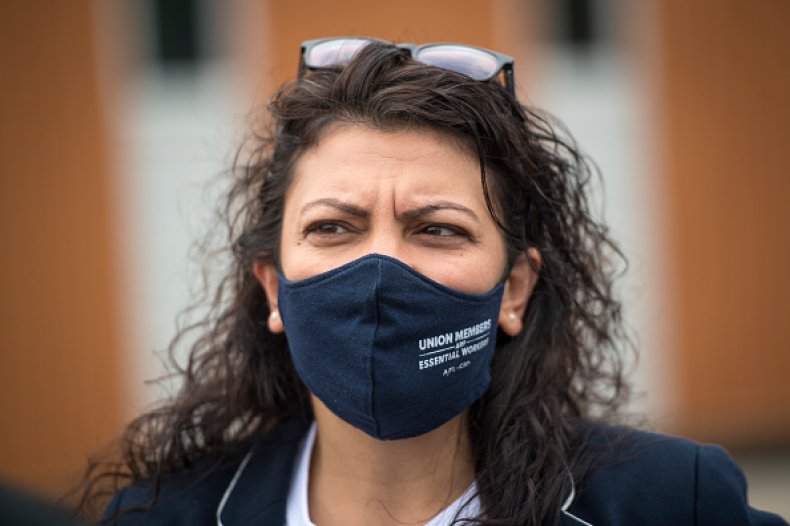 The progressive wing of the Democratic Party made it clear after Biden was projected to be the president-elect that they would not step down from advocating for the Green New Deal, Medicare for All and defunding the police—especially since these are the platforms that won many progressives their re-election.
Instead of expanding their majority as they had aimed to do, House Democrats lost seats in South Florida, New Mexico, South Carolina and Iowa last week.
Centrist Democrats were quick to point fingers at socialist rhetoric for the reason why those candidates lost their seats and why some moderate candidates barely held on.
But Tlaib, who was re-elected by a landslide in Michigan, and Representative Alexandria Ocasio-Cortez, who was re-elected in New York, have highlighted that every swing state co-sponsor of the Medicare for All bill kept their seat.
Tlaib said these districts are done compromising with more moderate policies— policies which she argues fundamentally undermines the existence of these voters.
"We are not interested in unity that asks people to sacrifice their freedom and their rights any longer," Tlaib said.
"And if we truly want to unify our country, we have to really respect every single voice. We say that so willingly when we talk about Trump supporters, but we don't say that willingly for my Black and brown neighbors and from LGBTQ neighbors or marginalized people," she added.
Tlaib represents the 13th congressional district in Michigan, which is located in Wayne County and includes the city of Detroit—regions that became critical in the swing state's flip to Biden.
Pressure is mounting for Biden, who is expected to fill his Cabinet with a diverse group that reflects his divided party. With names of several Republicans beginning to float around, some Democrats are growing concerned that the 13 positions will not reflect the same communities that voted for the president-elect.
"It would indeed be quite divisive for Joe Biden, who along with Kamala Harris is nearly 5 million votes ahead of Donald Trump and Mike Pence, to revert to appointing Republicans in his Cabinet," Representative-elect Mondaire Jones told POLITICO.