Who Is TMZ's Morgan Tremaine? 'Journalist's Privilege' in Depp-Heard Trial
TMZ has filed an emergency motion to try and stop a former employee from testifying in the Johnny Depp and Amber Heard trial.
Lawyers for celebrity news outlet have intervened to prevent Morgan Tremaine from testifying and potentially revealing an anonymous source, on the grounds of "journalist's privilege." The story Tremaine was expected to discuss is an article published on August 12, 2016 titled, "Johnny Depp Goes Off On Amber...Smashes Wine Glass, Bottle."
Depp and Heard are currently reaching the end of a $50 million defamation trial which has seen several notable moments and witness testimony that have gone viral online. The case relates to a 2018 op-ed written by Heard in which she stated she was the survivor of domestic abuse, which Depp's legal team argues has caused massive loss of career earnings. She did not name Depp in the op-ed.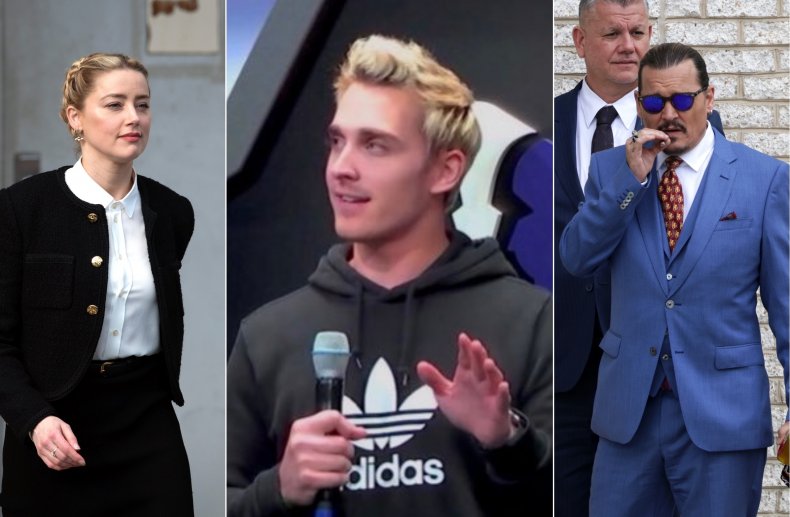 Tremaine was set to be the latest witness to take the stand, but TMZ has temporarily prevented that from happening.
What Is the Story?
In August 2016, TMZ published an article with an accompanying video showing Depp shouting and slamming cabinet doors shut in the kitchen of what appears to be his home. The footage appeared to have been shot by Heard.
The tape has been shown multiple times over the years and was used as evidence in the current defamation case.
The accompanying article with the video includes details from someone only referred to as "Sources connected with Johnny." There is no by-line on the story to determine whether or not Tremaine broke the story.
EHM Productions, Inc., the owners and operators of TMZ, filed the emergency motion on Tuesday May 24 to prevent Tremaine from testifying. He was called as a witness by Depp's lawyers and was due to testify on Wednesday.
Who Is Morgan Tremaine?
Tremaine is a Los Angeles-based journalist, host and producer who now works primarily in tech and gaming.
Previously he worked in entertainment news with work across national TV and digital services. According to his LinkedIn page, Tremaine worked at TMZ for three years, starting out as a video producer before becoming an assignment manager and leaving in August 2017. He will have been in the latter job when the footage of Depp and Heard was published on TMZ in August 2016.
Now, Tremaine works as a live broadcast producer for Esports Engine in Burbank, California.
Tremaine is present across most social media channels but his Twitter, Instagram, TikTok and Twitch seem to have either gone private or had their content removed.
What Is 'Journalist's Privilege'?
Journalist's privilege, more commonly known as reporter's privilege, is a law put in place to allow a journalist to protect their confidential or anonymous sources from discovery.
While TMZ is citing journalist's privilege, it is currently unclear whether it will be successful with their motion.
Within the application to the court, the owners of TMZ wrote, "This video was provided to journalists at TMZ, in California, by a confidential source." They continued: "TMZ promised this source that it would maintain their confidentiality and would not disclose their name or other information about them.
"TMZ makes such promises of confidentiality from time to time so that it may publish information in the public interest, and it relies on the journalist's privilege protecting the identity of confidential sources to do so."
The Depp and Heard trial continues today during the final week of court proceedings. Follow Newsweek's live blog for all of the biggest breaking news coming out of Fairfax County, Virginia.
Newsweek has contacted TMZ and Morgan Tremaine.