Toby Keith Is Not A Trump Supporter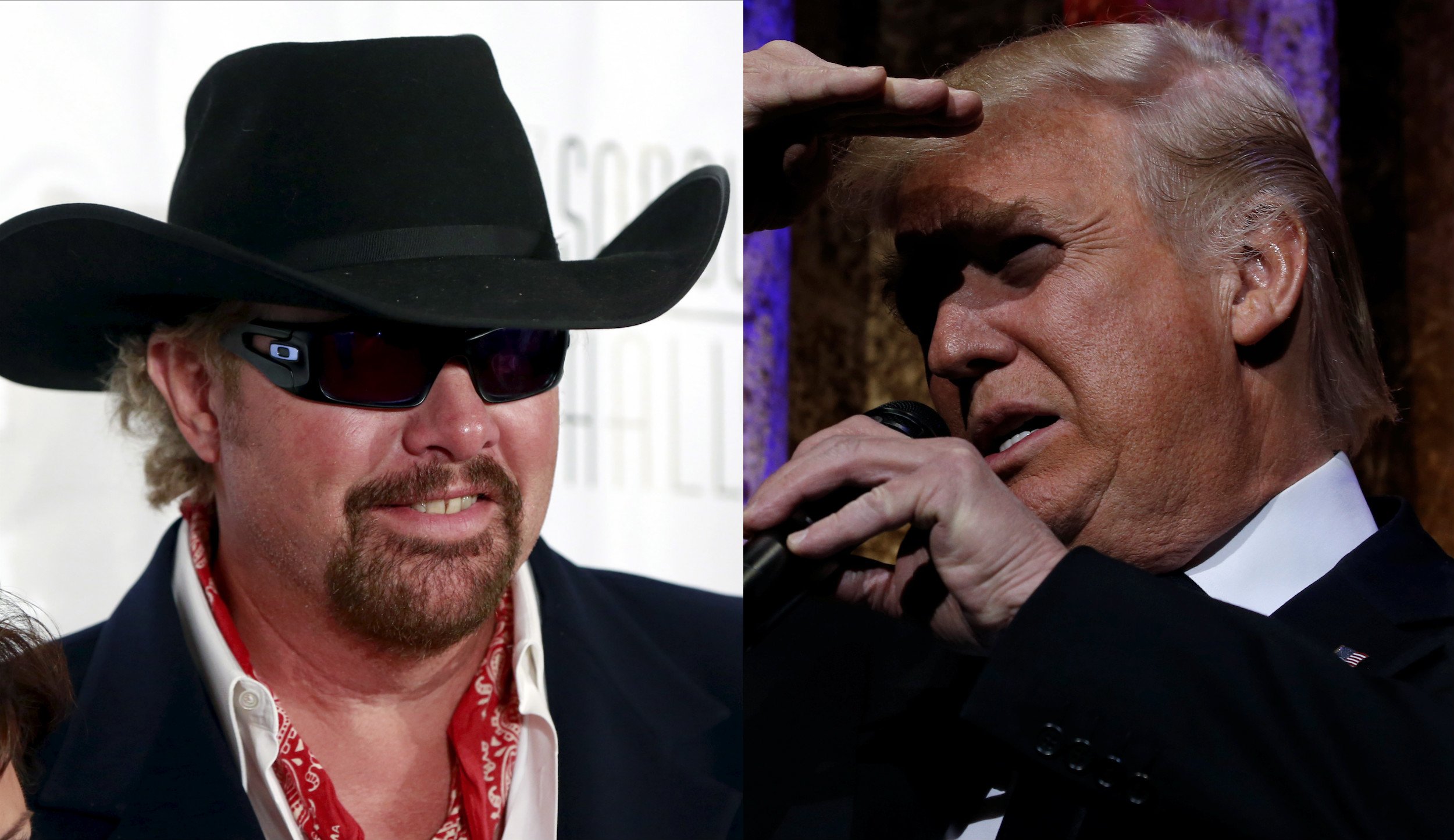 After months of struggling to line up talent to perform at the inauguration, Donald Trump's Inaugural Committee announced on January 13 they had booked country music superstar Toby Keith to perform at the pre-inauguration concert at the Lincoln Memorial. Keith is by far the biggest name Trump managed to land, and one that conservatives are sure to appreciate.
Related: The B Street Band dropped out of Trump's inauguration and we can't help but feel sorry for Chris Christie
Keith may be the quintessential artist to perform at an event celebrating Trump. He has made a career out of toting the types of American values the soon-to-be president hammered home throughout his campaign. His songs champion the military, freedom, waving the flag, never compromising, sticking boots in asses (??) and every other red-blooded cliché cherished by conservative America. I mean, just watch the music video for his 2002 hit "Courtesy of the Red, White and Blue."
But Keith hasn't vocalized support for Trump. In fact, he has decried him as a media whore. "This is by far the best country you could ever live in, and we picked these two candidates to be media whores and go out there and take care of the world, huh?" he said in September at the Route 91 Harvest Festival in Las Vegas. He also called the election a "dumpster fire."
Keith's comments echoed what he told the Chicago Tribune in August. "This election, I don't think it makes a difference," he said when asked if he knew which candidate he would vote for. "I can't believe there's 300 million Americans in this country and we've got these two as our final two. It's absolutely crazy."
Not only is Keith not a fan of Trump, but he was raised a Democrat in Oklahoma and was registered with the party until 2008, when he re-registered as an independent. "I was a Democrat my whole life. They kind of disowned me when I started supporting the troops, then I went and registered independent," he told the Tribune. "I've never been a registered Republican. It just keeps people off balance. They don't know what to think."
Keith would not say whether he voted for Barack Obama or John McCain, but when asked in 2009 if he approved of Obama, he didn't seem to have any problem with the president. "I think he's doing fine," he told CNN. "The stock market's rallied. I mean, I'll always pull for the commander in chief, whoever it is. Clinton, Bush—I always pulled for those guys because I want to live in a country that's functional. I don't want to live in a country that's on the skids. So it doesn't matter if it's a Democrat, independent, Republican or just a citizen who's running for president. If they're doing a good job, let 'em do a good job. So far, so good. All of them will have their ups and downs."
In 2008, he told The Washington Post that he voted for Clinton twice and twice for George W. Bush as well. "I didn't care for Gore or Kerry," he said.
Despite his indifference to Al Gore, Keith isn't opposed to efforts to fight climate change. At Gore's behest, he agreed to appear in a climate change awareness commercial with the Dixie Chicks. The commercial was never filmed because of scheduling conflicts, but Keith encouraged Americans to "go out and see if there's enough evidence that polar bears are dying and the polar caps are melting because of emissions from cars."
Keith seems to be planted firmly in the center of the American political spectrum, and he supports the idea of a free market when it comes to his services. He played an event for the Republican National Committee in July but stopped short of offering the party his support. "It was just a paid party for the sponsors, just a private party for 1,200 people," he told the Tribune. "When I start catching shit about it, I just say, 'Look, I'm not a registered Republican, and they paid me a butt-load of money to play this thing. And if the other side calls, I'll go play theirs for that much too.'"
Asked about the controversy surrounding artists agreeing to perform at Trump's inauguration, Keith reinforced his support for America, not Trump or the Republican Party. "I don't apologize for performing for our country or military," he said in a statement to Entertainment Weekly. "I performed at events for previous presidents [George W.] Bush and Obama and over 200 shows in Iraq and Afghanistan for the USO."
Though Keith refuses to align himself with one political party, it's not because he lacks conviction. Just ask this Ford Truck Man about his pickup preferences.