'Today Ain't the Day' Teacher Facing Battery Charges After Allegedly Pushing Student to Ground
A high school teacher in Georgia was arrested Wednesday after allegedly shoving a student to the ground during an argument that occurred inside a classroom earlier this month.
The teacher at Salem High School in Conyers, a suburb located east of downtown Atlanta, is facing battery charges in connection with the incident, which the Rockdale County Sheriff's Office (RCSO) said prompted a "thorough investigation."
Authorities identified the arrested teacher as 44-year-old Marquette Thinn from Lawrenceville. Thinn has been accused of shoving a 14-year-old student during the incident, which authorities said occurred on January 21. The incident was captured on video, according to the RCSO.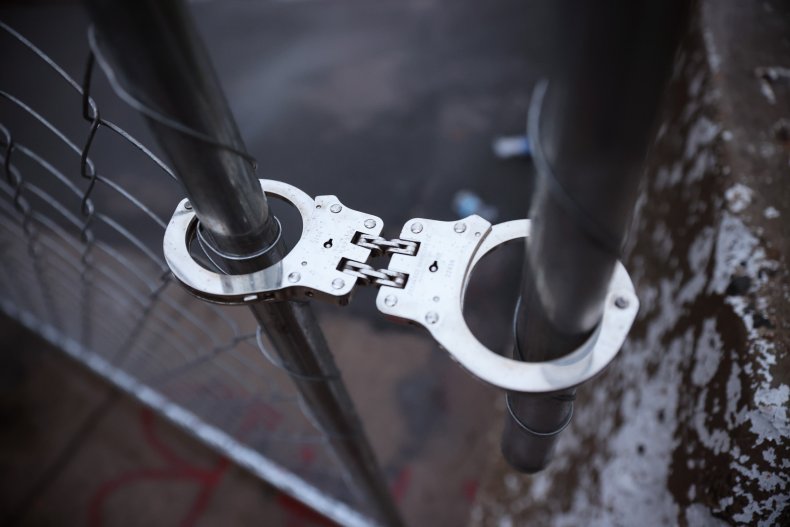 The Atlanta-based news station WSB-TV said its reporters had obtained a copy of the footage. The station shared the video online on Wednesday after the RCSO announced Thinn's arrest.
In the video, a student can be heard arguing with an adult inside a classroom as other students around them are heard talking and laughing. About 19 seconds after the video begins, the adult pushes the student to the ground and yells, "Shut up. You don't move."
"Sit your ugly a** down," the person who shoved the student continues. "Sit down. Today ain't the day. Sit down."
According to the RCSO, Thinn was the individual who was caught on video pushing the student to the ground amid what authorities described as a "verbal altercation."
The teenager, who has not been publicly identified by authorities, reported some pain after the incident occurred. "The 14-year-old student complained of wrist pain resulting from the assault," the RCSO said in a Wednesday news release.
Authorities said their investigation into the incident will continue and encouraged anyone with information to contact the RCSO.
The sheriff's office "takes any crime involving a student with the utmost priority to assure parents, staff, and citizens of Rockdale County that our school system is a safe learning environment for their children," the RCSO said in its news release.
Thinn is listed in the Salem High School's online directory as a teacher within the school's Social Studies Department. The school is one of three high schools located within the Rockdale County Public Schools district.
In a statement shard with the Atlanta-based news station WGCL-TV, the district declined to comment on the specifics of the incident allegedly involving Thinn.
"As you are aware, we cannot comment on personnel matters; however, we work diligently to investigate all allegations of employee misconduct," the district's statement said. "Rockdale County Public Schools (RCPS) expects all employees to conduct themselves professionally and ethically to provide a positive teaching and learning environment for students and staff."
Newsweek reached out to the school district for further comment but did not receive a response in time for publication.