Today Is National Ice Cream Sandwich Day! Here Is Where to Get the Best Deals
See a penny, pick it up, then later that day you'll… get to buy yourself an ice cream sandwich.
Today is National Ice Cream Sandwich Day and to celebrate, you can get your hands on a cheap frozen treat. As national food days seem to be all the rage—hotdogs, cheesecake, fried chicken, the list goes on—now it's time to commemorate the humble ice cream sandwich.
CREAM (which supposedly stands for Cookies Rule Everything Around Me) is offering mini ice cream sandwiches for just one penny. That's right, one cent (cash only) will get you one mini ice cream sandwich at any of CREAM's 29 locations across California, Nevada, Colorado and Florida.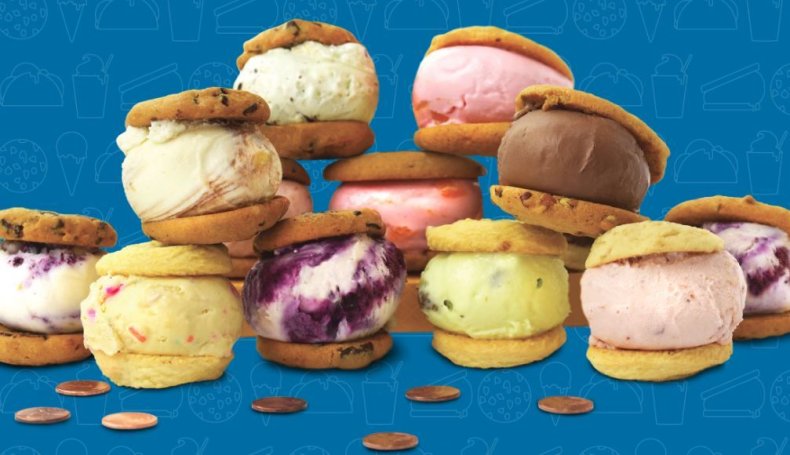 You can pick between butter sugar and chocolate chip cookies as the sandwich and have free choice over the ice cream filling. The offer is strictly one per customer and is available between 1 p.m. and 4 p.m.
The promotion also celebrates the original ice cream sandwich which they sold for just one penny back in 1900.
Elsewhere, Georgie + Martha's American Grille decided to take their ice cream sandwich promotion in the opposite direction, size-wise. All day on Thursday, you can get your hands on a $35, 12-pound ice cream sandwich in store.
Despite the size and effort required, each 12-pound dessert will be made to order. Anyone looking to indulge is encourage by the restaurant to bring at least 10 friends.
And for those of you not wowed by the big and small, New York's Melt Bakery will be selling beer ice cream sandwiches. Yes, you read that right, beer ice cream sandwiches. Last month, Governor Andrew Cuomo signed a bill to legalize ice cream made with beer and hard cider.
For $5 each, you can get your hands on the '76er beer ice cream sandwich which uses Sam '76 beer. Beer ice cream can contain a maximum of five percent alcohol by volume and is available to people under 21. Today is the last day you can buy it.
If you can't make it to any of the above spots, timeanddate.com has given out some "helpful" hints about how you can celebrate the day of appreciation on your own including making one at home, making one with friends and experimenting with some new flavors.
Photos have even appeared of ice cream sandwiches being sold on the beach in Atlantic City for a penny.