Pope Francis Calls for Peace, Environmental Stewardship in Congressional Address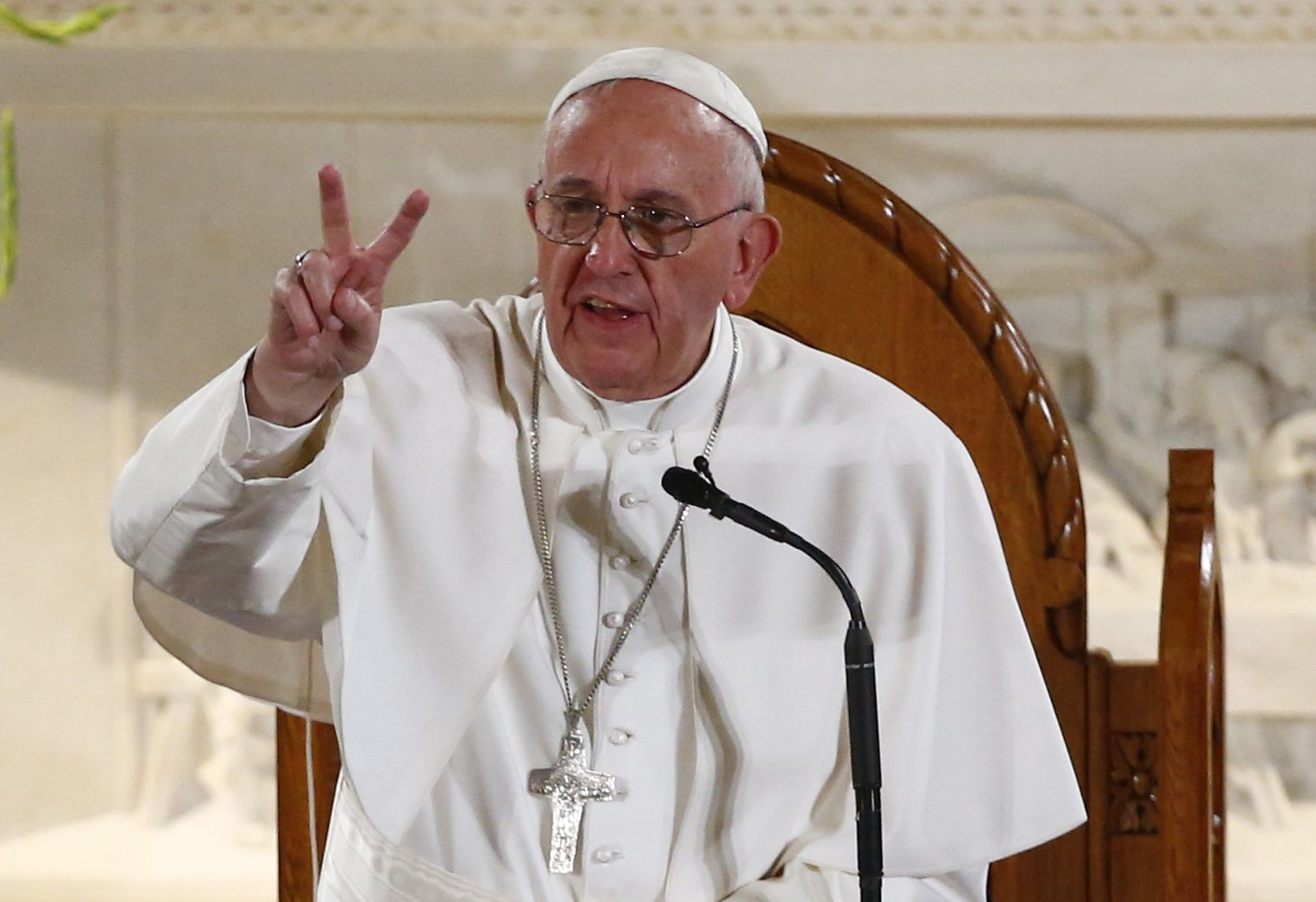 Pope Francis made history on Thursday as he became the first pontiff to address a joint meeting of Congress in Washington, D.C. During his speech, he advocated for the global abolition of the death penalty and a congressional effort to combat climate change.
Follow along below for live updates:
5 p.m.: Pope Francis is in New York City. You can read our coverage of his arrival in the Big Apple here.
4:25 p.m.: The pope's plane has taken off from D.C. He is flying American Airlines.
4:01 p.m.: The pope boards the airplane to travel to New York City, which is the second location of his three-city tour. He is expected to celebrate Mass inside St. Patrick's Cathedral at 6:45 p.m.
3:33 p.m.: He is traveling to Joint Base Andrews.
3:17 p.m.: The pope has left the D.C. residence.
3:07 p.m.: The pope is expected to leave Nunciature at any moment. In less than an hour, he will depart the country's capital from Joint Base Andrews, and then land at John F. Kennedy International Airport in New York City around 5 p.m.
12:16 p.m.: The pope visits the parish of St. Patrick's Charity Center, meets the homeless and has lunch.
12:01 p.m.: The pope has walked outside of St. Patrick's. He is giving a blessing.
11:52 a.m.: He gives the Lord's blessing to the people gathered.
"And please, don't forget to pray for me," he says at the conclusion of his prayer. He waves, then begins to walk off of the altar through what appears to be a side door.
11:51 a.m.: "Are you ready to pray with me?" the pope asks the crowd. He tells them to recite the Our Father prayer in English, while he will continue to speak in Spanish. He begins to recite the prayer.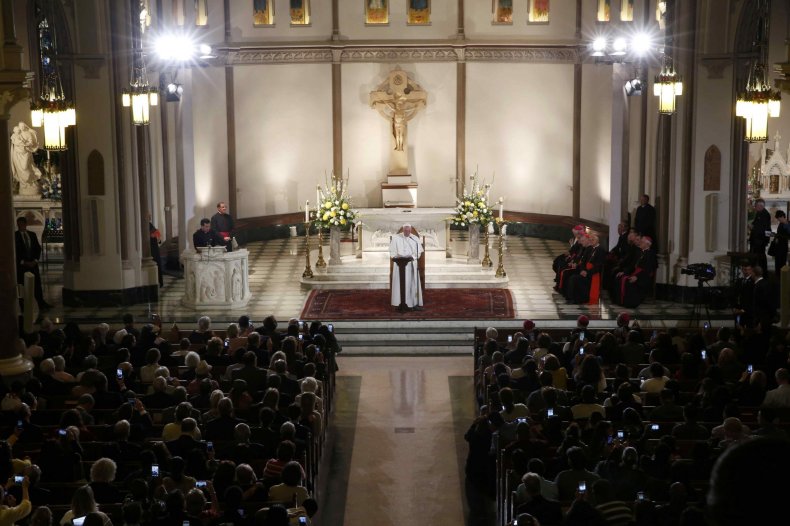 11:50 a.m.: "Today I want to be one with you. I need your support, your closeness," he says, still through the translator. "I would like to invite you to pray together for one another, with one another, that way we can keep helping one another to experience the joy of knowing that Jesus is in our midst, and may Jesus help us to solve the many injustices that he knew first."
11:48 a.m.: "Prayer unites us. It makes us brothers and sisters," he says. "In prayer, there are no rich or poor people. There are sons and daughters. In prayer, there is not first- or second-class; there is brotherhood."
[Related: Photos: Pope Francis Visits Washington, D.C., Addresses Congress]
11:46 a.m.: "Faith makes us know that God is by our side, is in our midst," he says. "Charity is born of a call of a God who continues to knock on our door, the door of all people, to invite us to love, to compassion, to service of one another."
11:43 a.m.: "God is present in every one of you and each one of us," he says. "I want to be very clear: We can find no social or moral justification, no justification whatsoever, for lack of housing. There are many unjust situations, but we know that God is suffering with us, experiencing them at our side. He does not abandon us."
11:42 a.m.: He is discussing the life of Saint Joseph, who he says was able to find light "when everything else was dark" because of his faith.
"Thanks to faith, Joseph was able to press forward when everything seemed to be holding him back," he adds.
11:36 a.m.: He thanks those gathered for inviting and welcoming him. Says he is thinking of someone he loves, who has been with him throughout his life. "He is the one I go to whenever I'm in a bind," he says through the interpreter. "You make me think of Saint Joseph. Your faces remind me of his."
11:34 a.m.: The pope now is on the altar. He took a sip of water before beginning to speak. He is speaking in Spanish.
11:30 a.m.: The pope has entered for the prayer session at St. Patrick's Church. He sprinkled Holy water and now is walking to the front, shaking hands with worshippers along the way.
11:28 a.m.: The crowd is yelling, "Papa!" as the pope gets out of his vehicle.
11:27 a.m.: The papal motorcade is escorted by at least a dozen police motorcycles and SUVs.
11:24 a.m.: He is running about 20 minutes behind schedule.
11:20 a.m.: Voices in the distance are cheering as the pope's motorcade drives near them and away from the Capitol. He is on his way to the Capitol's West Front, where he will make a stop. He then will stop at St. Patrick's Church, where he will bless food.
11:18 a.m.: The pope enters his Fiat.
11:17 a.m.: The pope appears in the doorway of the Capitol. He walks down the steps. He is shaking hands with some members of Congress who are standing outside in a line.
11:16 a.m.: Other people also are exiting the Capitol, including Reid and U.S. Senator Mitch McConnell from Kentucky.
11:15 a.m.: Outside, Secretary of State John Kerry enters a black vehicle, seemingly part of the pope's motorcade.
11:13 a.m.: The group walks back inside.
11:12 a.m.: "They love you, and we love you," Biden says to him.
11:11 a.m.: "Thank you very much, and God bless America," he says in English.
11:09 a.m.: Francis is blessing the crowd and asking people to pray for him, send him good wishes.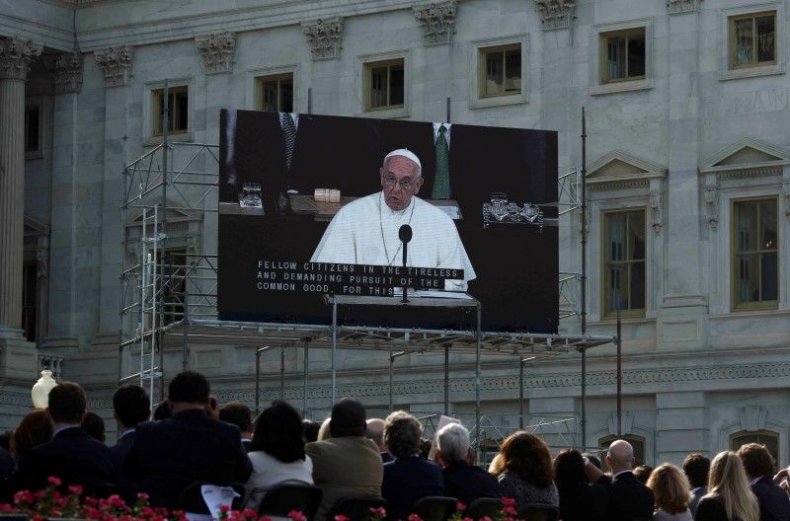 11:08 a.m.: He now is addressing the crowd in Spanish. "I am so grateful for your presence here," he says through a translator. "The most important ones here, children. I've asked God to bless them."
11:07 a.m.: Francis smiles and waves from the balcony of the Capitol to the thousands of people gathered outside. He is accompanied by Biden, Boehner, Reid and U.S. House Minority Leader Nancy Pelosi, among others. The crowd erupts into raucous applause.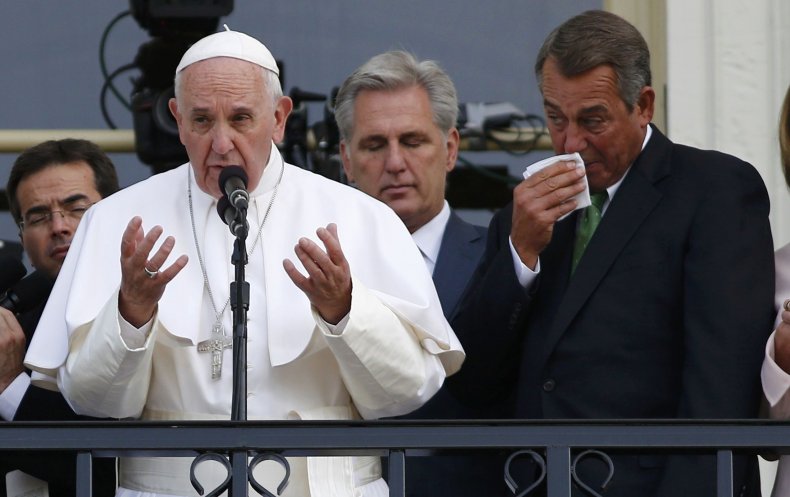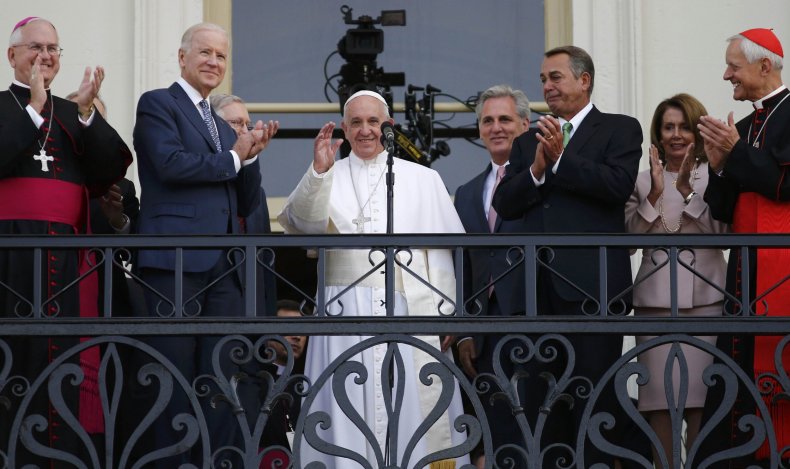 11:04 a.m.: The crowd is chanting for the pope.
11:03 a.m.: The pope is walking to the Capitol balcony to wave to the crowd.
11:01 a.m.: Francis has stopped in front of a group of statues in National Statuary Hall. He then blesses a woman's baby.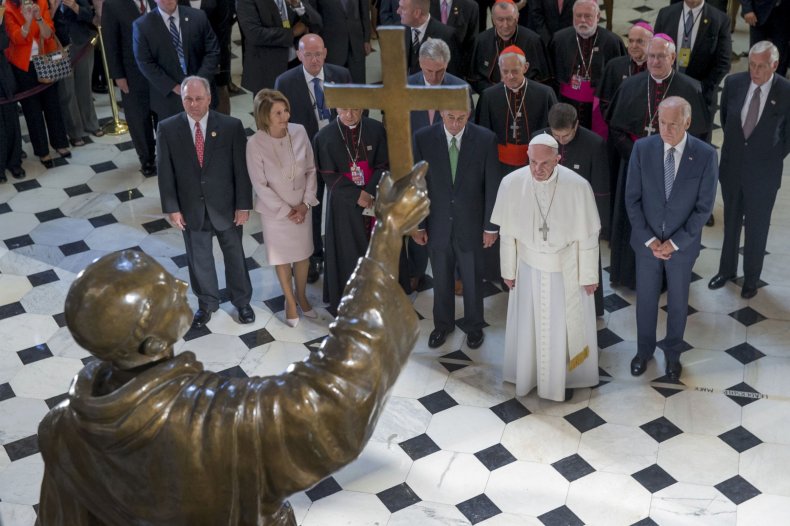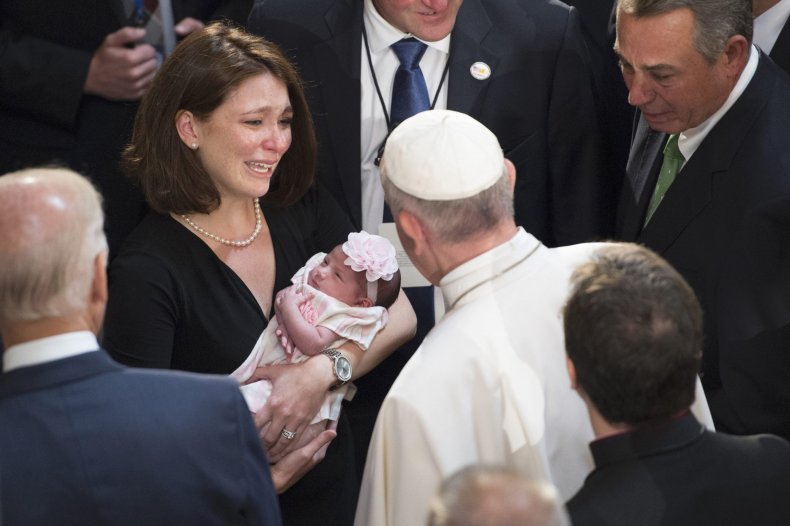 11 a.m.: The pope is walking through the Capitol alongside Biden and Boehner. Both are Catholics.
10:56 a.m.: The pope has exited the House Chamber. U.S. Representative Patrick Tiberi of Ohio gives instructions to Congress.
[Related: Read: The Full Transcript of Pope Francis's Speech to Congress]
10:55 a.m.: "In these remarks I have sought to present some of the richness of your cultural heritage, of the spirit of the American people. It is my desire that this spirit continue to develop and grow, so that as many young people as possible can inherit and dwell in a land which has inspired so many people to dream.God bless America!" the pope says, ending his address to Congress.
Members stand and applaud Francis. The pope turns around and says something inaudible to Boehner. The pope starts to walk out of the chamber.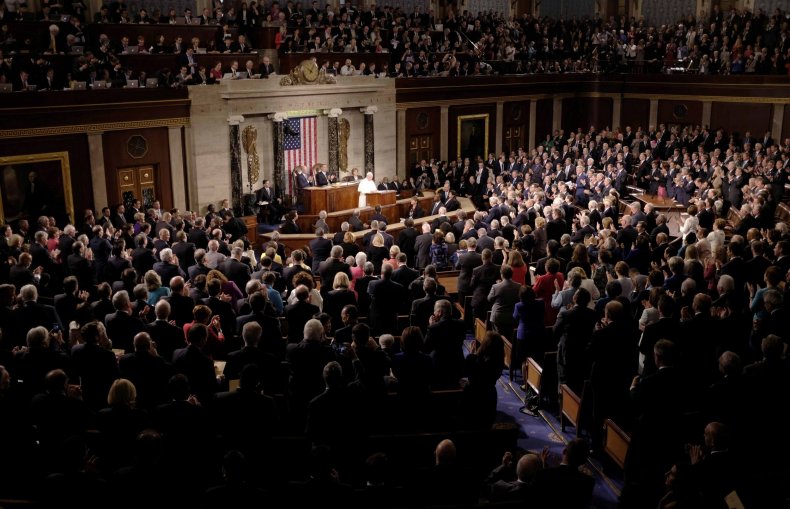 10:53 a.m.: "In particular, I would like to call attention to those family members who are the most vulnerable, the young. For many of them, a future filled with countless possibilities beckons, yet so many others seem disoriented and aimless, trapped in a hopeless maze of violence, abuse and despair. Their problems are our problems. We cannot avoid them. We need to face them together, to talk about them and to seek effective solutions rather than getting bogged down in discussions. At the risk of oversimplifying, we might say that we live in a culture which pressures young people not to start a family, because they lack possibilities for the future. Yet this same culture presents others with so many options that they too are dissuaded from starting a family," he says.
10:51 a.m.: The pope is discussing his attendance at the upcoming World Meeting of Families this weekend in Philadelphia.
"It is my wish that throughout my visit the family should be a recurrent theme. How essential the family has been to the building of this country! And how worthy it remains of our support and encouragement! Yet I cannot hide my concern for the family, which is threatened, perhaps as never before, from within and without. Fundamental relationships are being called into question, as is the very basis of marriage and the family. I can only reiterate the importance and, above all, the richness and the beauty of family life," he says.
10:46 a.m.: "I would like to recognize the efforts made in recent months to help overcome historic differences linked to painful episodes of the past. It is my duty to build bridges and to help all men and women, in any way possible, to do the same. When countries which have been at odds resume the path of dialogue—a dialogue which may have been interrupted for the most legitimate of reasons—new opportunities open up for all. This has required, and requires, courage and daring, which is not the same as irresponsibility. A good political leader is one who, with the interests of all in mind, seizes the moment in a spirit of openness and pragmatism. A good political leader always opts to initiate processes rather than possessing spaces," he says.
10:40 a.m.: "This common good also includes the Earth, a central theme of the encyclical which I recently wrote in order to 'enter into dialogue with all people about our common home.' We need a conversation which includes everyone, since the environmental challenge we are undergoing, and its human roots, concern and affect us all," he says.
The pope calls for "a courageous and responsible effort" to "redirect our steps and to avert the most serious effects of the environmental deterioration caused by human activity. I am convinced that we can make a difference and I have no doubt that the U.S.—and this Congress—have an important role to play."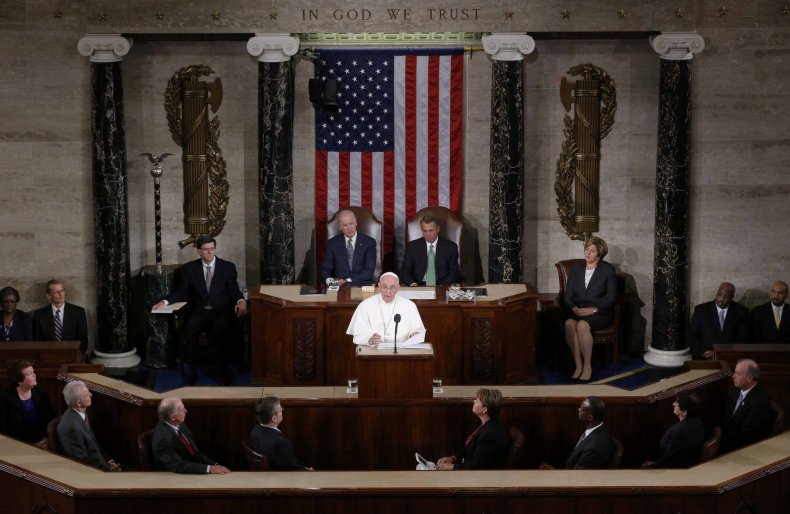 10:38 a.m.: "At the same time I would encourage you to keep in mind all those people around us who are trapped in a cycle of poverty. They too need to be given hope. The fight against poverty and hunger must be fought constantly and on many fronts, especially in its causes. I know that many Americans today, as in the past, are working to deal with this problem," he adds.
10:36 a.m.: "How much progress has been made in this area in so many parts of the world! How much has been done in these first years of the third millennium to raise people out of extreme poverty! I know that you share my conviction that much more still needs to be done, and that in times of crisis and economic hardship a spirit of global solidarity must not be lost," he says.
10:33 a.m.: "The Golden Rule also reminds us of our responsibility to protect and defend human life at every stage of its development," the pope says. "This conviction has led me, from the beginning of my ministry, to advocate at different levels for the global abolition of the death penalty. I am convinced that this way is the best, since every life is sacred, every human person is endowed with an inalienable dignity, and society can only benefit from the rehabilitation of those convicted of crimes."
[Related: Pope Francis Tells Congress: Be Courageous, Do Something About Climate Change]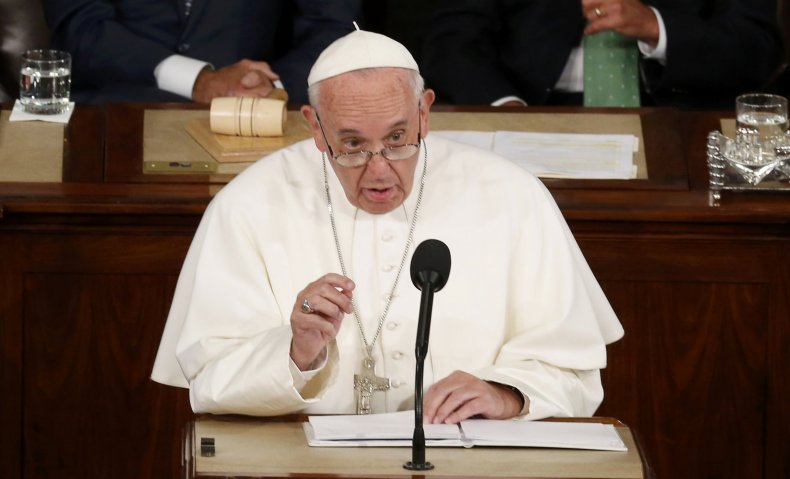 10:31 a.m.: The crowd applauds when the pope says, "Let us remember the Golden Rule: 'Do unto others as you would have them do unto you.'"
"This Rule points us in a clear direction. Let us treat others with the same passion and compassion with which we want to be treated. Let us seek for others the same possibilities which we seek for ourselves. Let us help others to grow, as we would like to be helped ourselves. In a word, if we want security, let us give security; if we want life, let us give life; if we want opportunities, let us provide opportunities. The yardstick we use for others will be the yardstick which time will use for us. The Golden Rule also reminds us of our responsibility to protect and defend human life at every stage of its development," he says.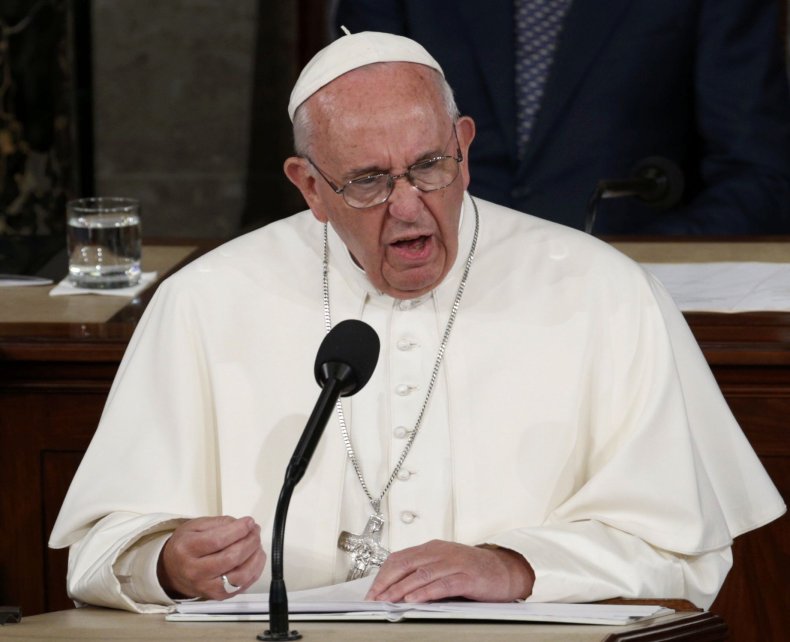 10:29 a.m.: The pope starts talking about the ongoing European Union refugee crisis, one that is "of a magnitude not seen since the Second World War," he says.
"This presents us with great challenges and many hard decisionsm" he continues. "On this continent, too, thousands of persons are led to travel North in search of a better life for themselves and for their loved ones, in search of greater opportunities. Is this not what we want for our own children? We must not be taken aback by their numbers, but rather view them as persons, seeing their faces and listening to their stories, trying to respond as best we can to their situation. To respond in a way which is always humane, just and fraternal. We need to avoid a common temptation nowadays: to discard whatever proves troublesome."
10:28 a.m.: "We must resolve now to live as nobly and as justly as possible, as we educate new generations not to turn their back on our 'neighbors' and everything around us. Building a nation calls us to recognize that we must constantly relate to others, rejecting a mindset of hostility in order to adopt one of reciprocal subsidarity, in a constant effort to do our best. I am confident that we can do this," he says.
10:26 a.m.: "We, the people of this continent, are not fearful of foreigners, because most of us were once foreigners. I say this to you as the son of immigrants, knowing that so many of you are also descended from immigrants," he says. The pope is from Argentina.
10:25 a.m.: "Here too I think of the march which Martin Luther King led from Selma to Montgomery 50 years ago as part of the campaign to fulfill his 'dream' of full civil and political rights for African Americans. That dream continues to inspire us all. I am happy that America continues to be, for many, a land of 'dreams.' Dreams which lead to action, to participation, to commitment. Dreams which awaken what is deepest and truest in the life of a people," the pope says to a round of applause.
10:23 a.m.: "Politics is, instead, an expression of our compelling need to live as one, in order to build as one the greatest common good: that of a community which sacrifices particular interests in order to share, in justice and peace, its goods, its interests, its social life. I do not underestimate the difficulty that this involves, but I encourage you in this effort," he says.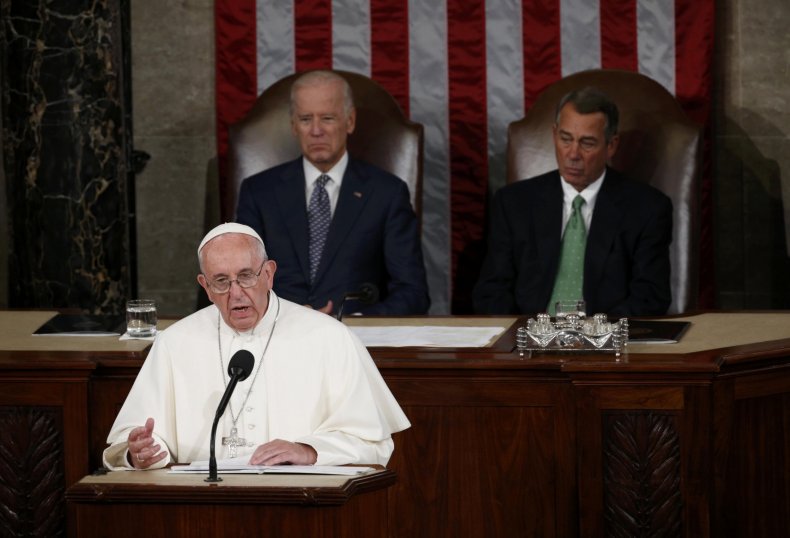 10:20 a.m.: "Our efforts must aim at restoring hope, righting wrongs, maintaining commitments, and thus promoting the well-being of individuals and of peoples. We must move forward together, as one, in a renewed spirit of fraternity and solidarity, cooperating generously for the common good," he says.
10:18 a.m.: "The simplistic reductionism which sees only good or evil; or, if you will, the righteous and sinners. The contemporary world, with its open wounds which affect so many of our brothers and sisters, demands that we confront every form of polarization which would divide it into these two camps. We know that in the attempt to be freed of the enemy without, we can be tempted to feed the enemy within," he says.
10:16 a.m.: "Our world is increasingly a place of violent conflict, hatred and brutal atrocities, committed even in the name of God and of religion. We know that no religion is immune from forms of individual delusion or ideological extremism," he says.
"This means that we must be especially attentive to every type of fundamentalism, whether religious or of any other kind. A delicate balance is required to combat violence perpetrated in the name of a religion, an ideology or an economic system, while also safeguarding religious freedom, intellectual freedom and individual freedoms," he adds.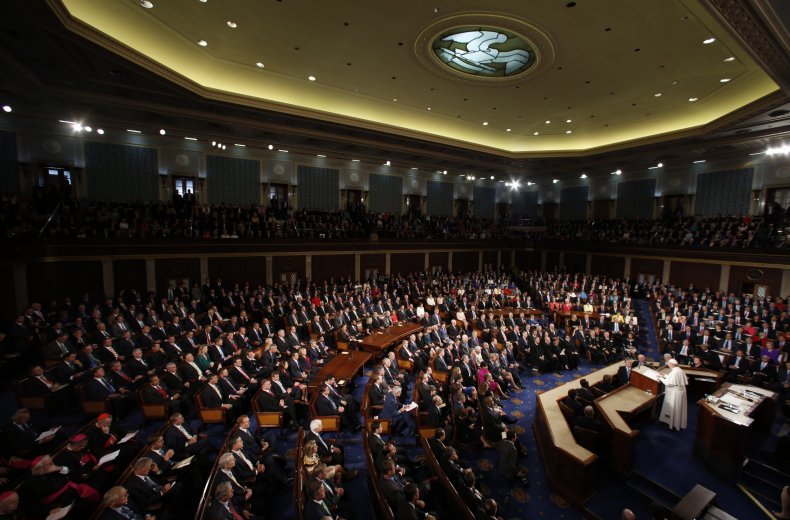 10:14 a.m.: The pope is mentioning four Americans who he said were representatives of the United States: Abraham Lincoln, Martin Luther King Jr., Dorothy Day and Thomas Merton.
10:12 a.m.: Members appear to be concentrating on the pope's words.
10:08 a.m.: He is speaking slowly and clearly in English.
10:05 a.m.: The pope starts speaking, thanks Congress for his invitation "to the land of the free and the home of the brave." Congressional leaders stand and applaud.
"Today, I would like not only to address you, but through you, the entire people of the United States. Here, together, with the representatives I would like to take this opportunity to dialogue with the many thousands of men and women who strive each day to do an honest day's work, to bring home the daily bread, to save money and one step at a time, to build a better life for their families. These men and women who are not concerned simply with paying their taxes but in their own quiet qay, sustain the life of society," Francis says.
10:04 a.m.: "I have the high privilege and distinct honor of presenting to you Pope Francis of the Holy See," Boehner says to Congress, then shakes Francis's hand.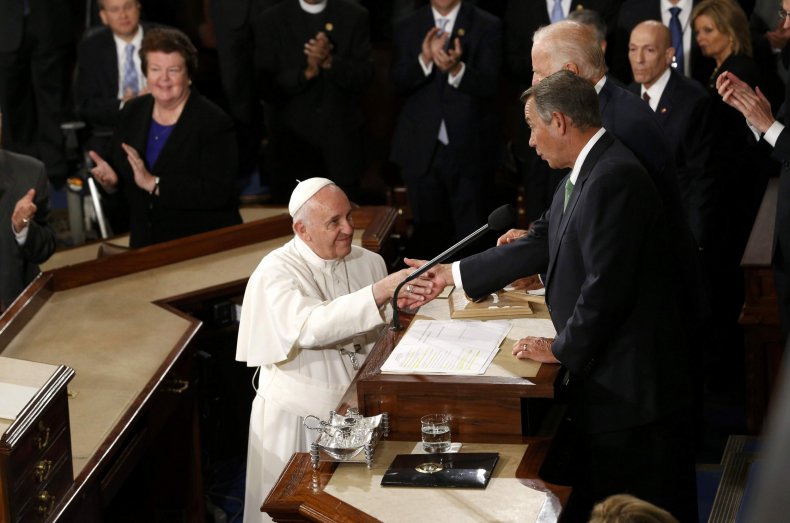 10:03 a.m.: Pope Francis is standing at the podium while claps continue.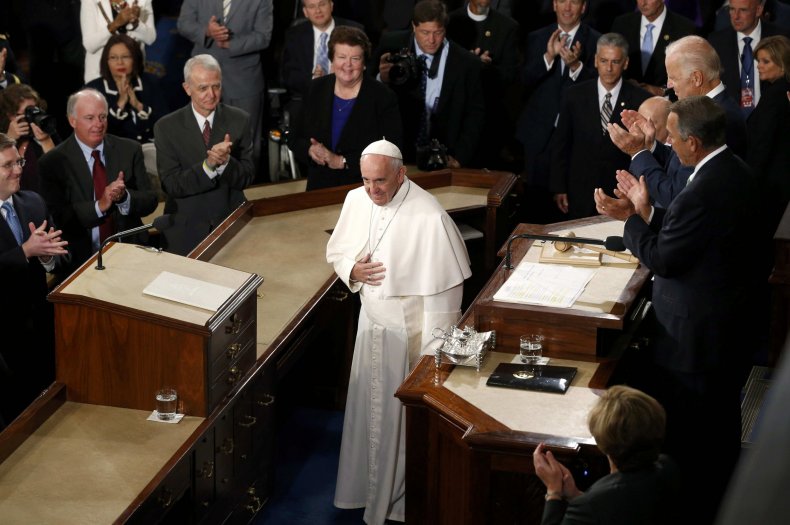 10:02 a.m.: The pope is walking into the Chamber to the sound of applause. The members were remarkably restrained because they were told ahead of time not to try and grab or touch him. Normally, with the president, everyone is clamoring to shake his hand.
9:59 a.m.: Everyone inside the Chamber remains standing. Some are silent, while others are speaking to people near them.
9:56 a.m.:​ U.S. Supreme Court Chief Justice John Roberts and the associate justices, as well as the president's Cabinet, are entering the Chamber.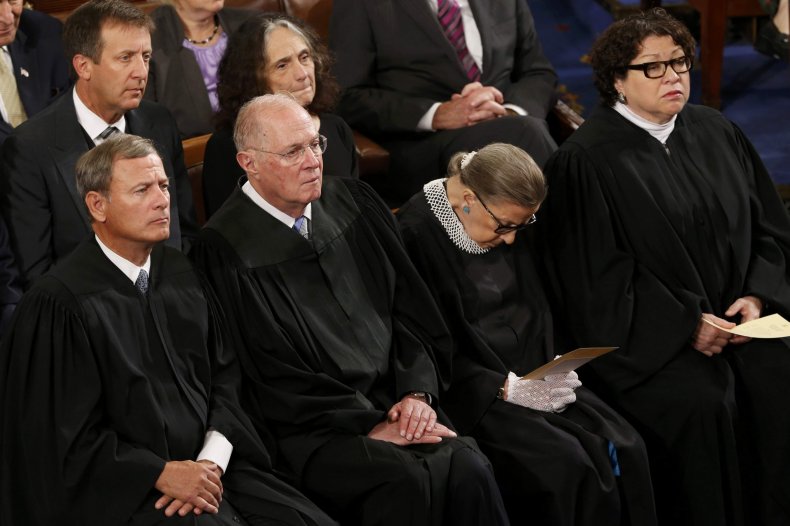 9:55 a.m.: Pope Francis should be arriving in the House Chamber at any moment now.
9:52 a.m.: Dean of Diplomatic Corps is introduced to the House Chamber.
9:47 a.m.: Biden is reading senators' names.
9:46 a.m.: "The joint meeting will come to order," Boehner says.
9:45 a.m.: Boehner hits the gavel. House members and senators begin walking in. Vice President Joe Biden is seen. Republican presidential candidates Ben Carson, Chris Christie and Marco Rubio, as well as Democratic presidential candidate Bernie Sanders, are among those in the House for the pope's address.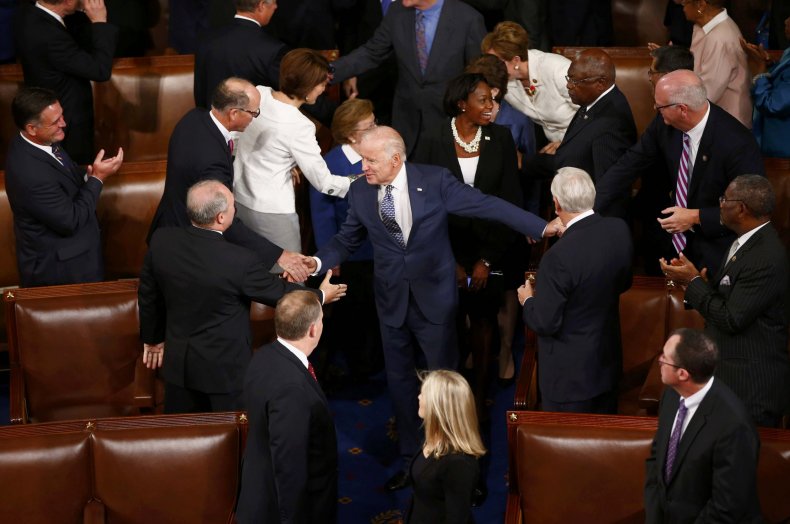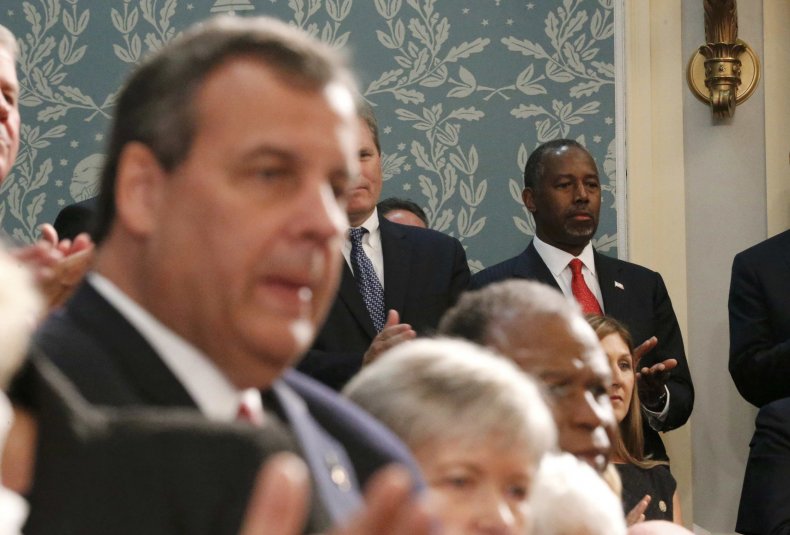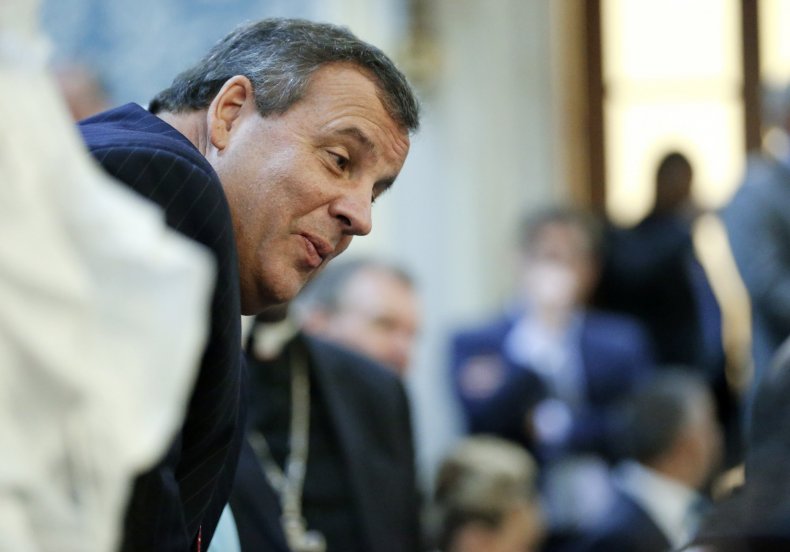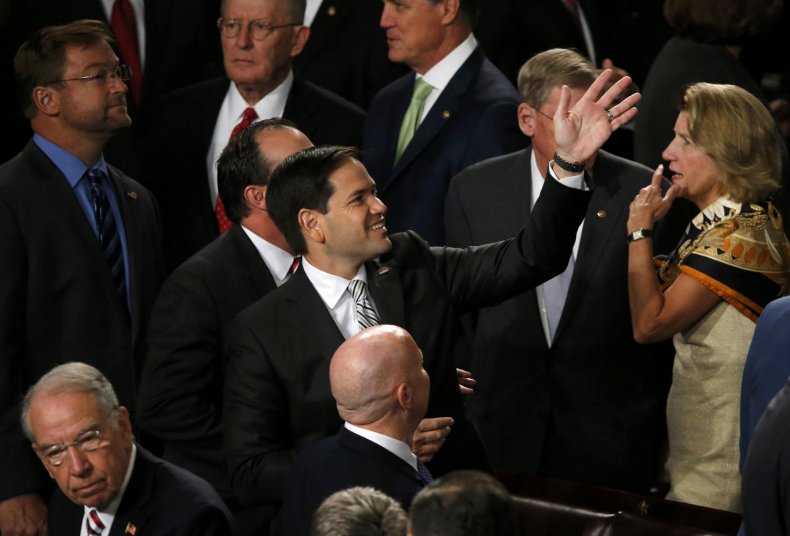 9:43 a.m.: U.S. Senator Elizabeth Warren, of Massachusetts, is among the legislators seen walking through the gallery into the House Chamber.
9:36 a.m.: An orchestra is playing music on the West Front of the Capitol.
9:32 a.m.: Senate Minority Leader Harry Reid is seen walking through the Capitol.
9:28 a.m.: People seated in the crowd outside of the Capitol are waving passionately to appear on the Jumbotron that is set up for them to hear the pope's congressional speech.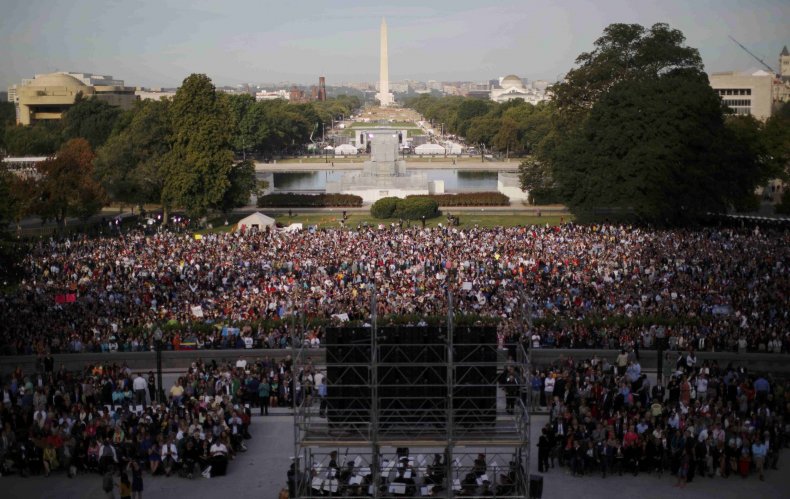 9:22 a.m.: "It's nice to see all of you," Boehner says to the press. The cameras then are diverted from the room.
9:21 a.m.: They now are seated. They are accompanied by Vatican and church officials, as well as Boehner aides. Francis is thanking Boehner for welcoming him to the Capitol; Boehner is thanking the pope for going to D.C.
They are exchanging laughs. Boehner says his staff told him to wear a green tie. Through an interpreter, the pope says, "The tie is the color of hope." Boehner replies, "I need a lot of hope today."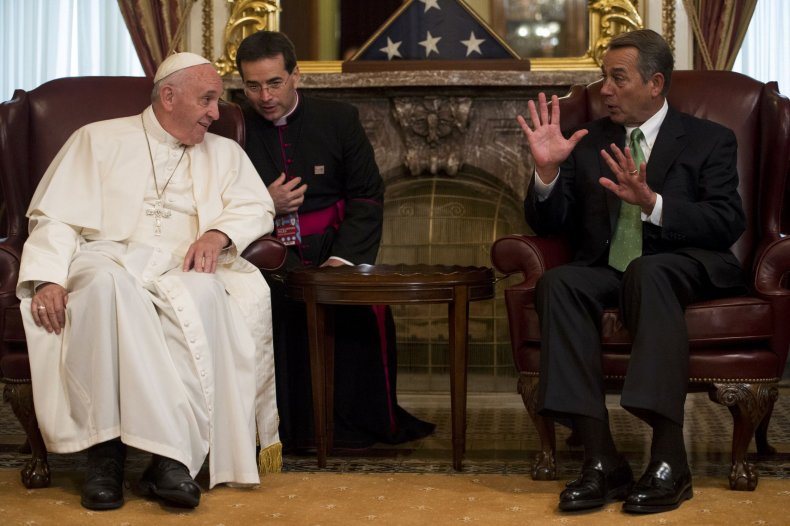 9:20 a.m.: Pope Francis walks into the room. "Your Holiness, welcome," Boehner says. "Really glad that you're here." The pope says he is glad to be in D.C., and Boehner's eyes moisten.
9:19 a.m.: Now Boehner, who is a Catholic, and an unidentified staff member are discussing where he should stand. "They don't want to see our backs," he says.
9:18 a.m.: House Speaker John Boehner is discussing the lighting situation with a person who is off-camera. He appears to be waiting to greet the pope inside his Capitol ceremonial office. He is wearing a green tie.
9:14 a.m.: The pope has arrived on U.S. Capitol grounds in his small, black Fiat.
9:09 a.m.: Crowds of people are gathering at the Capitol for Francis's 10 a.m. speech.
9 a.m.: The pope's motorcade has departed for the Capitol.
8:52 a.m.: The pope has walked outside and is greeting a crowd of mostly children, who are screaming and holding up their cellphones. They are chanting sporadically, saying, "We love you, Papa!" and "We love Francis, yes we do. We love Francis, how about you?"
8:30 a.m.: On his third day in the U.S., the pope is expected to address climate change, the U.S. embargo on Cuba and the European Union refugee crisis in front of both Republican and Democratic U.S. legislators in the country's capital. A day earlier, the progressive pope spoke about climate change in his public address to President Barack Obama, and also about the Catholic Church's child sex abuse scandal, which he vowed would never being repeated.
Francis is expected to start speaking on Capitol Hill at 10 a.m. ET, followed by a stop on the Capitol's West Front, which overlooks the National Mall. Just before 11:30 a.m., he will visit St. Patrick in the City and Catholic Charities of the Archdiocese of Washington.
At 4 p.m., the pope will depart Washington from Joint Base Andrews for John F. Kennedy International Airport in New York City. He will land around 5 p.m., then celebrate evening prayer at St. Patrick's Cathedral in Midtown Manhattan at 6:45 p.m.
On Friday the pope will continue his tour of New York City, addressing the United Nations General Assembly, visiting Our Lady Queen of Angels School in East Harlem, delivering a multireligious service at the National September 11 Memorial and Museum, leading a procession through Central Park and celebrating Mass at Madison Square Garden, an indoor arena above Pennsylvania Station.
Over the weekend, he will travel to Philadelphia, where he will conclude his U.S. tour on Sunday night.
The pope's visit marks the first time the 78-year-old has traveled to the U.S. The first Jesuit and Latin American pontiff, he succeeded Pope Benedict XVI in March 2013.