Today in Tabs: Tabs and Misdemeanors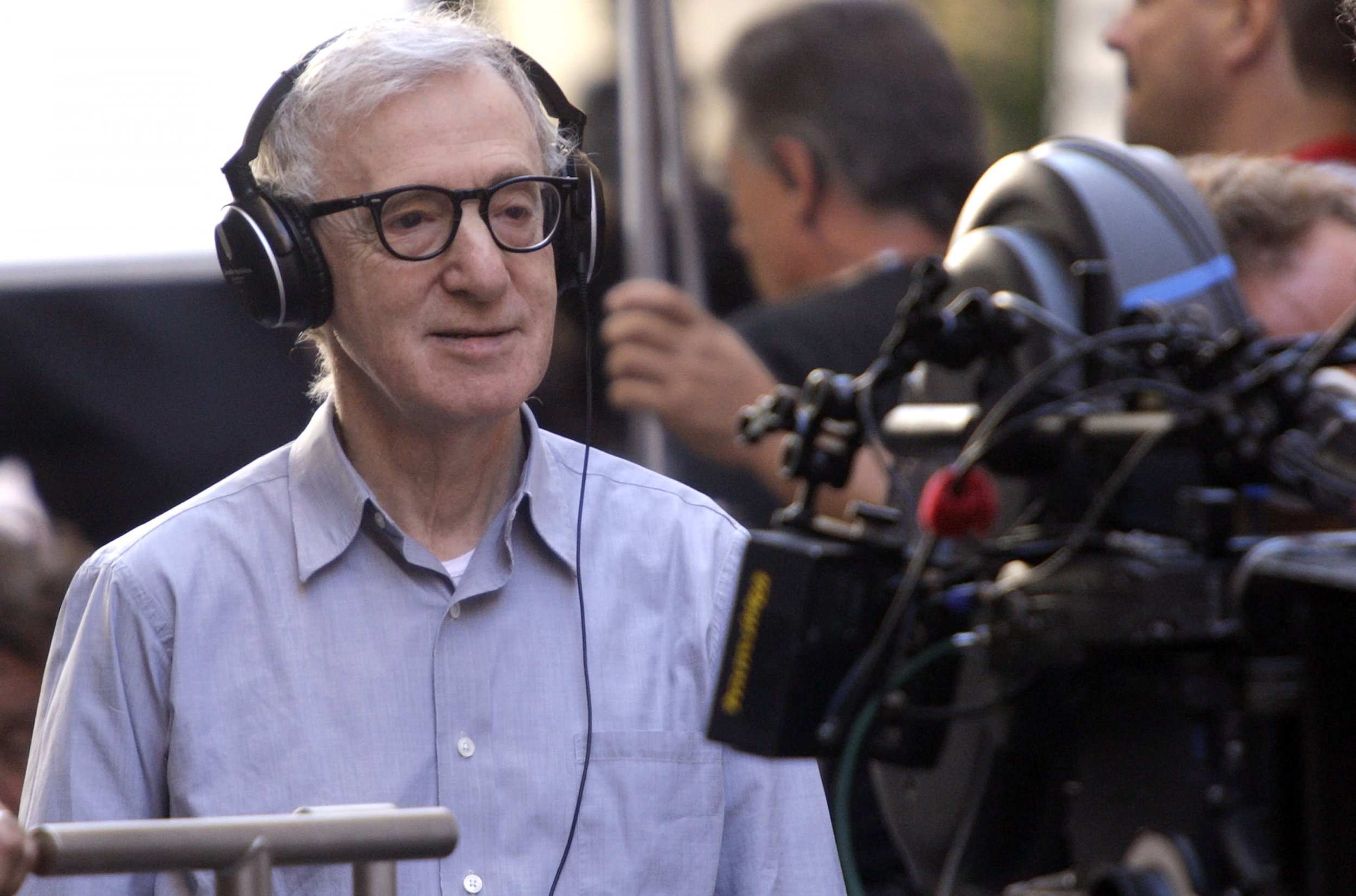 I don't usually do this, but here's the most comprehensive roundup I could manage on the ongoing Woody Allen / Dylan Farrow situation, which is largely, at this point, taking place in the world of tabs:
In November of 1992, Vanity Fair published an article titled "Mia's Story," shortly after Woody Allen's relationship with Mia Farrow's adopted daughter Soon-Yi Previn became public. In it, Mia Farrow alleged that on August 4th, 1992, Woody Allen molested his adopted daughter Dylan at Farrow's home in Connecticut. Allen went on 60 Minutes in 1992 to defend himself in an interview with Steve Croft. The investigation at the time was inconclusive enough that charges were not brought against Allen. The allegations were revisited late last year, in Vanity Fair again, by Maureen Orth in a long profile and retrospective on Farrow and her now-grown children. But they didn't really achieve renewed traction in the tabosphere until Allen's lifetime achievement tribute at the Golden Globe Awards in January, when Ronan Farrow tweeted: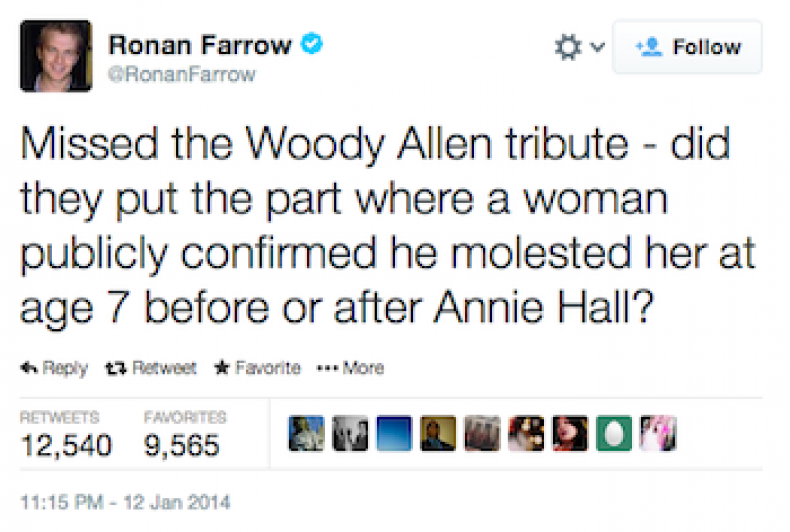 Reactions varied, but The Onion captured the gist of quite a few of them. In the Daily Beast, Allen documentarist Robert Weide published the canonical Allen loyalist's defense, which clarifies the facts of the family relationships as they stood in 1992, but then goes on to deploy all the standard defenses of the powerful in sexual abuse and molestation cases, questioning the victim and assuming goodwill only on behalf of the accused. Finally, on February 1st, Dylan Farrow spoke for herself in an open letter published in Nicholas Kristof's NYT blog. Kristof also wrote a column that briefly summarizes the background of the case.
Farrow's letter catalyzed a sort of tab-storm. Jessica Valenti wrote about Allen's defenders "Choosing Comfort Over Truth." In The New Inquiry, Aaron Bady pointed out that "We are in the midst of an ongoing, quiet epidemic of sexual violence, now as always. We are not in the midst of an epidemic of false rape charges, and that fact is important here." Denis Hamill in the NY Daily News asserts that Dylan Farrow's memories were planted in her by her mother, Mia, an opinion he drew from his 1993 interviews with Allen. In Tablet, Alana Newhouse questioned who Dylan Farrow should blame for her pain, saying it should be Mia for not pressing charges and leaving the issue instead both unresolved and legally, now, unresolvable. And Soraya Roberts evened the pro/anti Allen score at the Daily Beast slightly by suggesting that we should be listening to Dylan Farrow, which no one else at that publication seems too interested in doing. Celebrity Twitter has also had its say, for good or ill.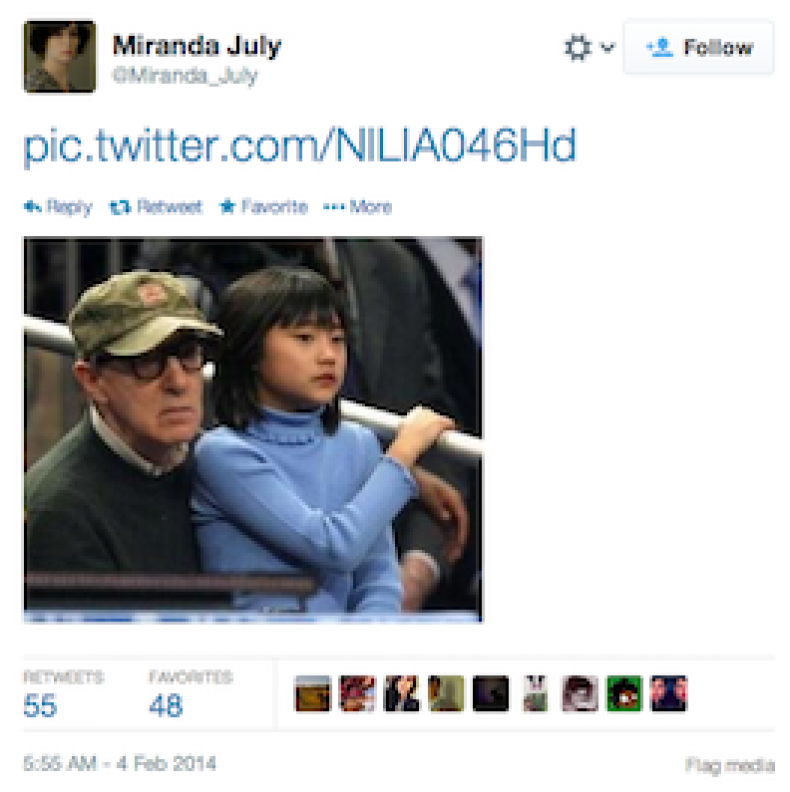 Woody Allen with his adopted daughter Bechet Dumaine Allen, in 2008.
The renewed focus on Dylan Farrow's accusation has led a number of writers to reinvestigate Woody Allen's work and long life in the public eye. In Esquire, Stephen Marche makes a compelling case that Allen's work is suffused with themes of men laboring to keep terrible secrets within a family, and also the constant sexualization of young girls. Joe Coscarelli finds much the same thing in his look at Allen's past, including the incredibly creepy last graf of this 1976 People Magazine profile ("I mean, if I was caught in a love nest with 15 12-year-old girls tomorrow, people would think, yeah, I always knew that about him."), and Nancy Jo Sales's weird story about being Allen's secret pen pal when she was 13. Also notable, the section Emily Nussbaum highlights from Allen's 2011 (!!!) one-act "Honeymoon Motel".
Allen has not spoken publicly about the accusations since 1993, that I have seen, but he's issued a statement blaming Mia Farrow, and indicated that he will respond to Dylan Farrow's open letter. It seems pretty obvious what he will say, but I hope we're all more informed now about the long history of the case and the amount of deference Allen's assertions of innocence deserve, or, as it were, do not deserve.
** * * * **
That Said: Is Ron Weasley actually a time-traveling Dumbledore? Probably! Boulder vs. Barn. I know I said no Super Bowl ads but just look at this thing, it's crazy. Avery Edison has probably the best analysis of "Her," in Bygone Bureau. What Buzzfeed's Shani O. reads (Spoiler: ME IT'S ME SHE READS ME HI SHANI!!). The kinds of internet crushes and the kinds of Twitter favs.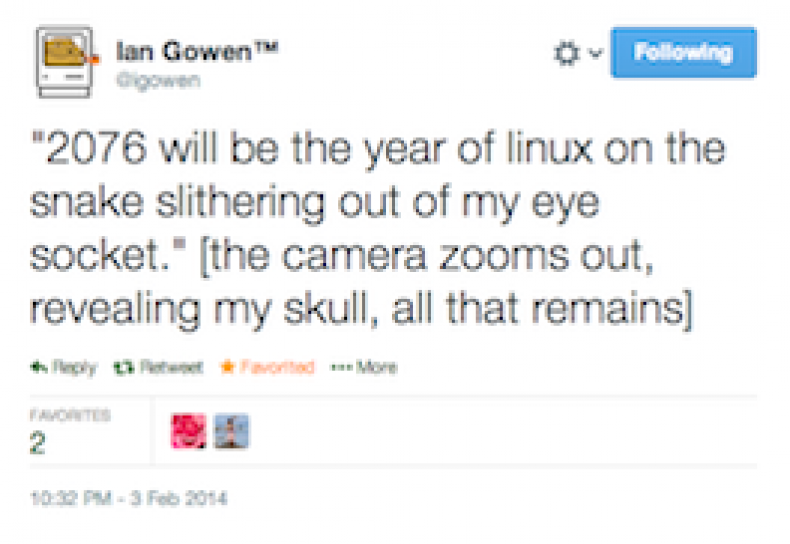 Today in Elon: The Pulitzer Prize-winning investigative piece "Who is Black Larry King?"
"Who cares about diversity in comedy?" says jerk who is not on TV anymore. Cord Jefferson quit Gawker to write for LeBron James's TV show so that's a bummer. Charlie has fun. New gendered toy: "In this much-anticipated sequel, Goldie's friends Ruby and Katinka compete in a princess pageant with the hopes of riding in the town parade." Girl... power? Engineering? Idk. "Who Tweeted First? The Messy Concept of Ownership" apropos of nothing. Google barge gets the boot. CNN, don't do this please.
Today's Complete Mystery: Not sure what this is. But stick around till at least 1:30.
Today's Song: Warpaint, "Love is to Die"
~Genius is 1% inspiration and 99% tabs~
Today in Tabs sometimes likes to stretch the format and challenge itself a bit. I hope you're still with me. We can be found on Newsweek.com every day, and in your email slightly earlier every day. Registered at the post office as "Shade, Inc."