Today Is the Voter Registration Deadline in These 12 States. Here's How to Sign Up
Monday marks the deadline to register to vote in 12 states, including a few swing states that could sway the outcome of the presidential election.
Alaska and Rhode Island already passed their voter registration deadlines on Sunday. Monday is the last day for citizens residing in Arizona, Arkansas, Florida, Georgia, Hawaii, Indiana, Kentucky, Mississippi, Ohio, South Carolina, Tennessee and Texas to register before Election Day on November 3.
Residents who are qualified to register can do so online until the end of the day in nine of the 12 states, but not in Arkansas, Mississippi or South Carolina.
Online voter registration is not offered in Arkansas or Mississippi, but residents can still register to vote as long as their mailed applications are postmarked by October 5. Arkansas residents who wish to register in person can also do so through Monday by visiting their local county clerk office, at a Department of Motor Vehicles (DMV) location and at a handful of other approved locations listed on the state's election website. Mississippi residents can also register to vote in person through Monday by visiting their local circuit or municipal clerk's office and at Department of Public Safety offices.
Though South Carolina did offer online voter registration, the deadline to use that voter registration process ended on Sunday. Residents who still wish to register in South Carolina can do so by mailing to their local voter registration office their completed application, which must be postmarked by October 5.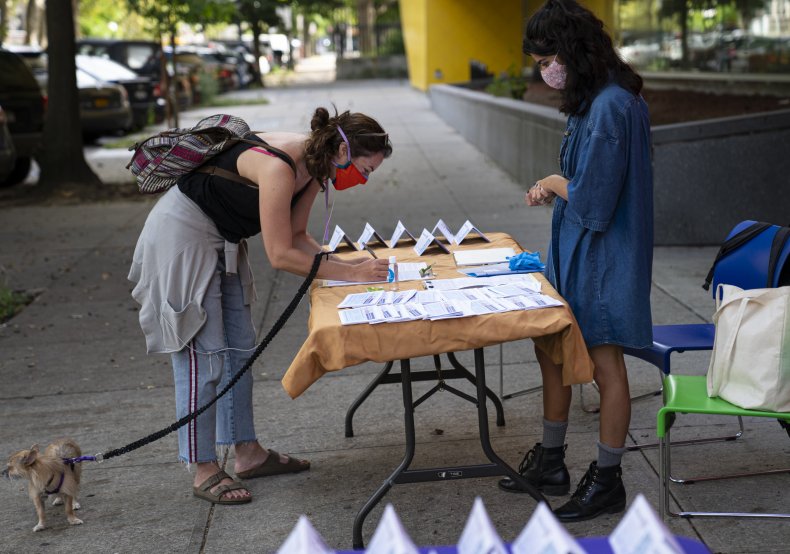 With less than one month to go until Election Day, campaign and election officials have continued encouraging Americans who are not yet registered to vote to do so before their state's deadline passes. This election season has been marked by contentious races that could see the power dynamics shift in the executive and legislative branches. While Arizona, Florida, Ohio and Texas are considered key states in the presidential election, senators representing Arizona, Georgia, Kentucky and South Carolina are among the incumbents who are facing tight races that could shift the balance of power in the Senate.
Another element that makes this election season different is the volume with which Americans are expected to vote early and by mail. With the coronavirus pandemic remaining a threat throughout the country, most states have expanded vote-by-mail and early voting options so that residents do not have to risk exposure to the virus on Election Day, decisions that many political experts have predicted could result in heightened voter participation.
In acknowledgment of the states with voter registration deadlines on Monday, President Donald Trump tweeted a link to voting information on his campaign website and said, "TODAY is the LAST day to register to VOTE in ARIZONA, FLORIDA, GEORGIA, OHIO, AND TEXAS! Click below for more information, and let's #MAGA!"
Democratic presidential candidate Joe Biden also shared a Twitter post by former Secretary of State Hillary Clinton on Monday that noted the day's registration deadlines and posted his own brief video message encouraging his followers to vote early.
"I need you to vote," Biden said in his video. "And I need you to vote early."
Newsweek reached out to the Trump and Biden campaigns for comment but did not receive a response in time for publication.