Today's Wordle #587 Tips and Answer for Friday, January 27 Brainteaser
When Josh Wardle, a New York based software engineer, first released Wordle to the public in October 2021, it seems unlikely he had any idea he was about to launch a viral sensation.
Indeed, speaking to Newsweek, Wardle admitted he first invented Wordle, during coronavirus lockdown, simply for "for me and my partner to enjoy."
After being made available to the public, Wordle quickly developed a viral following, with Wardle selling the game to The New York Times in January 2022 for a seven-figure sum.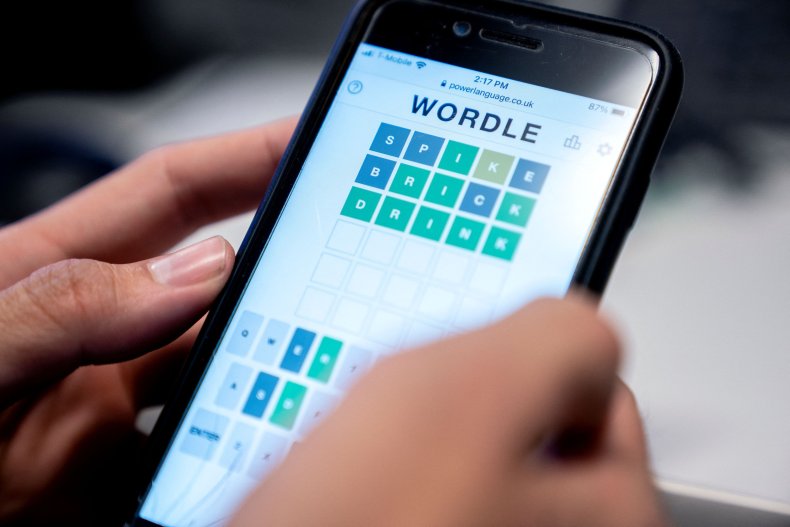 In an interview with Newsweek, Erhan Aslan, associate professor of applied linguistics at the University of Reading in the U.K., argued social media was key to Wordle's rapid spread.
He said: "Before the digital age, word puzzle games, particularly crossword puzzles, would usually appear in newspapers and magazines. People would do them while waiting for the bus or train, in the toilet, or just to kill time.
"In today's digital age, like many other things, many simple games like Wordle can be played online. I think that Wordle gains its popularity not only from its simple rules but also from its virality on social media platforms as a result of people sharing/posting their scores to demonstrate a sense of accomplishment and validation."
The answer to today's puzzle will be revealed at the end of this article, so scroll down with caution if you want to work it out for yourself. To help you solve today's Wordle, Newsweek has provided some tips.
'Wordle' #587 Tips and Clues for Friday, January 27
Wordle players can use these five hints to solve puzzle #587.
Hint #1: Synonyms for today's answer include "fear," "anguish" and "apprehension."
Hint #2: Today's answer contains two vowels, one of which can function as a consonant in a different sentence structure.
Hint #3: The third and fourth letters are the same.
Hint #4: One of the vowels is the second letter.
Hint #5: It's quite normal to do this before an exam.
'Wordle' #587 Answer for Friday, January 27
The answer to today's Wordle is "Worry."
A common word, with two vowels, this wasn't the toughest challenge Wordle has yet thrown our way, but it was still a good puzzle!
Congratulations if you got it right, but please don't worry if you didn't. One of the best things about Wordle is seeing if you can improve your score as you do more puzzles, and Newsweek will be back tomorrow with another round of hints and tips.
What Does 'Worry' Mean?
The Cambridge University Dictionary defines "worry" as "to think about problems or unpleasant things that might happen in a way that makes you feel unhappy and frightened."
For example: "Try not to worry—there's nothing you can do to change the situation."
The next Wordle puzzle will be available at 7 p.m. ET, when the daily update occurs.