Today's Wordle #589 Answer, Clues and Hints for Sunday, January 29 Puzzle
Wordle has become a worldwide sensation with millions of players every day trying to solve the latest puzzle.
With Wordle's popularity showing little sign of slowing down,creator Josh Wardle has admitted he had no idea his game would be such a hit.
Wardle previously told Newsweek that he invented Wordle during the coronavirus lockdown as something "for me and my partner to enjoy."
Wordle quickly went from having a handful of players in October 2021, to a player base of millions.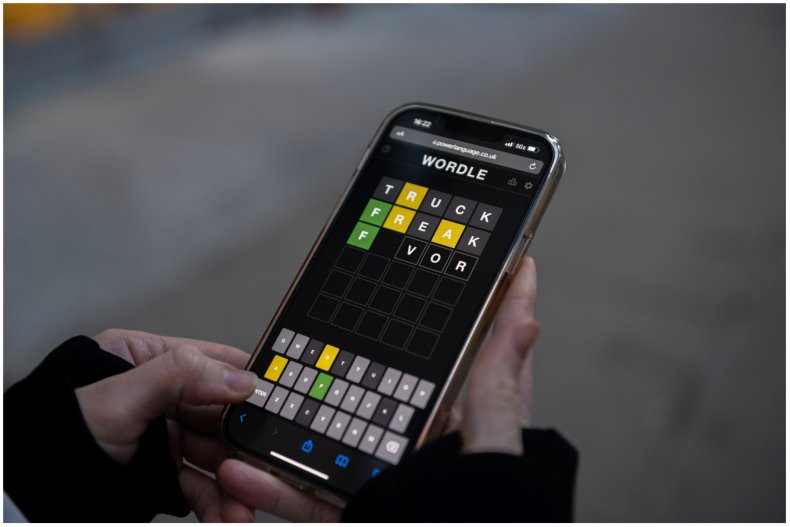 Its popularity led The New York Times to buy the game for an undisclosed seven-figure sum in January 2022. Wordle remains free to play via the publication's website.
Part of Wordle's success could be due to its simplicity as the game uses a color-coded system that is easy to figure out.
In Wordle, a green tile means the letter is correct and in the right place, while yellow indicates it is correct but in the wrong position. A gray tile tells the player the letter is not in the answer.
Players then have to solve the five-letter word within six attempts or fewer.
The answer to today's puzzle will be revealed at the end of this article, so scroll down carefully if you want a few tips and not the answer itself.
'Wordle' #589 Tips and Clues for Sunday, January 29
Wordle players can use these five hints to solve puzzle #589.
Hint #1: The answer to today's puzzle has no repeating letters.
Hint #2: Today's Wordle puzzle answer is an adjective.
Hint #3: There is one vowel and one letter "y" in the word.
Hint #4: The word starts with an "f."
Hint #5: Merriam-Webster describes the word as meaning "of or resembling fish, especially in taste or odor" or "creating doubt or suspicion."
'Wordle' #589 Answer for Sunday, January 29
The answer to today's Wordle answer is "Fishy."
A common word that might have tested some Wordle players who were expecting a tougher challenge.
Congratulations if you solved today's puzzle, but don't worry if you didn't as there will be plenty of attempts to try another Wordle game.
What does "Fishy" Mean?
The Cambridge Dictionary defines fishy as "seeming dishonest or false" and is widely used across the English-speaking world.
An example of its usage in a sentence is: "Is there not something odd and, perhaps, even fishy about those figures?"
The next Wordle puzzle will be available at 7 p.m. ET, when the daily update occurs. While you wait for that refresh, you might want to try some of these alternative word puzzles instead.