Todd Chrisley's Estranged Son Kyle Defends 'Growing Up Chrisley' Star Amid Tax Evasion Indictment
Todd Chrisley's children are supporting their father after the Growing Up Chrisley star was indicted for tax evasion on Tuesday.
Savannah Chrisley posted a Bible verse on Instagram after her parents' Wednesday arrest. Kyle Chrisley, who was previously estranged from his family, shared a lengthy message on Facebook the same day.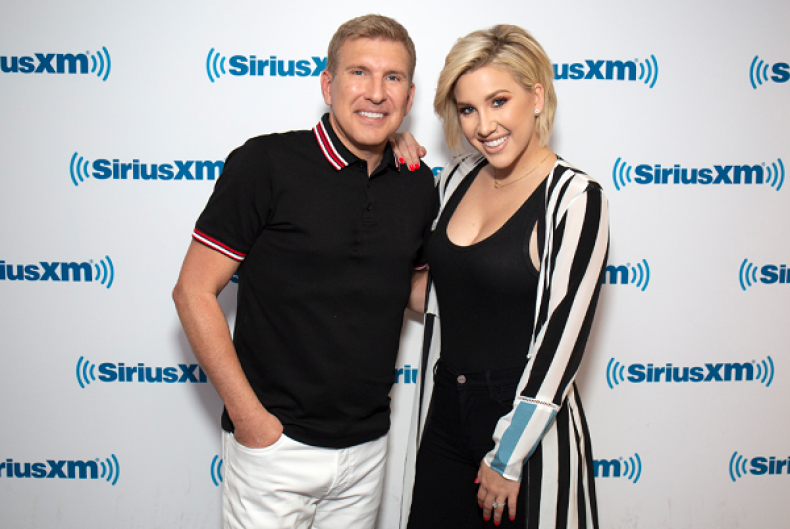 "I've seen the stories about my dad's indictment all over the internet. I know the interview I did bashing my dad OVER A YEAR AGO is being shared on social media," he wrote.
"Honestly, I'm tired of it. You guys don't have the facts and I need to set the record straight once and for all," Kyle Chrisley continued. "Everything I said in my [2017 Good Morning America] interview was a lie. These allegations against my dad are all LIES!"
Now sober, the 27-year-old said the accusations were made while he was struggling with drug addiction more than a year ago. It led to his fractured relationship with his parents and his daughter Chloe, who is being cared for by her paternal grandparents.
Since then, Kyle Chrisley has made amends. "I've had a problem with drugs, I've acted completely ridiculous and through all that they have stood by my side. 9 months ago I went to my dad with an apology. His words were 'I love you always, and you are forgiven' and just like that I was welcomed back into his life with open arms. I will be forever grateful for his love [and] graciousness," Kyle Chrisley wrote.
"I can't take it back so I'm telling you now, with a clear mind, my mom and dad have done nothing wrong! Today, I am sober. I am working, and I am at a good place in my life. I just want to fix what I've done wrong so that I am able to forgive myself," he continued. "I will continue to stand as a united front alongside my mom, my dad, and the rest of my family."
Todd and Julie Chrisley were indicted for tax evasion and various other financial crimes by the Atlanta-Georgia Northen District federal grand jury on Tuesday. In an Instagram post, Todd Chrisley claimed he and his wife were innocent and alleged a former employee forged their signatures on "phony documents" and told the U.S. Attorney's Office the couple committed "all kinds of financial crimes, like tax evasion and bank fraud." Todd Chrisley also claimed the unidentified ex-worker stole from his family and "illegally bugged" their home.
According to Kyle Chrisley, his sister Lindsie Christley and their biological mother, Teresa Terry, told authorities of Todd and Julie Chrisley's taxes. "About a year and a half ago my biological mom and my sister, Lindsie were responsible for turning my dad into the Georgia Department of Revenue for Tax evasion," Kyle Chrisley wrote.
"I was battling drug addiction and I felt like he [was] trying to control me so when they said if he's locked up he can't put you back in treatment I said okay," he continued. "I should have said NO!"
Lindsie Chrisley's lawyer denied the accusations in a statement released to People on her behalf.
"It was reported that Lindsie was the source of the information that led to her father's arrest. That is untrue, she was not the source of this information," the statement read. "Lindsie has been a constant target of lies, harassment and threats from her family and as a result, has been distancing herself from the Chrisley family since 2017. Lindsie is currently processing the events that have unfolded. We will continue to cooperate with law enforcement and pray for a just resolution."